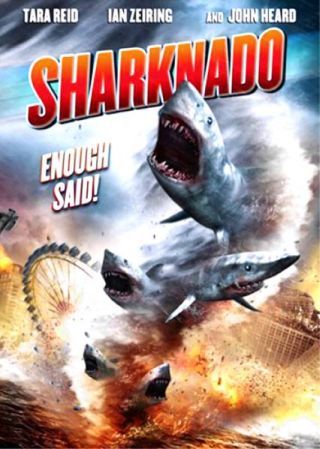 When this first aired on SyFy and generated all that buzz on Twitter, you knew it was only a matter of time before I reviewed it, and the wait was really for me to finally get it on DVD. That's the thing with
The Asylum
blowing up on SyFy, we at the DTVC have to wait for them to finally make it onto DVD now, whereas before we got first crack at them. That's okay though, we're notorious for being late to the party anyway, but hopefully when we finally get there we add something to the festivities. Speaking of friends who have already been here, we have
Fred Dixon, the Ex-Ninja
, Fred the Wolf at
Full Moon Reviews
, and
Tars Tarkas.NET
, so you can go and check out what they thought of this too.
Sharknado
has the great
Ian Ziering
as Fin, a retired famous surfer who runs a beach side bar. When a massive storm destroys it and threatens the rest of LA, he knows he needs to get to his ex wife and daughter in Beverly Hills to safety. The ex wife is played by none other than Tara Reid. In true Asylum style, this ain't no ordinary storm, as tons of sharks are washing up in the flood waters and tearing people apart. But that's only the beginning, as tornadoes are popping up from the flood waters too, and it looks like they might be picking the sharks up with them. Will Ziering and crew all make it out alive?
This movie is a lot of fun. I should warn you that the actual Sharknado doesn't appear until near the end, so on some levels it's a Sharknado bait-and-switch, but everything else is The Asylum doing what The Asylum does right. It's a good mix of cheese, send-ups of older films in the genre, homages to other greats, and some pretty sweet satire. I love the references to
Bad Taste
and
The Shining
, which you can find on your own as you watch it. There are probably some others you've seen too that I missed. Ziering is great in the lead, and the supporting cast around him is great too. Reid isn't in it as much, but I enjoyed her role as the mom of two teen kids in Beverly Hills, and she and Ziering were good together. I also loved how The Asylum has reached a great balance between schlock silliness, and quality work, whether it's the special effects, or the high level of some of the humor. The Ferris wheel rolling down the boardwalk looked great; and the scene where the waitress at Ziering's bar, played by Cassie Scerbo, relates how she got the shark bite scars on her leg is hilarious. If you're like me and you've seen a ton of these, you might wonder what the fuss was about, because it's not better than some of The Asylum's best work; but it was a great moment for them to get some shine like that, and the movie is plenty of fun to boot.
It's amazing how far The Asylum has come in the six-plus years we've been doing the DTVC. This is the 27th film of theirs we've reviewed, and what's happened is that we've gone from most being misses with the occasional hit, to now almost all being hits with very few misses. We've also seen them score more and better acting talent, plus they have this contract with SyFy so that their DTV movies are often TV movies with a bigger audience. I can't help but note too though the many times the Sharknado destroyed classic Hollywood landmarks, like the Hollywood sign or the outside of Mann's Chinese where the actor's hand prints are. Is there a veiled message for us about how they feel about big Hollywood? Either way, it's been fun to watch The Asylum's transformation, and I can't wait to see what they have for us next.
My man, Ian Ziering, aka Steve Sanders from
90210
. This is big for him, he's finally cast as Brandon Walsh, and he nails it. Actually, it's more accurate to say that his character is a mix between Dylan McKay and Brandon Walsh, but either way, Ziering is no longer the supporting character, and it was nice to see him pull it off. It's possible that because he was Steve Sanders for so long, not the Brandon or Dylan, that he could play this role that The Asylum had for him, which was a combination of the classic hero and a send-up of the classic hero, and play it so seamlessly. He's both in on the joke and playing it straight at the same time, and without both, I think the film wouldn't have been as enjoyable. As someone who loved him in
90210
, it's great to see him top billed and do well at it.
We've done our share of shark attack films in our time at the DTVC, and I think this one is up there as one of the best. Maybe not
Cruel Jaws
or
Shark Attack 3
, which I hold up as the standard, but I'd slot it in right below that. One thing about this is that there are tons of sharks here, and they start killing immediately. It's like a mix between the old insect swarm film of the 50s and the modern shark film, which is a unique take on it, but The Asylum makes it work. And there all kinds of different ones, so it's like those Shark Attack fruit snacks we used to have in the 80s and 90s that I used to love getting for my lunch, I could be like "oh, there's a hammerhead!" Man, those were so good, weren't they?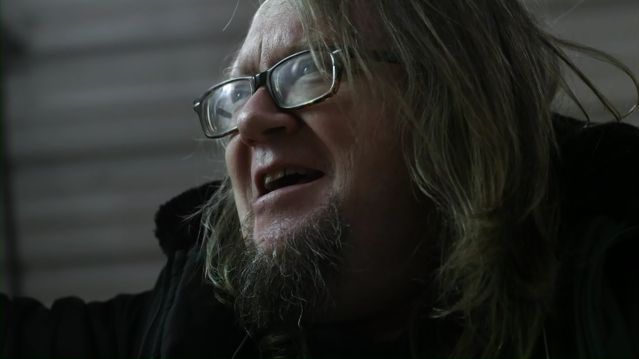 Look at who that is. It's Cousin Oliver! I know, can you believe it? There has to be someone at The Asylum who loves
The Brady Bunch
, because we also saw Greg Brady, aka Barry Williams, in
Bigfoot
. If you don't know his real name, it's Robbie Rist, and he only has a small role as a bus driver with a bus full of kids that Ziering rescues. Then we had Tara Reid as Ziering's ex-wife. She wasn't in this quite as much as the buzz made it sound, but I liked the idea of her as the Beverly Hills mom. I think she'd be great in a role like that in a CW teen drama, like maybe with Ziering as her husband. What a cool show that would be. John Heard has a small role as a bar patron at Ziering's establishment, kind of just dirty old man humor, but he's good at it.
Baywatch
alum Jaason Simmons plays Ziering's bud. He'd be great in that capacity if the show I'm proposing with Reid and Ziering were a sitcom instead. Finally, I mentioned Cassie Scerbo above. She's like he next Jennifer Esposito, which I think wouldn't be a bad career for her-- in fact considering how young she's starting out, she may ultimately do Esposito better than Esposito.
Okay, let's wrap this up. I don't know if this still airs on SyFy, but I'm sure it does. If you don't want to wait, you can rent it on DVD at all the usual suspects. The buzz is more for people who don't usually watch films like this, but considering you're here, it means this kind of thing is probably old hat for you, and if that's the case, then this is just a fun way to kill 90 minutes, which I think is all you're really asking for from The Asylum anyway.
For more info:
http://www.imdb.com/title/tt2724064/