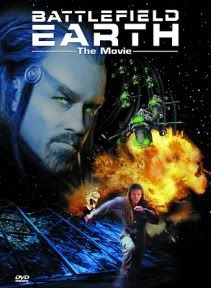 It is possible for a movie to be traumatic, even if it's not inherently disturbing like a
Captivity
or
Saw 33 and 1/3
. I didn't know this until five minutes ago, when I finished watching
Battlefield Earth
. Every five minutes the characters say "leverage", and while I was capturing images of the film for the blog I turned on the NBA playoffs on TNT (just saw a nice shot of the Riverwalk in San Antonio), and they were advertising the new season of their show
Leverage
, and each mention of it made me cringe. It was like having a hangover, and seeing a beer commercial.
Battlefield Earth
is based on a novel by L. Ron Hubbard about some aliens called Psyclos, from the planet Psyclo, who conquer Earth and subject its humans to slavery. 1000 years later, the remaining humans live in little tribes, but one, Barry Pepper, is a little smarter than most, and he's captured by the Psyclos at a very opportune moment: Mr. Travolta was just told he'll be stuck on Earth for another 50 whatevers, and he's pissed. He decides he wants to mine some gold Psyclos can't get to, so he teaches Pepper how to use all the mining stuff and sends him and some humans in there. In the process of teaching him how to mine, he also teaches him astrophysics, molecular biology, and whatever else the plot requires he'll need to vanquish the Psyclos and free our planet.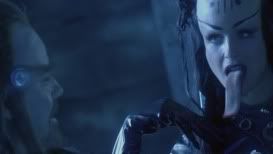 Every time I start to type, I stop and go "no, not there." This film is like a very messy room, and it's hard to know where to start tackling it. How about the annoying device used to jump to the next scene, where the picture would split down the middle, revealing the next one under it? Yeah, that wasn't stupid enough. Or just the direction as a whole. At times it felt more like a music video with the bad slow motion and over dramatic acting. Then there was the music itself, meant to tell us how amazing certain scenes were, when they were pretty bad and nowhere near amazing. That's just the movie from a technical standpoint. Want me to get into the story?
Well I won't. Making fun of cavemen learning to fly fighter jets in 7 days is just too easy. All I have to say is Man Animal. The film makes fun of itself. What irks me isn't how dumb it was, it's how smart the people who made it thought they were. You could see them patting themselves on the back (or patting L. Ron Hubbard's back posthumously) for the thing about the Psyclos thinking dogs were of a higher status in society than humans. And I loved how the writers didn't have a very extensive vocabulary, so they had to be as wordy as possible to make the characters sound intelligent. Again, it's just too easy.
John Travolta is the face most associated with this frightening ordeal. When I was looking it up on imdb, it said the film won 10 awards, and I was like "what?", but I saw those were all Razzies and whatnot, and Mr. Travolta got one for it too.
Battlefield Earth
even got one for worst film of the decade, which is huge, considering everyone else had ten years to catch up. I get that Travolta is a devote Scientologist, and he wanted to make this for his hero, L. Ron Hubbard, but he had to see how much this was sautéed in wrong sauce; and he, more than anyone else involved, had the power to fix it. Instead, I remember him in all the press junkets telling us how amazing it is. Man Animal! Again, it just drives home the point that Tarentino made a great Travolta in
Pulp Fiction
, and we've been sold him as an A list movie star ever since, when he really has C list talent.
Someone who it turned out had A list talent was Forest Whitaker. Can you believe that six years after this he won an Oscar? I've heard that the US is the land of second chances, but the fact that he and everyone else involved in this pain fest were even allowed to make another film again, let alone be trusted for a role good enough for Whitaker to win an Oscar in, is astounding. Good for you, Mr. Whitaker, you took your second chance and made the most with it. A real American success story.
A while back I went to Barnes and Noble to buy
Anna Karenina
, and found their $9 version, and the $15 Oprah Book Club version. I was telling everyone I knew that story, and one friend said "why don't we make our own book club and read silly things, like
Tek War
and
Battlefield Earth?
" I loved the idea... until I found out
Battlefield Earth
is over 1000 pages. What? As you can imagine, that was out. I thought to myself, who would've read that? Then I went to the
Modern Library Top 100 Books of the 20th Century
site, and saw not only their list, but their reader voted list. Guess what number three on the reader list was? You guessed it. Some things are just better not commented on.
If you haven't seen this, right now it's on Watch Instantly, so maybe you and your buddies should check it out. Don't do it alone like I just did, it's just too depressing. With the kinds of movies I review, we often hear the classification "so bad it's good", as in it's fun time to make fun of, etc. I don't know that that applies here. Sometimes there's "so bad it's ridiculous and not worth my time" or "so bad it hurts my soul" and I think this one might be in those latter two.
For more info:
http://www.imdb.com/title/tt0185183/