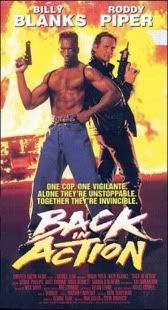 I got this on VHS at the same time I picked up
Tough and Deadly
. I would've reviewed it sooner, but Mr. Kenner at
Movies in the Attic
insisted I fit in
The King of the Kickboxers
instead, so we did. Funny thing happened along the way: I think
Back in Action
might be the better movie...
Back in Action
has DTVC Hall of Famer
Rowdy Roddy Piper
as a cop organizing a huge drug bust. Problem is,
Billy Blanks'
sister is dating one of the dealers, the dealer brings her along, and Blanks shows up to get her back. Well, he attacks one of the guards, the guy's gun goes off, and in the ensuing shootout Piper's partner is killed, and the main baddie thinks his dealer's girlfriend tipped off the cops. So the baddies want to kill the sister, Blanks wants to kill the baddies for wanting to kill her, and Piper doesn't know what to do with Blanks while he's trying to get revenge for his fallen partner.
Now this is what I'm talking about. Pure awesomeness. Constant action, great fights, and two stars who more than live up to their billing. It just doesn't get any better. First off, Piper was good as always, but the material really let him be him, which is all we ever want. Forget the plot, just let him go for it. Then Blanks comes in just to let you know, kicking ass and taking names. He and Piper have a knock down drag 'em out fight that made me think of
They Live
. I wouldn't say it's that good, but it was close. And finally, there was no lull. At most there was maybe ten minutes of down time between scenes. I'm not sure what is so hard for other movie makers out there to understand about this: just fucking go for it! We don't watch these films for plot, character development, etc., we watch them for the kick ass factor, and
Back in Action
certainly had it.
This might be Piper's best ever. Okay, second best after
Hell Comes to Frog Town
, and if you're counting
They Live
, it falls down to three, but it's a very solid three. I've never had a complaint with Piper's performance in any movie he's done. No one brings it like he does, period. What I usually take issue with is how Piper is used, whether the part isn't big enough, the character isn't cool enough, or the plot hinders us from getting the Piper we all want when we load one of his films into our VCR or DVD player.
Back in Action
fulfilled the promise the front of the box made when it listed Roddy Piper as one of its stars, and for that alone it was amazing.
This is three Billy Blanks films in row that ruled, and I'd say out of all of them, while this is the best movie, his best performance was in
The King of the Kickboxers
. That was one of the best baddies of all time. Here he flubbed some lines, sounded over rehearsed at moments, and his character was kind of weird the way he didn't respect his sister early in the film. Still, he kicked major ass, and he and Piper were great together again, even though they were more of a team in
Tough and Deadly
. We're going to definitely work on getting more of his films up,
Talons of the Eagle
next on the list.
Another thing that always makes a great film is a great baddie, and this one had it in Nigel Bennett. As far as I know, the only other film of his we've reviewed is
Phase IV
, which also had Dean Cain and
Brian Bosworth
. This guy works in the
Julian Sands
/
Bruce Payne
mold, which makes sense, because he's from England as well, Wolverhampton to be exact. He must be excited, because his Wolves look like they might stay up in the Premiership this season.
I do have one complaint, and maybe it's not so much a complaint as much as it's an observation, or an overall issue with action films. The two female leads are kidnapped by the main baddie and used as bait for Piper and Blanks. Classic scenario we're all familiar with. Also classic is when the baddies don't restrain either captives, allowing them to pick up weapons, etc., and kill the baddies holding them hostage. This was even more egregious here, because at one point they caught Piper and taped his wrists to the arm of the chair they had him in. It's ridiculous. Do these bad guys not understand why the police handcuff them when they're arrested? It's not because of tradition, or because it's just something they've always done. They do it so it's harder for the people they're holding captive to attack them and escape. Somehow we're supposed to believe criminal masterminds are completely unfamiliar with this concept?
Anyway, that's just me poking fun at the film, a film that otherwise was simply... awesome. If you haven't seen it, get it anyway you can. As far as I know VHS is the only way to go, which is too bad, because a movie like this belongs on DVD; though I kind of like it on VHS for the nostalgia factor. This is what you want when you go for a Piper film, and Blanks is just as good. An all around great flick.
For more info:
http://www.imdb.com/title/tt0109195/