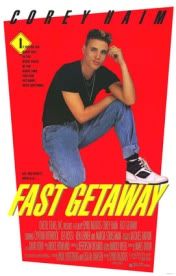 I first saw this who knows how long ago when I rented it.
Corey Haim
, why not, right? I didn't like it, but when I started the DTVC three years ago, it was one I really wanted to review. The only problem: it's not available on DVD. I guess I can kind of see why, considering it was rather unremarkable, but it was still quite an impediment. Anyway, just recently, I found it used on VHS at a local record store (along with
Lady Dragon
), so that wasn't a bad deal.
Fast Getaway
is about a father and son bank robbing team (played by Leo Rossi and the late Corey Haim) plying their trade in the pristine mountains of Colorado and Utah. When they have an acrimonious split with their partners
Cynthia Rothrock
and Ken Lerner, they strike out on their own, only to be set up when Rossi agrees to go along with a heist Haim insists on doing. While in jail and waiting for Haim to break him out, a mysterious woman played by
Welcome Back Kotter's
Marcia Strassman comes to take Haim in. At the same time, Rothrock and Lerner, with Rossi out of the way, want to get their hands on Haim to force him to help them with their next heist.
Before I get into whether or not I liked this, let me take a moment to discuss the recently departed
Corey Haim
. I think I speak for everyone in our generation in saying that Haim and his friend and oft co-star Corey Feldmen were true staples of the 80s. We grew up watching these guys, and at least for me, they played a big part in my eventual love of movies. What's saddest about Haim's passing was that it didn't come when he and Feldmen were has-beens or poster children for Hollywood youth gone wrong; it came when he was making his way back to some form of relevance. I just remember watching
License to Drive
twenty years ago (it's crazy to say that!) and thinking how cool and amazing LA was, and how we here in Maine, New Hampshire, and Massachusetts had nothing like that-- and I associated that world with Haim, with no clue that that world he inhabited on screen was killing him off-screen.
All right, as far as
Fast Getaway
goes, I guess I was left with this feeling, both now, and all those years ago when I first watched it, of what
was
that? First off, was I rooting for Rossi, who kidnapped his son when he's an infant and made his living by sticking a gun in people's faces and scaring and humiliating them? I can see that maybe this was some kind of comedy, but again, it was just too weird and depraved for me to laugh at it too much. A lot of these things could've been mitigated had Haim not been Strassman's son, or had Strassman abandoned her son, instead of Rossi running off with him. And she seemed pretty fine with that after all was said and done, which was even weirder for me.
Rothrock wasn't bad. She's not in it much, and a lot of her martial arts work is done for show. I got this more for Haim than I did for Rothrock, but as the only DTVC Hall of Famer in the film, she needs a mention. I'm looking to get after it a little more with some of her better work that's only available on VHS, starting with
Tiger Claws
. One thing I often try to do is strike the balance between new DTV films, and catching up on a lot of the old favorites that got me into this, and I'm sure got a lot of you, the readers, into checking me out. What often happens, though, is those new ones are much more readily available, and as such, the great older classics get lost in the shuffle. It's definitely something I'll be working on in the future.
I've never got the whole concept of Leo Rossi. (I could see him potentially reading this saying "oh my God, I'm a concept now?") I don't know, he's just never worked. It's like he's
Robert Z'Dar
with a smaller face, which in my mind, defeats the point. It probably also doesn't help that his character in this film was wholly unsympathetic. I know Mr. Kenner at Movies in the Attic has been trying to get after me to review the
Relentless
series, so maybe I'll grow to understand just what Rossi is all about through those, but I doubt it. (By the way, I did review
Relentless 2: Dead On
because it has DTVC Hall of Famer
Miles O'Keefe
.)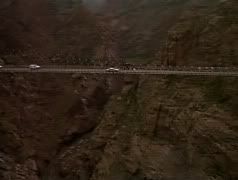 One thing I loved about this was the Colorado landscape in the background. I'm actually going out there in September to hit some mountains with a friend, so this just got me even more pumped. I understand that financially, filming in Sofia or Vancouver is probably a better bet, and don't get me wrong, those places have great natural landmarks as well, but there's just something about a movie taking the best America has to give and really showcasing it. It's not about a rah-rah jingoism or Toby Keith put a boot in your ass kind of thing, it's just about taking advantage of the great backdrop we have right in out enormous backyard, and letting the world in on a US that's more than just New York, LA, Chicago, or Texas.
I have to admit, I can kind of understand why this isn't available on DVD yet. I can see where it wanted to be charming, quirky, and funny, but in the end it gave us a very unsympathetic figure in Leo Rossi's character, did a bad job of making him someone to root for, and from there the rest of the film fell flat.
For more info:
http://www.imdb.com/title/tt0101857/