This was a very eagerly anticipated film, and then that anticipation waned quite a bit as the film took longer and longer to be released. While I was visiting my buddy in Mass last week, he insisted on buying it, us both being huge Michael Hurst guys from his time on
Hercules
. We figured there was no way this could fail.
Bitch Slap
is a big ol' mess of a collection of scenes acted out in front of a green screen that some how lead back to these three women out in the desert digging for something buried out there. Oh, and a bunch of
Hercules
and
Xena
alums have cameos.
It's interesting that things worked out in such a way that I was able to watch
Black Dynamite
and
Bitch Slap
within days of each other, because both films were trying to pay homage to/poke fun at older exploitation genres, and one worked better than I could've imagined, and another fell flat. Anyone who's been rockin' with us for a little while knows which one worked, and it wasn't
Bitch
Slap.
In every case where
Black Dynamite
knew when to pull back, or not go too far,
Bitch Slap
overdid it; and in converse, every time
Black Dynamite
went for it and got as ridiculous as possible and it worked,
Bitch Slap
just came off as trying too hard to overdo it, or even worse, settling for overdoing it when trying for a modicum of quality was too hard. It was just a mess.
And that was too bad, because like
Black Dynamite
, they had the talent in the form of Hurst,
Sorbo
, Lawless, and Renee O'Connor to make this work-- and we'd seen this form of humor done so well in
Hercules
on numerous occasions. One major difference between
Black Dynamite
and
Bitch Slap
though, was the lead stars in the former, like
Michael Jai White
and Salli Richardson-Whitfield, were great actors/actresses; while the three women in the leads in the latter left a lot to be desired. Now I get that in the 50s and 60s women in the films they were paying homage too weren't great actresses either, but to make the movie in 2009 that pays homage to the 50s and 60s, you need talent to pull it off, otherwise you get another bad movie with none of the charm of those older ones. Believe me, I've seen my share of both 70s blaxpolitation and 50s and 60s exploitation films, and I get what both groups were going for in making their respective films, and one worked and the other didn't.
One of the biggest issues was the technique they used in telling the story, where the film starts near the end, then whenever there's a plot point, we're taken to however long in the past to explain it, then jumped back into the present. Ever since
Pulp Fiction
came out, we've been inundated with people trying to find new ways to arrange the way the story is told to us, and very few of them do more than become increasingly tedious and annoying as the film goes on. The thing with
Pulp Fiction
was, Tarentino didn't rearrange the whole story, he took one part from near the beginning, and moved it to the end; and he didn't do it to be clever or just for the sake of doing it, he did it because it worked, because it enhanced what was an already great story.
That was one of the biggest problems this film had: it couldn't get out from under Tarentino's shadow-- and I'm not necessarily sure it wanted to. Again, going back to
Black Dynamite
, they created something that was
sui generis
, as opposed to something that came off as derivative. Maybe
Bitch Slap
wasn't supposed to be a
Kill Bill
or
Pulp Fiction
rehash, but it sure seemed like that. And as far as hot chicks making out or whatever, this is 2010, I can see that kind of action on an episode of
Real World/Road Rules Challenge
. I'm not saying don't include it in the film, I'm just saying don't hang your hat on it, give us some quality in and around it too.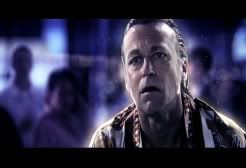 Before I wrap it up, I must mention the whole reason my buddy and I got this: Michael Hurst. What a crock: he's in maybe just shy of half of it; and what he's in is good, but the material is nowhere near as great as what he had on
Hercules
, and try as much as he could, he couldn't save it. The thing that sucks is, as much as I didn't like this film, and as much as my buddy who bought it didn't either, we both felt impelled to support it because we want more film makers to cast Hurst. It's not his fault this is bad-- in fact, it would've been better with more Hurst in it-- so don't blame him all you film makers out there.
This was a total disappointment to me, especially after waiting so long for it. At the very least, rent it before you buy it. It might be a personal issue I had (and my buddy and his wife too) with it, but even so, rent it anyway before you commit the $15 to $20, that way if I am right and you agree with me, it didn't cost you much.
For more info:
http://www.imdb.com/title/tt1212974/