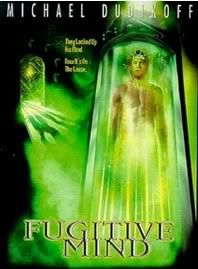 This has been on Watch Instantly probably as long as I've had that feature, and I'm not sure why it's taken me this long to review it. It's not like I've been running through a slew of Dudikoff films lately, and here's one that's readily available. I guess I was saving it for an occasion like this when I needed a film in a pinch.
Fugitive Mind
has DTVC Hall of Famer
Michael Dudikoff
as a maintenance guy for a lab corporation who lives a nice life with his nice wife, Michelle Greene; but he's plagued by these horrible dreams. Turns out, things ain't as nice for old Dud-y as he thought, and when he finds out Greene is in on it, he flees. He discovers that his job might be have something to do with it too, and he happens upon Scream Queen Heather Langenkamp, who just happens to be escaping when he's investigating. She lets him know all sorts of things about how they were kidnapped by the corporation and tested on. It's all making sense when he connects his dreams to a senator that's been causing problems to for them: they want to brainwash Dudikoff into offing the senator.
I don't know how I managed to stay awake for this. I'm serious, my friends will tell you, I don't have a great track record as far as those things go. I'll fall asleep during interesting movies, let alone something as blah as this one. The best way to describe it is a
Bloodfist
plot with less awesome asskicking, and with Dudikoff on the payroll, that's simply unacceptable. Though imdb lists it as a Direct to Video film, it was more like a Lifetime suspense thriller than a DTV actioner. You could also call it a
Manchurian Candidate
rip-off, but that would still mean it's ahead of the remake. There were some pluses, though. The best was when Dudikoff gives a guy the old Life of the Party maneuver, ie he takes him out by shoving a lampshade over his head. The only thing that would've been better was if he'd then forced to the guy to say into a fan "Luuuuke Iiiii aaaaam yoooooour faaatherrrrr." God, I love those Life of the Party Guys.
Michael Dudikoff was my next candidate to get all of his DTV catalog reviewed on here. It's going to be no simple task, but when I neglect an easy one to review like this one for so long, I'm just making it harder on myself. He also, like
Gary Daniels
, has an immense DTV oeuvre, which means it may take me all of 2010, and then some, to make that complete. One thing about a film like this one, that ain't so great, is it underscores what a task it is to complete a filmography on a site like this. You really gotta take the good, the bad, and the ugly.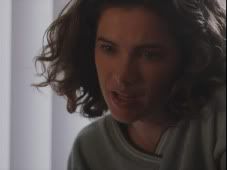 I've always had a thing for Heather Langenkamp. I don't know what it is, but she's always just worked for me. In
Fugitive Mind
, she wears this over-sized sweater and baggy pants the whole time, and it's totally hot to me in this lazy Sunday by the beach in the fall kind of way. She hasn't done much beyond
Nightmare on Elm Street
and
Just the Ten of Us
. I don't know if that's her choice or if she just doesn't get a lot of work. For an action film like this, her Scream Queen-ness was kind of an issue, because she screamed a little too much in scenes when she was supposed to be afraid. The Scream Queen is a different set of skills from the action leading lady.
Dudikoff's fake wife is played by Michelle Greene, who's probably best known for her stint on
LA Law
, but who I also remember from an episode of
Simon and Simon
where she plays an archaeologist who's captured by a colleague over an artifact or something. After the whole
Indiana Jones
thing, archaeology and anthropology were seen as the most exciting careers ever, and on some levels they are, but not in the make a great plot for an 80s crime action drama series way. As far as the movie goes, towards the end, she wears this outfit that leads me to believe the wardrobe people really dropped the ball on this one. She's in this tight green shirt with no bra, so her boobs are all over the place; and then she's got on these tight white pants, so tight that we can see where her butt's crammed into her underwear. Her agent couldn't have been happy about that look.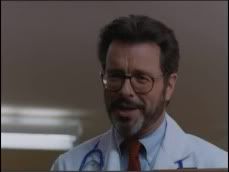 Finally, there was this dude in the film that wanted nothing more than to be Geraint Wyn Davies. You can see the image above and tell me I'm not right. It was like in every scene he was telling us "dude, I so should've gotten that gig on
Forever Knight
", while we were saying in every scene "dude, you so should've been Geraint Wyn Davies." I'm not sure if I would've liked the film any better if that guy actually had been Geraint Wyn Davies, but I know I wouldn't have liked it any less.
I would say no to this one. I needed a film in a pinch and I also hadn't done a Dudikoff film in a while, so I went with it; plus it's availability on Watch Instantly made it an easier choice. That doesn't make it right, though, and
Fugitive Mind
was very wrong. I don't really know what my next Dudikoff film will be. Netflix has a few I can get on DVD, so I'll start there. We'll see what happens.
For more info:
http://www.imdb.com/title/tt0141111/