The moment I first saw a trailer for this on
Blood and Bone
, I needed to see it as soon as possible. As far as I can tell, though it was made in 2008, it had a limited theatrical release in 2009, and then finally came out on DVD a few weeks ago. As always, Netflix didn't have it immediately available, and I didn't have my hopes up, but suddenly it went from Long Wait to For Saturday: Black Dynamite. I'm glad it did.
Black Dynamite
is a 70s blaxploitation spoof co-written by and starring
Michael Jai White
in the lead role, Black Dynamite. The plot is Black Dynamite's younger brother is killed, and as he investigates the murder, he uncovers a governmental conspiracy aimed at attacking African American males where it hurts.
This is one of the most amazing films I've ever seen. Spoofing the 70s and blaxploitation films seems like an easy affair, but the reality is it can be done poorly so many ways, and this film carried it out as well as can be expected-- maybe even better. They reference so many classics, you name it, they cover it. The jokes, though often ridiculous, never stray from their original purpose, and always work. It would be too easy to just throw in everything but the kitchen sink, but what makes
Black Dynamite
so great is they know when to stop and when to go over the edge. This isn't just an
Airplane
style take on 70s blaxploitation, this is a unique and hilarious spoof and homage of their own to the genre.
It's no secret that Michael Jai White is a favorite here at the DTVC, and this just makes it even better. You're used to seeing him play the hard, no-nonsense, angry asskicking hero, but he's right at home comedically here. I'm not saying he should never do films like
Blood and Bone
again, because he's awesome in those too; but he should definitely do more comedies as well, especially when he writes them like he did this, because he was hilarious. The fact that he's a great martial artist, and he can be such a great comedic actor too, is a double threat that I'm not sure anyone else in the industry has. I hate to keep harping on this point, but it just shows again how horribly he was wasted in
The Dark Knight
. This is the movie that should've made hella cash, not that one.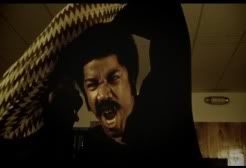 Usually as I'm capturing images (which if you're curious, I captured a bunch from this one, because it was so good and had so many good people), I listen to the audio commentary to get a sense of what the people involved were thinking as they made it. In this case, as I was listening, they were so funny, I had to watch the whole thing again to listen to the commentary, which I almost never do with any movie. In addition to Michael Jai White, director Scott Sanders, and co-writer Byron Minnis went over everything, from what this or that joke was in reference to, to what scenes people couldn't keep a straight face for, to what guy was killed 6 times. It was almost as funny as the movie itself, and if you liked it as much as I did, seeing it again with the commentary is well worth it.
One thing you'll love about this is all the guest stars. I got images of some of them on the image page for you, and if you can believe it, there were even more than that. Tommy Davidson as the Huggy Bear role was as great as you'd imagine. Somehow, NESN, the sports channel owned by the Red Sox here in New England, snagged Davidson to host their stand-up comedy show. That amazes me, because I'm not sure I've seen a comedic actor as consistently funny as he is, and he should be doing more movies instead of hosting a stand-up show on a local cable channel. Then you've got guys like Arsenio Hall, Miguel Núñez jr
., Reno 911
's Cedric Yarbrough, retired NBA great John Salley, R&B singer Bryan McKnight, and DTVC favorite Bokeem Woddbine all playing pimps. Phil Morris, aka Jackie Chiles from
Seinfeld
,
plays a Black Panther leader. Kim Whitley plays a madam at a brothel that Black Dynamite looks out for. Some of the best performances were by non-comedic actors, like Salli Richardson-Whitfield as Gloria, the lead actress. The way she played her part so seriously and professionally, even though it was supposed to be so funny, just made the whole thing work that much more.
I'm afraid to say too much about specific scenes, because part of what makes them funny is how they come out of now where, but one little touch they threw in were some intentional mistakes that you should look out for. One I noticed right away was the boom mike. How many times have we watched bad action films and seen the boom mike peek in from the top of the screen. For them to do it on purpose was hilarious. Another that I didn't catch until I listened to the commentary, but that I want to draw your attention to if you don't plan on listening to it, is the Black Panther who reads not only his lines, but all his cues in parenthesis as well. Black Dynamite asks him and his cohorts "Who's in charge here?", and instead of saying (sarcastically) "I'm in charge", he says "Sarcastically, I'm in charge". It didn't make sense until it was explained in the commentary.
If you haven't already, you need to get after this. This is funnier and more awesome than you can imagine. I'm not running off a string of hyperbole here either. Best new film on DVD so far this year, and probably one of the best comedies you'll ever see. As far as I can tell, there's no need to make another spoof/tribute to the 70s blaxploitation genre, because the definitive film is right here.
For more info:
http://www.imdb.com/title/tt1190536/