I first saw this in the theater when it came out, and was definitely under-whelmed. I think by then I'd tired of the big budget Bat-sequels with myriad Hollywood actors, product tie-ins, and ubiquitous soundtrack songs. I haven't seen it since then, but was intrigued when it was number on on Empire.com's 50
Worst Films Ever
. I mean, I remembered it being bad, but worse than say,
Catwoman
?
Batman and Robin
is the fourth in the Caped Crusader series started by Tim Burton. This time George Clooney takes the helm, with Chris O'Donnell as Robin and Alicia Silverstone as Batgirl there at his side. As far as villains menacing Gotham City,
Arnold Schwarzenegger
steps up as Mr. Freeze, and Uma Thurman plays the ever sexy Poison Ivy. No one famous played Bane as far as I could tell. Anyway, does the plot matter? I didn't think so.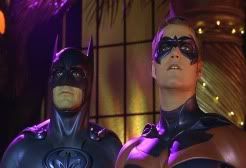 In the first ten minutes, there's a goofy fight between Batman and Robin and Mr. Freeze and all his henchmen. They're ice skating and playing hockey with a large diamond. It was reminiscent of the old TV show, and I thought maybe I just didn't get it when I watched it the first time. But then, back at the Batcave, O'Donnell and Clooney have this stilted, poorly written argument about Clooney holding O'Donnell back, and I understood better why this was panned. It had its positives: Uma Thurman was great as this kind of Bette Midler send-up of Poison Ivy; the sets, when not covered in fluorescent green, were really cool, especially Arkham Asylum and the observatory; and Alicia Silverston was really hot and George Clooney looked great in a tux.
But neither Clooney nor Silverstone worked as superheroes. Clooney is probably one of the coolest men alive, which you think would work in his favor, but it turned out he was too cool to play Batman. I'd even say he's too cool to play James Bond. I say this because he's more sophisticated than that type of material. Watch a film like
Leatherheads
, and you'll see what I mean. Silverstone was hot as all get out in that Batgirl costume, but she had this air head quality that made her role as a superheroine totally unbelievable. As far as O'Donnell, if I was him I'd have fired my agent after this. They made his Robin like Rob Schneider in
Judge Dredd
, yet then tried to make it serious, so all we were left with was being annoyed with him. Finally, Arnold was the worst. His accent works great in a one line capacity-- see "Let off some steam, Bennett"-- but in the world of superhero/supervillain banter, he was way off and sounded overly rehearsed. Jim Carey, Danny DeVito, Tommy Lee Jones? Yes. Schwarzenegger? No.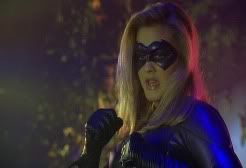 Let's address Empire.com's claim that this was the worst film ever. Yes, I can't argue with the Bat-nipples, and the script was all over the place, not knowing if it wanted to be tongue-in-cheek or serious; but worse than
Catwoman
? Worse than
Highlander 2: The Quickening
? Part of the reason why I think it won was because the list was put to a vote by readers. How many people do you know have seen
Catwoman
? Now how many do you know have seen
Batman and Robin
? Exactly. Yes, it wasn't great, but worst ever is a heavy indictment, and this film didn't deserve it.
I loved Uma Thurman's take on Poison Ivy. On Empire.com's blurb about the film, they quoted critic Anthony Lane's comment that all the stars put in "their worst imaginable performances." Again, that's very harsh, but in Thurman's case, incorrect as well. It's a damn comic book movie, and she was having fun with it. Unlike Schwarzenegger who was out of his league, Thurman stole every scene she was in. Yes, it was very 1970s
Sonny and Cher
guest appearance-y, but it worked for me. Silverstone, though nowhere near as good, was just so hot I'm not sure it mattered. One thing I didn't like, and it wasn't her fault, but the writers', was how instead of being Commissioner Gordon's daughter, she was Alfred's niece. Had they gone with the comic book version of her origin, it would've made for at least a more believable character.
Supergirl
with Helen Slater suddenly emerging from the water in her Supergirl outfit thinks the way this film turned Silverstone into Batgirl was contrived and nonsensical.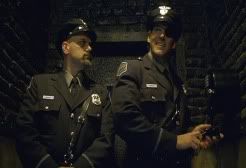 Films like these are usually chick full of celebrity cameos, and this was no exception. You had Vivica A. Fox in one brief scene as a throwback to the chicks that used to hangout with the villains on the old TV show, for instance. Probably best for me was Jesse "The Body" Ventura and Rolf Moeller as Arkham guards. That means that, in addition to
Predator
and
Running Man
, this film has the distinction of producing two US governors. Who's with me on starting the campaign for Moeller as governor of Maine?
Worst movie ever? No, not even close. Great movie? No, not even close. It has it moments, both good and bad, but I think more than anything, it signalled to its audience just how spent we were with the whole Batman franchise started by Tim Burton. It'll be interesting to see what the new series of films does for its third and fourth installments. The third one will sell well no matter what, just based on the first two, but if it sucks, it'll be up to the fourth one to revive it. If they fall into the trap this one did, of just throwing as many Hollywood celebs at it as possible, we could see a similar result.
For more info:
http://www.imdb.com/name/nm0000235/