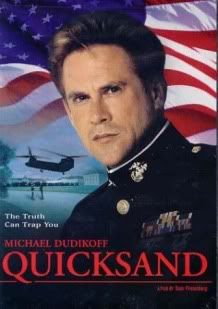 This one took a fair amount of work to track down. Scratch that, it was really a matter of me finally taking the plunge and buying it used from Amazon-- for $0.01, $2.99 after shipping-- because Netflix, for some reason or another, doesn't offer it. Kenner at Movies in the Attic has looked at this one too, it's buried under a bunch of other reviews in his
Avenging Force
post. Also Kenner, I hyperlinked your cover photo for this post. Hopefully you're not upset.
Quicksand
has absolutely nothing to do with the actual classic adventure movie trap. It's a modern Film Noir with
Michael Dudikoff
as a Marine psychiatrist called to another base to treat a general's (Dan Hedaya, playing Dean Stockwell, playing the general) daughter, Brooke Theiss. Things happen, dad's dead, and she's accused, but Dudkoff thinks there's more going on here than meets the eye.
I was okay with this one. It had all the elements for a good Film Noir-- the handsome lead, the sexy, sultry female dealing with issues from her past, the more than meets the eye mystery-- hell, they even had the suspenseful phone call with only the bottom half of a man's face talking in cryptic threats. I think where it fails is that it sounds great on the surface, and the actors all handled their roles well, but I'm not so sure there was 90 minutes worth of material here. It seemed like it sounded better on paper, if that makes sense. Plus, there were some blah moments, like a silly chase scene that devolved into Dudikoff and his pursuers just doing doughnuts around each other. Still, to completely kill this thing doesn't exactly do it justice, because it wasn't horrible. The truth is, had this been made in 1940, instead of 2002, with
Bogie
and Bacall instead of Dudikoff and Theiss, I would've loved it, but it wasn't, so I didn't. Take that for what it is.
I think seeing the names Michael Dudikoff and director Sam Firstenberg, one would envision some awesome action, considering the two collaborated on
American Ninja
and
American Ninja 2
, plus, Firstenberg has a rich history of great to not-so-great action, including
American Samurai
,
Cyborg Cop
, and
Cyborg Cop II
. That's not what you're getting here, but Dudikoff still acquits himself very nicely in this Film Noir realm. Because Dudikoff is most famous for the
American Ninjas
, and because those films and his reputation in them are what has gotten him the DTV action work we're used to seeing him in, people have the erroneous idea that he's not an accomplished actor. This movie proves otherwise.
Richard Kind was in this as the military detective-- that classic Film Noir detective role where we don't know if he'll help our hero our hinder him. He's easily one of the best comedic character actors working today, and his presence here provided a level of levity that was very unique and welcomed for the kind of role this was. It's always interesting to see an actor like this, who would go on to be much bigger, bringing his or her talents to a lesser DTV flick.
Brooke Theiss is known more for her TV work-- and TV work that has very little overlap with the kinds of films we cover here-- but like Dudikoff, she does really well, and I think it was harder for her, because her character was written all over the place-- and that's with the fact that she was supposed to be mentally unstable being taken into account. One interesting fact about Theiss: her husband is DTVC favorite
Bryan Genesse
.
There are a lot things in a movie that tip off the fact that it wasn't filmed in the US, but I'm not sure I've seen one as blatant as the trapezoid lane on the basketball court here. Nothing spells international basketball like that-- it's like boysenberry syrup letting us know that we're at the
International
House of Pancakes, not some domestic one. The film was shot in India, but took place in Arizona, and before the trapezoid lane cinched it that this wasn't no Arizona, I think the palm trees tipped me off. Nice try on the cacti, though.
I can't recommend this, even on the $3 it cost me to buy it from Amazon. Unless you're a total Dudikoff completist, the novelty of him in a Film Noir wears off as the movie tries to flesh out what was barely 90 minutes worth of material. Great performances by Dudikoff and the rest of the cast, though, so kudos to that.
For more info:
http://www.imdb.com/title/tt0282883/