I've been waiting for this one to come out for a while now.
Wesley Snipes
and DTVC Hall of Famer
Gary Daniels
, plus
Robert Davi
and
Ernie Hudson
? Sounds great to me. I knew, though, that I couldn't get my hopes up too high, because we've seen how these things that sound so great to start with, can be total duds. Let's cross our fingers.
Game of Death
has Wesley Snipes as a CIA Agent sent to infiltrate Robert Davi's mercenary organization and, after getting as much incriminating evidence as possible, assassinate him. Fast forward six months, and Snipes is knee deep, driving Davi to a meeting with an unscrupulous businessman who's about to give Davi $100 million in order to bump off some dictator in Africa who's not playing ball. Gary Daniels and company are a part of Snipes's team, and they've decided they don't get paid enough to be CIA agents, so they want Davi's cash. That's when things go crazy, and Davi has a heart attack to boot. Snipes's goal is easy: take Daniels and the rest of his old team down.
Man, this is a tough one. Had some great action, and Simon Rhee choreographed some of the best fight scenes we've seen in recent DTV films; but there were those MTV film effects-- though not too many near the end, there were there quite a bit before that, and they were tawdry and unnecessary, as always-- and then there was an element of the plot that I couldn't get past. Daniels's character has a chance to kill Snipes about midway through. He's knocked out on the floor in front of him, but Daniels passes it up. It was pure plot convenience theater, writing oneself into a corner with nothing beyond the magic wand to escape it, and woosh, with one wave of the magic wand, Daniels magically decides he won't kill Snipes, his most dangerous adversary and the only one who could bring down his plan, but he'll kill everyone else he sees, because he's the kind of guy that doesn't like to leave loose ends. The great action and fight scenes save this somewhat, but not quite enough for a full-out, knock your socks off recommendation.
One thing we've brought up before is how lately Daniels has been taking lesser roles in films with bigger names in them, and when I saw that he was second to last listed in the opening credits, I was nervous. Fear not, he's the main baddie, and as such, gets plenty of screen time, and a great fight scene at the end with Snipes. According to imdb, he also did a film in 2010 called
The Lazarus Papers
, and he's second billed on that, after DTVC favorite
Danny Trejo
, so whenever that comes out, that should have a good deal of Daniels in it too. The guy is definitely keeping himself busy.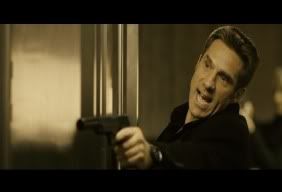 This is the first Wesley Snipes DTV film to come out in a while, the previous one being
Art of War II: Betrayal
, and in between he did the major Hollywood film
Brooklyn's Finest
. One thing I liked about this one, was fight choreographer Simon Rhee really let Snipes do his thing, and director Giorgio Serafini didn't fast edit it to death. (I did have some issues with the camera angles in the final fight between Snipes and Daniels, though, but I'm digressing...) A lot of the Snipes DTV efforts ignore or barely utilize that element in his arsenal, his martial arts skills, so that's one bonus in
Game of Death
. Next up is probably
Gallowwalker
, whenever that finally comes out, but I guess for right now, we should be happy that this one made it, and it was half-way decent.
Ho-Sung Pak has a small part in this. Is that name familiar? Did you ever play Mortal Kombat? Liu Kang baby. He also played Shang Tsung in part 1. I don't mean in the movies, I mean he was the guy they motion captured for the video games. I think we've discussed on here before that I love Mortal Kombat, at least as far as Ultimate Mortal Kombat 3. I wonder if some of the other characters have made it in anything. Looks like they were in a film Pak made called
Book of Swords
, and then one called
Press Start
that didn't have Pak, but the Pesina brothers. None of them have had the career Pak has had, though, including one I've been meaning to get to, called
Fist of the Warrior
, which has some other big names, including one of my faves,
Michael Dorn
.
This film was not only shot on location in Detroit, but actually takes place there, which I think was a cool decision. In the featurette, the actors and crew talked about how it was like one big studio lot, with all the abandoned buildings, and even entire abandoned blocks. The economic downturn in this country has hit that area hardest, and if more films can be shot there, and the area businesses can provide services for these productions, and generate more revenue, that's a positive, and hopefully more films
will
be shot there, instead of places like Romania and Bulgaria-- we're looking at you
Steven Seagal
, Michigan native. Hey, if Snipes can do it, so can you. You and another Michigan native, Michael Moore, should get together and collaborate on something, like maybe you ride around and beat the crap out of health insurance company CEOs and various white collar criminals. I like it.
This is worth a rental from Netflix, but I'd wait to watch it before you consider buying it. Daniels and Snipes are good, but it does have its flat spots, it does have it's bad music video moments, and there's a rough moment of plot convenience theater, so it's a bit of a mixed bag that might work for some, and not for others. At least it's got plenty of Daniels in it, so that's a plus over his recent work.
For more info:
http://www.imdb.com/title/tt1446072/