I came across this when I was looking for more
Jerry Trimble
films to review. You can never have enough Trimble, right? Plus, imdb lists DTVC favorite
Michael Jai White
in the cast too. Sounds like a winner.
Full Contact
is almost a scene by scene remake of
Bloodfist
, with Trimble in the lead role as the kid traveling to, this time LA, to see his brother, only to find out he's dead. Inexplicably, Marcus Aurelius is in the role of the master who trains Trimble to fight in the underground tournament so he can find out who killed his brother. Michael Jai White doesn't fight at all, but plays some kind of cantankerous MC for the fights.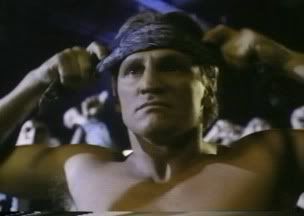 This was a painfest. Where do I begin? How about using Marcus Aurelius to play the sensei. I don't know that I've seen an idea more sautéed in wrong sauce. The whole point of the sensei character is that he's supposed to be old and wise, and Aurelius looks younger than Trimble, and doesn't come off as too wise. Then you have Trimble almost totally wasted. He barely fights in the first hour beyond a couple run-ins with hoods on the street. Seriously? The whole point of having Jerry Trimble is to display his relentless fighting style. Look at
Live by the Fist
. That's a good use of Trimble's talents. This isn't. Beyond that, a lot of the fights don't look that great-- a lot of I'll punch you, then you punch me, and we'll both spit out our cherry Starburst kind of deals. You're better off just watching
Bloodfist
.
Jerry Trimble doesn't work in the "I need to be trained" role. He needs to just come from nowhere and start kicking ass. Plunk him down in the middle of a bunch of stuntmen, cue the electric guitar, and let 'er rip. The thing is, he was 30 when he made this, and he looked it, meaning he couldn't pull off the young kid coming from out of town and needing guidance. He's too sure of himself in real life to fake it. Why waste that then? In order to reuse a script that's already been made? Well, hope that worked out for ya', because this was 10 kinds of wrong. How hard would it have been to write something new? It's not like these DTV actioners are that difficult to craft.
This does have Michael Jai White, playing an MC or something. No clue why he doesn't fight, but he doesn't. I wonder if he looks back on this film and thinks "I've directed better stuff than this. I've been a leading man in better stuff than this." If he doesn't, I do. According to imdb, he has a couple films coming down the pike in 2011, so we'll have to look out for those, including one with
Steve Austin
, and an MMA flick that he directed himself.
The problem with remakes is two-fold. First, there's the idea of "why would you bother?" i.e. why wouldn't we just watch the original? That was big for instance with Gus Van Sant's scene by scene
Psycho
remake. I don't think that applies here, because all the money in the DTV market comes from covers and trailers that don't disclose how much of it is a remake. In that sense, the remake is an easy way to make cash, because people won't know it's a remake. The second issue is trying to fit everything into the remake that was in the original, and to do it in a way that's at least somewhat natural. That definitely applies with
Full Contact
, and it failed horribly. The attempt to recreate the run up the mountain from
Bloodfist
? Having Trimble race a bus down the street. That makes plenty of sense. A lot of the other scenes that worked well with the old sensei in
Bloodfist
looked silly with Aurelius's foul-mouthed character. One thing they were smart in not cramming into this one was that silliness where
Don "The Dragon" Wilson
gets arrested. One of only a few good moves made by the film makers.
The other one was Aurelius's death scene, where Trimble stabs him with pipe, and blood drips out of it. Really great moment. That was the problem, this film had its moments, but too few of them to matter. When I looked back at the
Bloodfist
post, I said the same thing, only that one was an 80 minute running time, as opposed to this at 96-- meaning 16 more minutes of nothing happening. The other thing is, I don't know where those extra 16 minutes came from, because this really felt like a scene by scene remake-- but believe me, you'll feel them in there, those 16 minutes feel like 30.
VHS is the only way I can see to get this, and if I were you, I wouldn't. Hey, if this is a remake of
Bloodfist
, instead of watching it, watch
Live by the Fist
again-- it'll feel like you're watching you're own remake, and a good one.
For more info:
http://www.imdb.com/title/tt0106979/