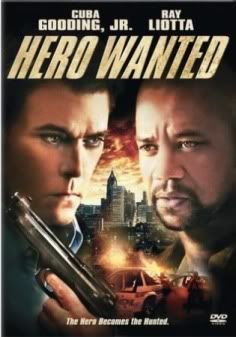 It's been a while since we've done a
Cuba Gooding Jr.
film here at the DTVC, and
Hero Wanted
, because it also stars
Ray Liotta
, has been on my radar for some time. When it made it to Watch Instantly, I figured I had no more excuses. Besides, Cuba's DTV output is picking up, I need to stay caught up with him!
Hero Wanted
is a convoluted tale about a man, CBJ, who is a shell of himself after his wife dies. Then he saves a girl's life from a burning car, and things change. After seeing an innocent woman shot in a bank robbery gone bad, he decides to avenge her shooting by taking out the robbers, one by one. The thing is, how does he know who they are? How is he connected with them?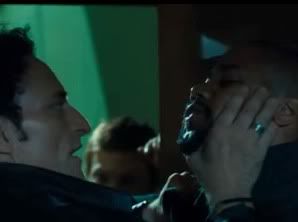 This is one of those that got too cute for its own good. It had a semi-decent story, but they decided to go the Lawrence Durrell wannabe route, and give it to us in a series of sections, taken from the beginning, middle, and end, mixed together, until it builds to the resolution. As I'm watching it, I'm thinking, this would've been a lot better without that storytelling gimmick, i.e., had they just started at the beginning and moved in a linear fashion to the denouement. Also, the mystery, the why Cuba Gooding Jr. knew the robbers, was clunky and contrived anyway; and the ending was really weird and drawn out, as if they just didn't know when to stop writing-- it felt like someone who has just put his foot in his mouth, but only makes it worse by not shutting up and instead trying to explain himself. There's nothing wrong with a film being more straightforward. I know with these DTV Film Noir pieces, it's tempting to get all cute with the order in which you deliver us the plot, but sometimes you hurt the final product that way. Beyond that, this was a pretty paint-by-numbers low-budget Noir, with some great actors who give some great performances, but in the end too dependent on a gimmick as opposed to a solid story for its foundation.
Look at Kim Coates trying to shove your head into the world of DTV Mr. Gooding Jr. That's not very nice, is it? At least here you had some great actors to share your space with, enough to make you think you were doing an actual Hollywood movie again, huh? Then we saw the credits, and all the last names in the crew that ended in the letter "V", and realized that there aren't that many Bulgarians in Los Angeles, are there? Kim Coates, you big meanie, leave our Cuba Gooding Jr. alone, and let him have his Oscar winning Hollywood career back!
Ray Liotta was in this as a cop, not a gangster. I know, crazy, right? He's not in this much, which is kind of too bad. Jean Smart, of
Designing Women
fame, also starred in this, and it's too bad the two of them didn't have a love scene. I have to think Liotta and Gooding were reassuring each other that things weren't as bad as they seemed career wise, though if you look at their imdb bios, after this came out in 2008, Liotta's had a better go of it, especially with feature films like
Date Night
and
Charlie St. Cloud
. Cuba Gooding Jr., on the other hand, moved on from DTV films co-starring with Ray Liotta, to DTV films co-starring with
Christian Slater
.
The supporting cast after these two is pretty solid. I already mentioned Coates and Smart, plus you had Ben Cross, Tommy Flannigan, Norman Reedus, Christa Campbell, and Paul Sampson, who starred in a film with Carmen Electra,
Whacked!
, which I reviewed a long time ago. I don't know if the director or screenwriters or producers or whoever didn't trust these actors and actresses to do their jobs adequately, and that's why they chose to go at telling the story in that gimmicky way; but that was a mistake, because they should've trusted these people, and their performances were diminished by that gimmickry.
One guy I didn't mention in that cast I decided to save for here, is Mr. Todd Jensen. Unlike these other actors-- other than maybe Paul Sampson-- who have made it happen on the big screen, Todd Jensen earned his chops in the DTV ranks, in gems like
Cyborg Cop
. To see him act opposite Ray Liotta as his police detective partner was great. Sure, Ray Liotta is no
David Bradley
wearing a fanny pack, but he's close, right?
This is available on Watch Instantly, but I don't know if it's entirely worth it. That's too bad, because a more straightforward telling of the story, plus a less weird and drawn-out ending, and we might have had a real Cuba Gooding Jr. home run here. It's okay, though, we have quite a few more of his DTV oeuvre to get through. I hope your stay at the Hotel DTV has been a good one, Mr. Gooding Jr. I'm afraid you'll be staying with us a little longer though...
For more info:
http://www.imdb.com/title/tt0977214/