This is an
Albert Pyun
flick that I've been meaning to get to for a while, but for one reason or another it's always been pushed back. Well, it will be pushed back no more, it's time to bake this cake. Also, our friend Mr. Kenner at Movies in the Attic reviewed this as part of his
Albert Pyun Fest
, if you want to check that out. (By the way man, I hotlinked your cover image. Hope you're not mad at me...)
Knights
takes place in an undetermined spot in the future, after the apocalypse, in Arches National Park near Moab, Utah. As humans are trying to pick up the pieces, they're having problems with some super powerful cyborgs, led by
Lance Henriksen
, that need their blood to sustain their systems. All hope looks to be lost, until Kris Kristofferson shows up, a cyborg created to kill these other cyborgs. On his way to exterminate them, he saves Nea, a girl squatting with one of the tribes, and he teaches her how to fight against the cyborgs. Together, they look to defeat this scourge on humanity.
I had a lot of fun with this one. Sure, there are nits to pick about it I guess, especially if one were taking it too seriously, but as far as I could tell, this was meant to be a fun ride. It had a heavy stable of actors, from DTVC Hall of Famer
Gary Daniels
, to major Pyun mainstays like
Tim Thomerson
and
Vincent Klyn
(though both in small parts), in addition to the stars I already mentioned. Plus, there was the gorgeous scenery of the national park, which Pyun spared no expense in delivering to us in all its glory-- essentially allowing it to be a character on its own. Maybe the fight scenes weren't what you'd want, especially because it seemed like he went more for Japanese samurai film style fight scenes over the Hong Kong actioner, which worked for me, but might not have for some others. Also, the whole deal with Kathy Long fighting with Kristofferson's torso tied to her back might have been too silly for a lot of tastes, though again, not mine. Hey, if you're in it to have fun, it doesn't get much better than
Knights.
Gary Daniels is Lance Henriksen's right hand man. He does have some good fights, so it's not as bad as the smaller roles we've seen him in-- especially lately-- but he's by no means a main star. This is not one of those moments though where I'm going to complain about the size of his role, because I think it worked perfectly here. He wasn't going to be the main baddie over Henriksen, and Pyun's getting Kristofferson was way too big a coup not to have him as the hero. Plus, Kristoferson gave the film that Western element, that, when combined with the setting, made for a really great aesthetic. It should also be pointed out that in 1993, when this was made, Daniels didn't have many starring roles to his credit, so considering his status at the time, this was the perfect sized part for him.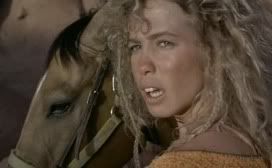 Another move Pyun made in this film that really worked for me was the shifting of the protagonist, having the girl, played by kickboxer Kathy Long, take over. Again, if you're picking nits, you'd complain that it's impossible that she'd learn enough martial arts in four weeks to be able to take down all the guys and cyborgs that she does. My answer to you would be "you're okay with the cyborgs that need human blood to feed, but a girl learning martial arts in four weeks is what you're stuck on?" One of the things I've always loved about Albert Pyun's work is his consistency in trying new things and rethinking the old standards, and a big one is in casting women as heroic leads. He's doing from the director's and screenwriter's chairs what
Cynthia Rothrock
is doing from the actor's. His films may not always work-- and not work for myriad reasons that don't always have to do with the idea of the film itself-- but at least we know he's trying to new things, which is a lot more than we can say about a lot of other people we check out on here.
Tim Thomerson versus Lance Henriksen. I know, I've never considered it before, but this film raised the question... okay, I raised the question, after seeing the movie. Anyway, Tim Thomerson had a small part in the beginning, and then that's it for him, but it had me thinking, what if? Now, I'm not taking anything away from Lance Henriksen's performance in
Knights
, because he was excellent as the slightly goofy, slightly gross, yet very evil baddie, I'm just putting it out there, who makes the better baddie overall? Or rather, who makes the better DTV star? I'm calling it a tie for the sake of political correctness, but by all means, weigh in and let me know... hell, am I crazy for even asking?
I've never been to Arches National Park before. We almost went while I was out in Colorado, but we spent too much time getting to the Black Canyon of the Gunnison National Park, and it was just too far away to get there and back to where we wanted to go. As far as
Knights
goes, Pyun takes full advantage of this beautiful scenery. He plays with the space in a way that I was critical of him for not doing in
Mean Guns
with that film's prison setting. He really made it into another character, the way someone like Woody Allen makes New York City into one of his film's characters. It just added another layer of depth that made the movie that much more enjoyable-- though I'm a bit of an outdoors buff, so I might be unique in that assertion.
As far as I can tell, this movie is VHS or bust, so if you can get it, I'd go for it. Don't spend too much, but $5 is a good price. This is just a lot of fun set in a beautiful location with a lot of names you recognize. Ain't nothing to get mad at here.
For more info:
http://www.imdb.com/title/tt0107333/