This one was placed on my radar after
Albert Pyun
himself commented on my
Spitfire
post that he shot that, this, and
Heatseeker
all at the same time, which was why there was some overlap in the actors. I liked the
Robert Patrick
and Ming Na on the cover, and couldn't wait to see what
Brion James
and
Tim Thomserson
were like. If anything, it would be a fun ride with that kind of cast.
Hong Kong 97
takes place as control of Hong Kong was being transferred back to China. With that expectation and potential upheaval as the backdrop, we have Robert Patrick, a hired assassin for a major corporation based in the city. After he kills or upsets the wrong person, a large bounty is put on his head. Co-workers Thomerson and James try to help him, while he seeks refuge at the home of former flame Ming Na, who needs to get out of dodge herself with her grandfather, because he's wanted for defecting from China, and could be arrested by the army if he's not out before the transfer. Now Patrick is trying to figure out who's after him, how he can get Ming Na and her grandfather out of the city, and clear his debts, all at once.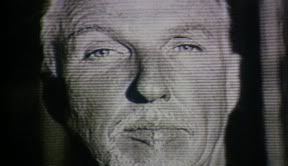 I liked this one. It might either be too light on the action and too heavy on the Noir for some people, or too heavy on the action and too light on the Noir for others, but it worked for me. The down times, where we either had Brion James talking in his British accent with Thomerson or Patrick, or the catching up with one another/sexual tension scenes between Ming Na and Patrick, didn't feel boring or like padding. The best element was the use of Hong Kong's transfer to add to the tension. I think the move Pyun made by setting a scene in Ming Na's place while she's packing her things to move out really added that tension the best, because maybe we can't all relate to Hong Kong moving from British to Chinese hands, but we can relate to the feeling of moving, and the time when the move is almost there, that feeling of inevitability and impending change. It pervaded every other element of the movie, and for me, tied it all together.
As I mentioned in the first paragraph, this was shot at the same time as
Spitfire
and
Heatseeker
. I think out of all three,
Hong Kong 97
worked the best. The biggest cast overlap was Tim Thomerson, who appeared in all three films. Then you have Brion James, who was in the beginning of
Spitfire
, then had a major role in this, and Tina Cote, who had a major role in
Heatseeker
, then appeared in the opening credits to
Spitfire
. I thought I remembered Robert Patrick being in
Spitfire
for a second too, but I can't find any proof of that. What would've been cool is more
Thom Mathews
and < ahref="http://www.mattmovieguy.com/search/label/Norbert%20Weisser">Norbert Weisser, even
Vincent Klyn
. There should be some kind of Albert Pyun mainstay battle royale with all of these guys together-- maybe that could be the
Mean Guns
remake...
You're probably wondering why I included an image of Robert Patrick nude, crouching down, and shooting a gun. I just wanted to say I was impressed with Pyun's excellent Skin-a-max style directing in this scene. He displayed a great ability to avoid showing Patrick's junk without making it look like he was purposefully obscuring that area. I wonder what Patrick thought when he saw that in the script: "sweet, I'm having sex with a hot chick, and then... I run around the hotel room buck naked, dodging bullets and firing at gunmen crashing through my window? I need to talk to my agent..."
I know a lot of the readers are big Tim Thomerson fans, so I should warn you now that he gets killed off about midway through. He's great while he's there, especially talking with Brion James, and Brion James survives, so at least you have him to make up for anything you're missing with Thomerson. Seeing Thomerson reminds me yet again that I need to get those
Trancer
films up, so hopefully I'll do that soon.
You gotta love Ming Na. She was also great as Chun Li in
Street Fighter,
which came out the same year as this. You could see here, though, playing off Robert Patrick in their non-action scenes, where she would start the ball rolling into her better acting gigs, like
ER
. As far as
Van Damme
leading ladies go, I'd say she's in a tie with Mia Sara for best of all time.
This is only available on VHS. Amazon has it pretty cheap used, so that's a great avenue to go. I personally liked it, and it has a great cast to boot. Definitely worth giving a look.
For more info:
http://www.imdb.com/title/tt0110052/