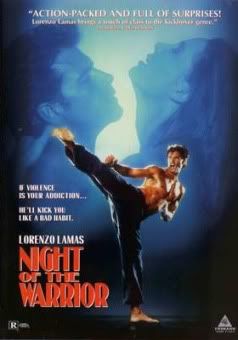 This is one of the few
Lorenzo Lamas
joints from the late 80s early/90s that I hadn't already seen, so I was stoked to finally get a hold of it. It just sounds awesome, right? "Lorenzo Lamas in
Night of the Warrior
", I mean, how can you go wrong there, right? Ty at
Comeuppance Reviews
did this one a little while back too, if you want to see what he thought and compare with me.
Night of the Warrior
has Lamas as a fighter, fighting for Luke of "Luke and Laura" fame, in order to pay off the mortgage to the exotic club he and his mom own (played by his real life mom Arlene Dahl). After the mortgage is paid off, he thinks he's done, so he goes off to win over art history major/waitress
Kathleen Kinmont
, who is turned on by his amateur photography/exploitation of the local homeless population that are his subjects. Anyway, Luke needs him to do one more fight, because a Korean mob boss will kill him if he doesn't, so Luke leans on him, using Lamas's mom and girlfriend for leverage.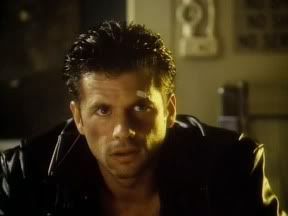 Let's get one thing straight first, this is not an action film per se, but rather an attempt at a modern Film Noir piece. The problem is, writer Thomas Ian Griffith, though an English Lit major at Holy Cross, is no Dashiell Hammett, meaning
Night of the Warrior
has it's good moments and its bad, but overall doesn't quite work. The music and cinematography definitely had that Noir-ish vibe down; but then you had these attempts at action movie clichés, like the kidnapped girl; and then there were some of their Noir themes that they didn't follow through on, like Kathleen Kinmont's character, who started off very well rounded, and finished off very blah, or the introduction of Lamas being framed, which comes and goes rather quickly and effortlessly. It was like, it had too little action to be good for the action film fans, but didn't handle the Film Noir aspects well enough to be good for those fans either, so we were left with nothing. Oh, and I can't forget the bad Madonna video scene with Lamas and some other dude fighting while covered in mud at the beginning.
From the Lamas perspective, this looked pretty good at the beginning. No, he didn't do the Noir protagonist who is also a photographer as well as
Michael Paré
in
Sunset Heat
, but had the writing stayed true, based on the beginning, I think he would've still done well. But then there was this odd dramatic aspect, that wasn't written well, didn't look natural, and made Lamas look foolish. I don't know, at the beginning, when he's in the diner hitting on Kathleen Kinmont, there was a sense that he might pull this off. Who knows if, given the chance, he might have done it. As far as the action goes, he has a few good scenes, but also a couple weird ones, including a fight with his crippled friend. The less said about that the better.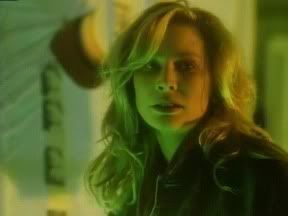 Kathleen Kinmont got a bit of a raw deal in this one, because she started off strong in that Noir-ish female lead, then her character was almost written out of the film altogether, only to come back for the sole purpose of being kidnapped. It had never crossed my mind before that she'd make a great lead in a Film Noir picture, but it makes sense after seeing it, because she's smart-- which comes out on-screen when the role allows her to-- very pretty, and can wear the hell out of a short black dress. I had a feeling, though, that Thomas Ian Griffith, in writing her character, might have been over his head, because there's a scene early on where she and Lamas are in his apartment, and she tosses him a camera and tells him to take her picture. Then she asks him how to pose, and he says that's not how he works, so she starts trying to affect sexy poses for him. It was way too unnatural. The sexier thing would've been to have her not try to be sexy, but just be who her character is, and have him capture that and see her sexiness naturally. Anyway, it wasn't long after that before she was almost done completely, her character devolving into an action movie damsel in distress.
I'm not sure which is cooler, that Lamas's mom starred in this, or Luke of "Luke and Laura" fame from
General Hospital
. On the one hand, it's his mom, which is cool; but on the other, Lamas being a soap actor himself, to be paired with such a luminary as that is huge. The only thing cooler would've been if Rick Springfield did a movie with Lamas too. Favorite Rick Springfield song? I may have to go with "Don't Talk to Strangers", even though, like everyone else, I love "Jesse's Girl" too. Also of note, the late Bill Erwin-- who just died recently at the age of 96-- plays Kinmont's uncle. Great cameo from him.
I'm wrapping up with this seventh paragraph for all my horror readers out there. That's right, Ken Foree, from one of my all time favorite horror films,
Dawn of the Dead
, stars in this as Luke's hatchet man. This is actually the second Foree film we've done, the first being
Dolph Lundgren's
Army of One
(which I should note is my most popular Dolph film on here by views, by virtue of the fact that people searching for nude pics of Kristen Alfonso are directed there. No joke). One of the best lines from a horror film ever is in
Dawn of the Dead
, near the beginning, when Foree and Francine are in the helicopter about to escape, and he tells her "I lost a lot of brothers." "Real brothers, or soul brothers?" "Both."
This is a bad deal. Don't be fooled by the title or the cover, there's very little action, and the Film Noir material isn't handled well either. The payoff just isn't there to warrant a recommendation. As far as availability, you can buy it new on DVD, but for some reason or other, Netflix doesn't offer it, so for the price asked, it's not worth it anyway.
For more info:
http://www.imdb.com/title/tt0102535/