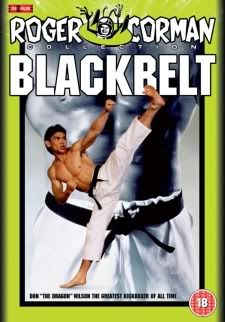 I found this on Netflix when I was looking for more
Don "The Dragon" Wilson
to review. I'd heard good things about it, which is something of a rarity when talking about D "The D" Dubs' films. This is yet another
Roger Corman
produced Wilson effort as well.
Blackbelt
has Wilson as a former cop who runs a Karate dojo and does PI work for the needy. An up and coming pop star comes to him when a crazy fan (an amazingly mulleted Matthias Hues) starts stalking her and cutting off people's fingers. Wilson is reluctant at first, but he's won over, and finds she not only has Hues as an issue, but an abusive boyfriend, and a mob boss who owns her record label, and neither are happy with her right now either.
This was pretty good. A decent 1990s DTV actioner. Yes, there could've been more action, and the fight scenes could have been better in spots, but overall it worked. The dialog and acting were atrocious, which with the solid action quotient, actually enhanced the overall viewing experience. That means, though, that this is more of a great bad movie to make fun of, than it is a solid piece of work. Where this film is bad, though, is that it sells itself as this great showcase of martial arts talent, when really we only get them in one scene at the end, where Wilson has to fight a bunch of them, and it's not as good as it could be. I can think of
Jeff Wincott
in
Martial Outlaw
in a similar scene, only he really killed it. As a film on its own, it was good movie to make fun of; but based on what they were selling: a battle royal with tons of real life martial arts title holders, it was a bit of a bait and switch.
This is some of Wilson's best stuff. I loved his one-liners, which is rare for him, because usually the scripts he's working with in concert with his less-than-stellar acting ability precludes us from enjoying one of the best aspects of the bad action film. In his first scene, he beats up a pimp, busting his face, then kicking him in the nuts, letting him know "the vasectomy's free." His martial arts were on point as well, and that's what we look for when we sign on for one of his films. I could've done with less bad acting, especially in his scenes with the pop star, because I want more of him fighting; but he did a great job.
Wow, Matthias Hues. Look at that ape drape. It might be extensions, but who cares? What's great too, is Hues plays such a bad baddie, that we root against him, despite his fantastic beaver pelt. Even better, he cuts his own finger off before the end fight with Wilson, and then the finger grows back-- at least that's the only explanation for him having ten fingers for the entire battle. It had to be the power of his magnificent mane.
The pop star's acting and dialog was all over the place, which actually worked because her character was supposed to have been abused by her father. It's one of the only times I can remember when a bad script actually made the role more realistic, but it took moments when she would've seemed unnatural in her reactions and mood swings, and instead created a manic element in her personality, which really worked based on her character's past. Of course, they betray all this by having her wielding a pistol with the expertise of someone who's spent countless hours at the shooting range. It just reminded me that her character worked by accident, not because the scriptwriters did a good job with it.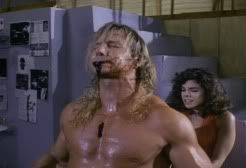 The reason they gave for why the pop star was comfortable with the gun was that her father was a police officer, and she said it to Wilson when he asked if she could handle the weapon in a manner that was like "
duh
, of course I can use a gun." People do this with me all the time because my father is in construction. "Oh, you must be able to do this or that, right?" No, I write a bad movie blog, am trying to sell a novel, and have a degree in anthropology with a minor in German. If you need me to look at a kinship chart, have some German to translate, want to know what Dolph Lundgren movie to watch, or need someone to proofread something, I'm your man. Got a deck to build? Sorry, I can't help you.
This was a fun time. I wouldn't buy it, and I'm not even sure you should go out of your way to put it on your Netflix queue, but if you've seen most of the other films I've reviewed here at the DTVC, and you're looking for something new, why not go for it. I would put it as a second or third option for a bad movie night.
For more info:
http://www.imdb.com/title/tt0103825/