There is a fair amount of
Gary Daniels
work out there that I still need to get to, and I'm always looking for an idea of what the next one should be. Usually I take reader suggestions, or I browse through his bio on imdb and take the ones with the best supporting casts. This time I went on the review my friend Mr. Kenner wrote on his own site,
Movies in the Attic
(the link is to the post, and the review is at the bottom of the page.) Of course, I didn't really read his review carefully, just went on his giving it three stars. My bad.
Epicenter
is a Lifetime movie of the week disguised as a PM Entertainment action film, with Gary Daniels playing the part of Tim Matheson, and Traci Lords in the role of Joanna Kerns (imagine her as Maggie Seaver on
Growing Pains
!). Daniels is a dude who wants to sabotage his tech company in San Francisco, so he steals their program that monitors US fighter pilots, and tries to sell it for $15 million to the Russian mob. Traci Lords is the undercover cop with the estranged daughter who's been keeping tabs on them for a year. Everything blows up, Daniels is arrested, the mob's out the 15 mill with no plans, and Daniels isn't talking to either them or Lords and the FBI. That's when Jeff Fahey, Lords' superior, has Daniels flown out to LA, which works out great for Lords because her estranged daughter is down there too. She can wrap of the case and fix her dysfunctional family all in one fell swoop. That is, until the quake hits...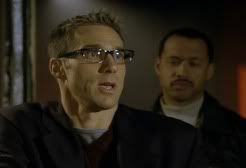 So where do I start? Maybe the first 45-50 minutes, where all that happens is a chase scene literally borrowed from
Speed
followed by an excitement by repetition out of control trolley crashing into cars. Awesome! Then you have the quake itself, again, excitement by repetition, followed by all the usual disaster film cliches, only done in a manner so perfunctory it hurt my sensibilities. Oh yeah, and Lords and Daniels are forced to act way more than either is comfortable with, which in turn makes us, the viewer, equally uncomfortable. Then there was just so much extra crap that did nothing to move the story forward, like this scene at the end where Lords' daughter is talking to this boy she has a thing for about why he didn't ask her out before or something. Seriously? We needed that? Just show the girl with the boy, have her say "man, I wish Mom would get here soon", and cut away. I was just like Why? Why! WHY!!!
Mr. Kenner made the point in his review that
Epicenter
was in the vein of the 70s disaster film. I love me a good old fashioned 70s disaster flick as much as the next guy, but that's not what we had here. Once Lords and Daniels escape their initial predicament, all the earthquake is is a backdrop. In real disaster movies, the disaster is a main character, not a supporting role, or in this case, tangential. The problem was, they made their background story too complicated, which meant it took too long to act out, leaving very little time for earthquake stuff. I'm not sure if it was Daniels' agent or what, but they put too much effort into making him a bad guy that wasn't really a bad guy. Think about how much more fun it would've been if Daniels was a real nefarious baddie, like a vicious drug dealer, and Lords and him have to team up to make it out of a busted up building. Almost like
The Defiant Ones
, only it's the earthquake that's figuratively shackled them together. Keep the bad acting, bad dialog, etc., and make a real tribute to the 70s disaster flick, instead of a Lifetime movie disguised as a disaster flick, with the disaster only playing a supporting role.
As far as Daniels goes, I'm not angry that he didn't use any martial arts, because this was (supposed to be) a disaster film. On the other hand, he did a few things, like jumping and shifting his hands that are cuffed behind his back to in front of him, which indicated that he was more than just a computer genius, and which they never explained. As far as his acting goes, he actually was pretty good when he was the bad guy at the beginning. It was later, when the role became convoluted, that his acting broke down, and I'm not sure we can blame that on him. Again, had he been able to play a straight up baddie who had to put his baddie-ness aside to survive a devastating earthquake, it would've been much better.
It was once said of Audrey Hepburn that one could make a movie of just her eating an apple, and it would be worth watching. I think the same could be said of Traci Lords, only in her case, she can't act as well as Hepburn. She's hot as hell in everything she does naturally, it's when she has to act that it doesn't always work, at least in
Epicenter
. The scene where I took the image of her smoking is a perfect example. She was hot as hell every time she took a drag, but in between when she argued with her superior about FBI stuff, it came off silly. I went deep into the archives for a film called
Frostbite
that she was in. I kind of remembered her being good in it, but unfortunately, my review doesn't say really one way or the other, just that the film cracked jokes about her former career in Gentlemen's Cinema. I guess what I'm saying is that she was probably as much a victim of this poor film as Daniels was.
imdb says the film was shot in Vancouver and Romania, but that is also took shots from
Speed
,
Money Train
,
Metro
, and a 1990 TV movie called
The Big One: The Great Los Angeles Earthquake
. I only bring this up because that shot above looks like the hotel I stayed in when I was in LA last May. Of course, since it would've had to have been stock footage taken potentially as far back as 20 years ago, it's hard to say if it's actually LA or not. It doesn't look like Romania, so if it's not LA, then it would have to be Vancouver, but it really looks like LA, and where I stayed to boot. Also, on the
image page
, there's a shot of the Super Shuttle, which I took to get from the airport to the hotel in back when I was in LA. Anyone else ever taken one of those?
This is a definite skip. Not because Daniels doesn't use any martial arts, but because it's totally lame-o. If you're in the mood for a good old school disaster flick, check out the Sci Fi (SyFy?) channel schedule and roll the dice. You'll have better luck. And speaking of rolling the dice, I need figure out what my next Gary Daniels flick will be.
For more info:
http://www.imdb.com/title/tt0233656/