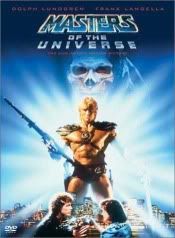 I've been meaning to review this one for a long time, but even after I introduced the Wild Card post so I could include non-DTV films here on a weekly basis, I just wasn't sure how I wanted to attack it. It's been made fun of and laughed at so many times, right? What more could I do with it? But after a long Dolph absence, I knew I needed to do something, so I rented it anyway. When I popped it in the DVD player, though, I saw the word "Commentary" on the menu, and thought: "this could be promising". Turns out all it is is director Gary Goddard, but still, it allowed me to get some questions answered about why this turned out as badly as it did.
For those that don't know,
Masters of the Universe
is loosely based on the action figures and the 23 minute cartoons that acted as advertisements for said action figures.
Dolph Lundgren
plays He-Man, and Frank Langella (yes,
that
Frank Langella) plays Skeletor. Skeltor has taken over Castle Grayskull, and Dolph and his crew use some kind of device to go to Earth, and then they need to somehow find the device and get back, while Skeletor wants the device too and he wants He-Man so he can kill him and show all of Eternia that he's the true king.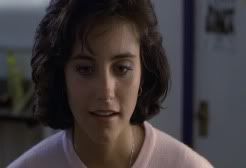 Before watching the film with Goddard's commentary, I had always thought the people involved with making it were either lazy or arrogant or both; that they thought that because the cartoons were so simple and silly, they could throw together a script and make a movie about it without much effort. I was wrong about that. According to Goddard,
Golan-Globus
came to the writer, David Odell, and said write us a script about He-Man that's set here on Earth so we can make it cheaper. Then they went to Goddard, who hadn't directed a film before, and said make us this film adaptation in under $17 million and in quick enough time that it can be out for the summer. That explains a lot, and makes me more sympathetic to how bad the film turned out.
I have to respectfully disagree with him though, when he says that all in all the film was a success, or rather, that it turned out well. No it didn't. He also said a lot of people my age see it as one of their all time favorites. Again, no they don't. Maybe they tell you that, Mr. Goddard, because you sound like a nice guy in the commentary, and after hearing what you had to say, I fully believe you did everything you could to make this a success, but it was sautéed in wrong sauce from the start. Someone brought you in out of medical school to perform open-heart surgery on the back of a moving truck without all the instruments you needed. He-Man on Earth to save costs? And then you said you didn't want to do this or that because you didn't want it to look too much like
Star Wars
? Didn't you realize the whole thing looked too much like
Star Wars
? Critics called it the "
Star Wars
of the 80s", and you completely ignored that in your commentary, when it was obvious to all of us. I'm willing to accept that you and everyone else involved did your best to make this as good as possible, but good as possible isn't good.
This was Dolph's first film after
Rocky IV
, and when you tack on the distribution disaster of
The Punisher
, his fate as a DTV star was pretty much sealed.
Universal Soldier
might be seen as an exception, but he played second fiddle to
Van Damme
there. It was
Masters of the Universe
and
The Punisher
versus
Bloodsport
and
Cyborg
that paved the paths for both actors, and though Van Damme eventually made it to where Dolph is, and though from Dolph's demeanor it would seem he's fine with the way things worked out, it's interesting to wonder what if, isn't it? Surprisingly, this was a little light on the Dolph, but what there is of him, is awesome as usual.
Masters of the Universe
, though a financial strain on Golan-Globus and Cannon, was not the one that ultimately took it down-- that honor goes to
Superman IV: The Quest for Peace
-- but it didn't help. If you're interested you can read the Wikipedia article on Golan-Globus and Canon by clicking
here
. Who knows where'd they'd have ended up if they'd stuck to low-budget action and Oscar winning foreign films, but they had the rights to Mattel and Marvel properties, so it only made sense to want to use them. The problem with those things, as we're seeing now, is they're an all or nothing proposition: they either need to be nine-figure blockbusters, or they shouldn't be made. I know in the mid-80s $17 million was a lot for a film, but in the 2010s nine figures is a lot for a film too; and I also know that throwing money around doesn't always work either (
see Transformers: Rise of the Fallen
), but keeping the budget artificially low, or trying to make
Masters of the Universe
on the cheap, isn't a recipe for success either. Again, it's either all or nothing, and they tried to just go with more than they usually spend instead of all, and ended up paying more for it.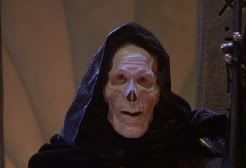 Wow, I'm already at paragraph seven. I guess no comment on Courtney Cox's first film, or that a future female Trekkie heartthrob was in this as well as Cox's boyrfriend, or how much I loved the toys as a kid, or even James Tolkan not telling Tom Cruise how he'd have him flying cargo ships of rubber dogshit out of Hong Kong. If I only have one paragraph left, I'm using it on Frank Langella. Goddard couldn't say enough about how they wanted to make the Skeletor mask look a certain way so it would retain Langella's facial expressions, which is fascinating, because Goddard, who hadn't directed a feature film before that, and hasn't really since, understands a simple truth that James Cameron and a bunch of
Avatar
honks didn't: that great actors do so many subtle things with their faces, and that subtlety adds so much to the film. Anyway, Langella is a true professional actor, and he didn't mail in this role at all. He put the same amount of effort in here that he did in
Frost/Nixon
, which is amazing.
If you haven't seen this before, go for it, you'll have a great time. If you have seen it, and hate it, maybe reading this review, or watching it on your own with the director's commentary, will allow you to be a little more sympathetic. Though Mr. Goddard isn't same quality of director as another Goddard we all know (Jean-Luc!... sorry, I had to do that...), he did the best with what he was given. Who knows what a modern
Masters of the Universe
would look like today, but there's no guarantee it'll be better. That doesn't excuse this one, just puts it in perspective, at least for me.
For more info:
http://www.imdb.com/title/tt0093507/