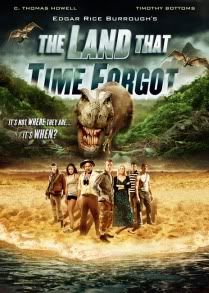 We often give
The Asylum
a hard time for their crass approach to film making. Just stick a 90-minute sack of asscrack on the shelves with a name similar to another bigger film already in the theater, and hope as many people as possible rent it based on name-unrecognition. Here I have to give them some credit for creativity in
The Land That Time Forgot
, because the 1975 original was released to grab people who watched
Land of the Lost
, which was on TV at the time. A really cool way to make money off the Will Ferrell movie that was in theaters at the time, and pay homage to a classic fantasy film that was released to make money off the TV show the Will Ferrell movie was based on too.
The Land That Time Forgot
is another
C. Thomas Howell
directed/acted Asylum effort. Here, instead of U-Boats and WWI, we have two modern newlyweds on a cruise (Howell and his wife, and the girl from the Miller Lite commercial and her hubby), captained by
Timothy Bottoms
, that's blown off course in the Bermuda Triangle, and ends up on an island with dinosaurs and whatnot. Howell's wife is separated from them, feared dead, while the other four meet up with a couple other cast-aways. These cast-aways take them to another part of the island, run by Nazi soldiers, also shipwrecked, and holding Howell's wife hostage. Anyway, they plan to get her out, while the two cast-aways they met steal Bottoms' boat, stranding them there. Now our heroes and the Germans team up and refine some petrol they've found, so they can power their submarine and sail home.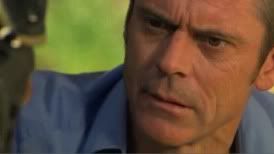 This was pretty good. If you like low-budget movies from the 1950s with silly looking dinosaurs and notsogood acting, this is the movie for you. It did have some lulls, and there were some scenes that could've been less drawn out, but overall, it wasn't as bad as we've seen from The Asylum. I guess my question is, why do these films have to be 90 minutes long? All of their 1950s counterparts were about 75 minutes. Chop 'em down a bit and just throw as many CGI dinosaurs and people running and screaming away from them as you can.
This is Howell's sixth directorial effort, and his third with The Asylum. I don't really know what there is to say about that, other than that seems to be how The Asylum has kept him around. He just gets to remake old Sci-Fi classics. There have been calls to get Howell into the DTVC Hall of Fame, but there have been just as many calls against it. I had originally slated him for the inaugural class when I started the DTVC in 2007, but I couldn't get him past the board, and as time's gone on, I think I can agree with that, as his resume isn't quite there. One thing I can say in his defense: this will be his 11th film on here, and of those 11, four are Asylum pics, and another is
Red Dawn
, not a DTV movie. Still, that Asylum argument is flawed, because
The Da Vinci Treasure
made my top ten DTV films of the 2000s.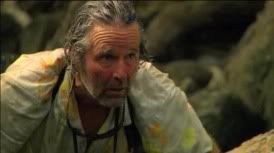 A really interesting Timothy Bottoms. No George W. Bush for him. Hello Captain Ron! I almost didn't recognize him. According to the
Wikipedia
article on
The Land That Time Forgot
, Bottoms was in the 1991 remake of
Land of the Lost
, so his inclusion in this film is fitting. He has a vast bio that spans everything, and I'd like to get more of his DTV gems up here, but there's just so many other actors out there with priority right now, that we'll have to settle with reviews here and there for right now.
One of the elements I've never liked about
The Land of the Lost
was how someone always had to be stranded, in this case Howell and his wife. I can't fault this film for keeping that, because if they didn't, they would've been killed for it, as it was a part of the book and 1975 movie. It feels weird though, and maybe weirdest in this version, because everyone was working so well together, and for anyone to be left behind made a bad ending out of a really fun movie. Again, they really couldn't change it, so I'm not faulting them, just pointing out my opinion on it.
Do you recognize this girl? Her name's Lindsey McKeon, which probably doesn't ring a bell. Currently she has a part in one of the dumbest light beer ad campaigns ever, which is saying a lot, because light beer commercials are often as dumb as they get. It's those Miller Lite commercials where they say "man up and drink lite beer." Say it out loud so the sheer stupidity of the statement will sink in for you. "Man up and drink lite beer." Try some others while you're at it. "Man up and get a manicure." "Man up and watch a Matthew McConaughey Romantic Comedy." "Man up and ask your wife to get rid of the mouse you just saw run across the floor." And the best part, the women in these commercials are implying their gender is the inferior and weaker one. Notsomuch in Lindsey's, where all she does is bring back the old
Seinfeld
joke about the man purse; but in the second one, a woman tells a man to "take off [his] skirt", again indicating being a woman is a sign of weakness. Odd message from a woman, huh? Anyway, seeing McKeon in the commercial I was like "where have I seen her from?", and then seeing her in this I was able to look her up, and found that I could've recognized in any number of roles, though not her most recent one, the CW drama
One Tree Hill (
not a show I watch). If she's in that, what is she doing in light beer commercials? Better yet, what is she doing in Asylum pictures? Oh, and by the way, I drink PBR because they have no commercials.
This is one of the few Asylum films that gets it right. It is that modern 1950s style sci-fi flick with the bad special effects and bad acting. It might have been a little long and a little weird, but for what it is, it isn't so bad. We've seen The Asylum get much worse, so I guess we should be happy we made it out this time unscathed.
For more info:
http://www.imdb.com/title/tt1410205/