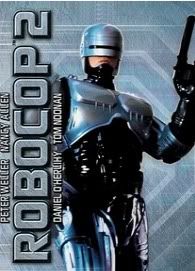 In continuing our celebration of the DTVC's 500th post, we're looking at
RoboCop 2
, the bigger budget sequel to the Paul Verhoeven classic. Verhoeven didn't direct this one, and Ed Neumeier also stepped aside as co-writer, with that duty being taken by Frank Miller.
RoboCop
2 picks up where part one leaves off.
Peter Weller
is our hero again, and he's starting to have more flashbacks to his former life, and is longing for his humanity. At the same time OCP is looking for the next better RoboCop so they won't have to use the Weller version, and they have their chance when RoboCop is blown apart by a gang manufacturing the narcotic NUKE. At the same time, OCP is looking to take over the city after they've defaulted on their debt because OCP runs their police force. To keep the mayor from getting funds elsewhere, OCP has sent their new creation, RoboCop version 2.0 into stop him. Problem with the new RoboCop: the crazy psychologist OCP has on their payroll decided the psychotic leader of the NUKE gang RoboCop took down would make the perfect brain for the machine. Man, RoboCop has really got his work cut out for himself how, huh?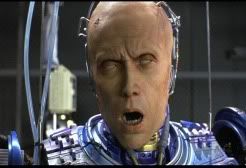 This one was good, but nowhere near as groundbreaking as it's predecessor. That was probably to be expected, especially since to my mind
RoboCop
was a very complete movie, leaving very little behind for a sequel to be made with. I do like questions about what drugs are good and what drugs are bad, and the validity of Reagan's War on Drugs; and the idea that governments and corporations need to be as separate as the branches of government do, otherwise we could be in for problems. Overall, it wasn't bad. Sure, tons of violence, but done in a very satirical way, similar to the first one, just not quite as good.
One of the best concepts was the overly PC RoboCop who had too many directives to be able to function properly. This was a very
Team America
approach about 15 years ahead of schedule, the way they made fun of both the right and the left. It's funny that a film as over the top as
RoboCop 2
would have as its ultimate message that we need to practice a little moderation. What's more amazing is how relevant the message is today, especially with the no government no taxes Tea Baggers. I remember seeing a sign someone made as a joke to hold up at one of the rallies that read: "I hate government, I hate taxes, I'm moving to Somalia." The truth is, no government and no taxes would probably lead us more down the road of OCP than it would Somalia-- or rather the lawlessness of
RoboCop
's Detroit-- but neither is a welcome sight. But too much government can be a bad thing too, and though this film replaces government fascists with corporate ones, the historical alternative can be a bad one too. (I also think the overly PC RoboCop was poking fun at the first film's critics who said it was too violent.)
This would be the last
RoboCop
film Peter Weller would star in, having a conflict that prevented him from acting in part 3. It's an interesting question, whether or not he made a good or bad choice to stay on and do this one. I'm not sure about that, but what I do know is if he hadn't been in it, it would've been a lot worse. He's just a great professional actor, which I'm sure everyone's familiar with being that he's a DTVC Hall of Famer. Other than
Buckeroo Bonzai
, and probably more than
Buckeroo Bonzai
, this is his best known role. I think it was good, no matter how much of a step down this one might have been, for him to play the part again. As a side note, Patricia Charbonneau was in this as a scientist who works on Weller. You may remember her from
Shakedown
, another Weller picture that came out in 1988.
According to the
trivia section
for
RoboCop 2
's imdb entry, Paul Verhoeven was approached about a sequel, and he was for it, but wanted to wait for the right script, and give it some time so a sequel wouldn't look like a cash grab. Orion disagreed, and they called in Miller, whose script was unfilmable, forcing them to rewrite it. Verhoeven said had he been given time, what he had in mind would've been much better than what we got.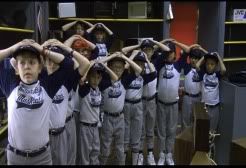 I included a picture from the scene where the Little League team robs an electronics store and brutally beats the owner. I did this from my own personal memories. I don't remember what talk show it was at the time,
Donahue
or
Geraldo
, but one of them did a show on violence in movies, and a woman they had as one of the guests was freaking out about that scene. For her that was the lowest of the low. Maybe at 11 (which was how old I was when
RoboCop 2
came out), I would think the same way she did, but as an adult, I can't see how she didn't see the humor in it. Obviously it was meant as a satire of all the complaints people were making about how violence was ruining our youth, essentially making fun of her as well; but the key to the scene is the coach loading the stuff onto the truck. He's the ring leader, and also the adult figure that's really influencing kids. What they were saying is, it's the adults closest to kids that determine what their behavior will be like as adults more than anything else.
If you liked the first one (and I loved it), this is a pretty fun time. Again, it's nowhere near what the first one was, but few films are, and viewed within the context of the first one, it's actually a little better than most people were giving it credit. A little.
For more info:
http://www.imdb.com/title/tt0100502/