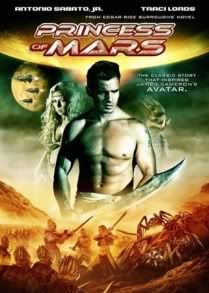 When I found this on Netflix Watch Instantly, I thought, wow, an
Asylum
picture not meant to capitalize on a blockbuster in the theater. Turns out I was wrong.
Princess of Mars
is based on an Edgar Rice Burroughs book of the same name, and that book was supposed to be in part the inspiration for
Avatar
, which The Asylum made sure was plastered on the DVD's cover. What I wonder is whether or not
Dances With Wolves
also has on its DVD cover "Movie Cameron ripped off to make
Avatar
"?
Princess of Mars
is about a soldier in Afghanistan played by Antonio Sabato Jr. who is shot multiple times and almost killed. The Army decides to take the info they have of his body on a flashdrive, and use that info to teleport him to Mars 216, a planet orbiting Alpha Centauri that the government thinks might have life on it. When he gets there, he finds he has special powers due to the planet's gravity, then is captured by these lizard people. He earns their respect by fighting alongside of them, only to find they don't like the humans on the planet. When they capture the princess,
Traci Lords
, Sabato tries to build peace between both sides, though he has trouble when a mysterious man gets in his way. Who is this guy?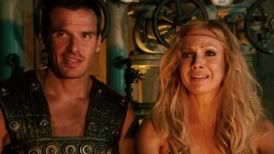 Because this is based on a book, I'm not sure who I can blame for my number one issue with the film, so I'll just put it out there, and if anyone's read it, they can tell me. For the first hour, I thought this might be one of the best Asylum films I've seen. I know that's not saying much, but still. It felt like a classic Steve Reeves
Hercules
film, and it was a lot of fun. Then we get to the lizard people's castle, and their leader has a bunch of human women with their eyes gouged out and eyelids stitched over. What? Weird weird weird. I don't know if it was in the book to begin with, or if The Asylum added it, but it was just weird. I think The Asylum should've seen that and changed it if it was Burrough's originally, but can we be surprised The Asylum didn't? They seem to revel in weirdness when it's the most inappropriate.
It was just such a disappointment, because it was only maybe five total minutes in the film, but considering the only thing the film was selling was fun, doing something like that rips all the fun out of it. Antonio Sabato Jr. was great as the hero. He had elements of Reeves, but he also really made it his own too. Lords was also great as the princess. And I loved the bad effects and the lizard people too. What is the point of killing it all? They had to be checking the dailies and seeing the tone the film was taking. Ride it, don't kill it.
I don't think we have any other Antonio Sabato Jr. on here, though he does have some other DTV roles. He worked perfectly fine here, so maybe I'll check some more of those out. He had a way of delivering lines in a clean, tongue-in-cheek way that enhanced the overall mood of the film, and almost transcended the film's major shortcoming. If The Asylum makes movies of the book's sequels, I hope they keep Sabato, and I hope Sabato says yes. (Sounds like his reality show,
My Antonio
, which I loved the title to, playing off the Willa Cather novel
My Antonia
.)
After having our first Asylum bait-and-switch in our
The Day the Earth Stopped
review, we now have two in a row, only this time it's a planet bait-and-switch. That's right, Mars on the cover, but watching the film, I found out it was the fictitious planet Mars 216. I kind of dig this, though, because unlike the
War of the Worlds
Asylum films, which just seem out of touch with our current knowledge about Mars, this movie took it upon itself to invent a new planet, which I think is cooler. (I like the idea of using the real Mars too, because of
Olympus Mons
, the largest mountain in the solar system, sounds really awesome but I digress.) The interplay of two humanoid species only works on a new Mars, and that was a really cool idea as well. As an anthropology major, I've always dug the interplay between Neanderthal and Cro-Magnon, because it's the only time we had two human species interacting. Of course, as far as we know, there aren't any planets orbiting
Alpha Centauri
, at least none that have been seen, so there's that too.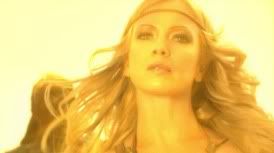 She's back. After reviewing
Epicenter
and our first Traci Lords movie, we're back at it again with another film of hers. She was much better here, and though one could say she's had nine years to hone her craft, I think this material suited her much better. She's good at being tongue-in-cheek the way Sabato Jr. was, and the two worked great together. Also, she looked amazing in her princess outfit-- amazing at any age, but especially a woman in her early 40s who's had kids. But she brings other elements to the role, the ability to be assertive and regal while still being pretty in a skimpy outfit. Again, if The Asylum decides to make films out of the other books, I hope they keep Lords as well.
Other than the weirdness of the chicks who had their eyes gouged out, this was a fun ride. So the question is, is that a deal breaker for you? It kinda was for me, or at the very least, made this a two instead of a three star film on the Netflix scale. Hopefully if they make films out of the sequels, they'll alter them enough to ramp up the fun and drown out the macabre.
For more info:
http://www.imdb.com/title/tt1531911/