When this thing turned up on Hulu as I was looking up
Shô Kosugi
during my
Ninja Assassin
review, I figured it was a good idea to make it happen. Of course, it had been maybe 20 years since I'd seen it last, and I had this odd sense that it wasn't good, or that I didn't quite like it, but I couldn't remember why.
Pray for Death
has Shô Kosugi as a Japanese businessman trying to leave behind his ninja past. He has an American wife and two kids, and when the wife suggests moving back to the States, he's all over the idea. When he gets here, though, he finds out the property they bought is in a bad part of town, and even worse, some local baddies hid an expensive necklace in a boarded up section of their new place, and when it goes missing, they take it out on Kosugi and his family. Kosugi wants to do things by the book, but the cops are little help, so he has to take matters into his own hands to protect his family.
Now I remember why I didn't like this. It was ten kinds of awesome in terms of great ninja action, and Kosugi brings it. What killed it for me was the film makers killing off Kosugi's wife. It's like, first the baddies kidnap his son, so he rescues him. Then they run over his wife and son, so he goes and threatens them to leave his family alone. Finally, after all that, they then kill off his wife. Jesus, why not burn down his house and send the IRS after him too while you're at it. And that made for an awesome last scene too, with Kosugi and his two sons at their mother's grave. That's what I want out of an action flick, a somber ending. Maybe they could mix in Sarah McLachlan's "Angel" while they're at it. Good work, guys.
We always talk about not wanting the plot to get in the way of the action in the sense of lowering the overall action quotient, but here what happened was the bad plot killed any fun the movie should've had. They wrote themselves into a corner to start with, when Kosugi invades the baddie's party boat, but then he leaves the head baddie alive, warning him not to mess with his family, because they really had nowhere to go from there. They also needed to kill off the wife to give us the baddie's ultimate death of getting sawed in half, which I guess we wouldn't buy if the head baddie just kidnapped the wife I guess. The thing is, we didn't buy it anyway because they didn't show it. What we needed was for the wife to be kidnapped from the hospital, Kosugi saves her, and the end scene is the family at their restaurant. Keep everything else, and this would be one of the best films of all time.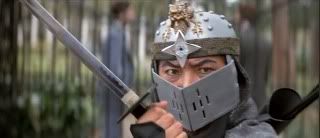 And a big reason for that was how awesome Shô Kosugi was, yet again. The martial arts were spot on, and his ninja costume was sweet as all get out. I think the biggest impediment to his overall success here in the States is his poor command of the English language. It's not an indictment on him, just a point of fact. Now he's 62, which puts him in that wise sensei category, which worked fine in
Ninja Assassin
, so maybe we'll get more of that from him. In this film, it was some of his best stuff, which makes it all the more annoying that his character couldn't get a break. I'm surprised after killing off his wife they also didn't have his fledgling restaurant destroyed by an earthquake or something.
I should probably get together a list of my rules for action films, because I got another one right here: kids look silly doing martial arts.
Pray for Death
features Kosugi's kids yet again, and when they're fighting bad guys, it looks too ridiculous for words-- not to mention, it takes away from time we could have of Kosugi's great martial arts skills. I mean, when we sign on for a Shô Kosugi film, we're signing on to watch him fight, not his kids. If I wanted that kind of thing, I'd rent
3 Ninjas
.
One of the best parts of the film comes when Kosugi jumps over a truck. Real or not, it was great in an 80s 90s DTV action sort of way. The truth is, the film was more parts like that, and collected together make for an awesome film. Unfortunately, by killing off Kosugi's wife and his kids' mother, all that fun goes out the window. Sometimes these film makers just take themselves too seriously. Had this been made by
Golan-Globus
, you know it would've been much more fun.
And there you have it. This is great in terms of Shô Kosugi and his action; but the whole thing took a weird turn for me because the film makers just had to keep sending Kosugi's character through the ringer, ultimately killing his wife. I'm surprised they didn't also have him buy a winning lottery ticket, only to have it fly out of his hands when he finds out it's the jackpot.
For more info:
http://www.imdb.com/title/tt0089835/