One of our more faithful supporters, RepoGenetic, warned me against this one (at least I think it was him, sorry if I'm wrong and not giving someone credit), but as a reviewer, the Christian Slater and
Cuba Gooding Jr.
factor just drew me in, and bad or no, it was my job to watch it and tell everyone what I think. Now it's time to make lemons out of lemonade.
Lies & Illusions
is a Hitchcockian style thriller with Christian Slater as a best selling author who loses his fiancée in an apparent mugging, and after a year of her missing, she's declared dead. Trying to move on, Slater discovers his girlfriend may not have been who he thought she was, and a whole host of unsavory characters start popping up beating up Slater and making him get things out of safety deposit boxes for them. Now this simple author is thrust into a world of danger and intrigue that he neither wanted nor was equipped to handle.
This movie sent me a strong message at the 13 minute mark, letting me know what I was in for. Lochlyn Monroe as an attorney for Slater's missing wife has his finger put into a paper shredder by some baddies. This is totally useless as far as the plot goes, because the baddies already had what they wanted out of him by threatening his family, meaning the film makers did it just to do it. I've never had a film give me a sign like that, only to have them turn things around and make a quality film, and
Lies & Illusions
was no exception. Beyond the weirdness and grossness of that (which wasn't shown, but the fact they did it was enough, plus they showed Monroe's chewed up pinky finger after to remind us they did it), there was the story that didn't know if it was a suspense thriller, a bad action film, or a screwball comedy, and as with all films suffering from an identity crisis, it did none of those genres well at all.
One of the most poorly emulated directors of all time is Alfred Hitchcock, and the further in time we get from his films, the worse the emulations seem to get. Putting fingers in paper shredders? Hitchcock would never do that, yet he'd make his films so much more suspense filled than anything like this that did. Maybe it's because I love Hitchcock so much, but I feel like these people love him as much as I do, so it frustrates me when they don't get it. I know if the people involved are making a DTV picture with Christian Slater and Cuba Gooding Jr., they aren't of the pedigree of a Hitchcock anyway, and that's not what upsets me. The key is to understand their limitations and bring us some quality, and putting fingers in paper shredders for no reason is indicative of that lack of understanding.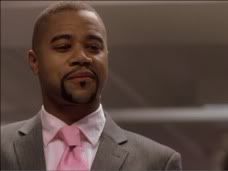 Before I deal with Cuba Gooding Jr. and Christian Slater, I want to look at one scene they did together. It was near the beginning, after Slater's woman had disappeared, and Gooding shows up at one of Slater's book signings pretending to be a fan. I had this vibe that 15 years ago, these two actors would've been paired in a similar scene in a theatrically released Romantic Comedy. The critics would've torn it apart, it probably would've faded quickly after a decent opening week, then we'd have forgotten about it accept for the occasional airings on TBS after
Jersey Girl
, or in our married friends' DVD collections next to
Sahara
. The thing is, as a Romantic Comedy,
Lies & Illusions
would've been a better movie. Same basic plot, only focus on Slater's love triangle, and make Cuba's gangster character a much more ironic bad guy. I would've liked that one.
This is our first Christian Slater DTV film, and the only thing I have to say is: "where ya been old pal?" This was classic wisecracking and ranting Slater, reminding me of something like
Kuffs
. I'm not exactly sure what happened to him. Unlike Gooding and
Val Kilmer
who were big stars that Hollywood just couldn't find a place for, Slater was never as big as them, and I can't see why what he brings to the table isn't still a staple in most modern films. That's the problem with the way movies are made today, they'd rather have a rapper or comedian play a part that Christian Slater could do so much better. Had he been born 30 years earlier, he never would've lost his place in the film industry.
Now if Cuba Gooding Jr. had been born 30 years earlier, he would've been doing Blaxploitation films and would've had no chance of winning an Oscar, but have times changed enough? I guess what I'm saying is, how many African American actors can you name that are his age and weren't either a comedian or rapper first? Don Cheadle comes to mind. Forest Whitaker and Terrence Howard too, but that's about it. What do those three have that Gooding doesn't? We believe them in more serious films than we do him. Considering how good Gooding was in
Gladiator
, I think that's a shame, but he took a lot of parts after
Jerry McGuire
that were family friendly and feel good; and now it seems like he's making up for that by playing all these bad ass roles in his DTV career. I get that, but he's kind of overdoing it, and he was great in the Romantic Comedy style scene he had with Slater at the book signing. I guess it just sucks that Hollywood is picking rappers over him when he's a much better actor than any of them.
I was late on reviewing this, so I probably didn't save you from a Red Box disaster, but if you see it on TV or Netflix, stay away. It's currently on Watch Instantly, so it may be tempting. Don't succumb to temptation. You'll thank me for it.