I didn't know what to expect with this movie going in. It had some great names, including DTVC favorites
Danny Trejo
and
Ving Rhames
, but you just never know nowadays. A great idea for a film can be snatched from you, right before your very eyes, with a series of blinding jumpcuts, bad camera effects, and a droning cookie-cutter modern rock soundtrack. I'm just sayin'...
Death Race 2
is a prequel to the original. Ving Rhames runs a corporation that owns prisons and TV channels, and a woman working for the latter decides he can make money by combining the latter with the former in the form of Death Matches. They do all right to start, but not good enough, so the lady ups the ante to Death Races. Meanwhile, Luke Goss is a wheelman who kills a cop in a bank robbery, and is sent to Ving's prison. Sean Bean wants him killed for fear he'll testify against him, but the lady wants him to Death Race for her first. Quite the dilemma.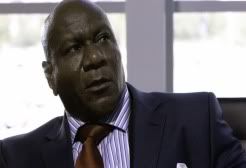 So, what I could see of the film, I thought wasn't bad. Yes, it had the inane modern rock soundtrack-- they couldn't even use the Ram Jam's version of "Black Betty", they had to modern rock cover that too-- but Ving Rhames was great, and Danny Trejo, though playing kind of a cornball character, wasn't bad either. I even didn't mind Luke Goss. What killed me, and ruined the film, was the camera effects. I think Lee over at
Straight-to-DVD-Heaven
coined the term "avid farts", and this movie did it to death. One millisecond I'm seeing a guy go to throw a punch, then I see his back, then I see a chainlink fence, then I see stock footage of a guy being shot in the stomach with a cannon ball, then I see Max Headroom. Dude, seriously, lay off the Red Bull. Then there were the 360 crane shots. Who are you, Ernest Haller, trying to win an Oscar for cinematography? Cut the shit, you're making me dizzy. Then there was the constant slo-mo, acting as if this was the first movie to ever have a car chase, or the first movie to ever blow up a car. It was beyond excessive, it was almost insulting, as if we viewers are so dumb that we can only appreciate an exploding car if it's done in super slo-mo.
The director, Roel Reiné, has directed two films that I've seen, one,
Pistol Whipped
, which I enjoyed, and another,
The Marine 2
, which I didn't like. In neither case, though, did he go the MTV/avid farts route.
Pistol Whipped
was an especially great film, so to see this one turn out like
Death Race 2: The Punchfighting
was a disappointment. This was such a bad punchfighting film, in fact, that I was wondering where Tony Schiena and Hector Echevarria were. I don't know what this movie was, but had it been a little more straightforward and less gimmicky, I think I would've enjoyed it. I couldn't help thinking, while watching it, about a
PM Entertainment
film called
The Sweeper
with
C. Thomas Howell
, which I reviewed about 18 months ago. Just a good bad action movie. The people making this have a lot to learn from something like that. Stop thinking you're cooler than the 90s, because you're not-- not even close.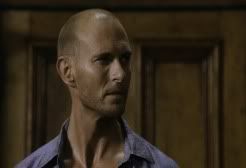 Luke Goss always has this squinty scowl on his face, like he's smelling something funny. The way the film handled his character finally getting scarred was interesting for a few reasons. First, he's badly burned while trapped in a flaming car. Before that, every car exploded on impact, but this one, for some reason (plot convenience theater), slowly immolated. Second, I thought in the previous film, his face was scarred from so many accidents, and I almost think it would've been cooler that way, say if he ends the film and has a big gash on his cheek, like it's just the start of things to come; though I do like doing it the way they did it too, especially so they could bring the mask into it. Finally, I don't know why they showed his face at all. By showing his face all burned and scarred, it ruined the impact of his putting the mask on. I know us Americans have to see everything, but sometimes less is more. What's the point of putting the mask on if you already have us used to seeing his burned face? That'd be like deciding three movies in to give Freddy a mask in
Nightmare on Elm Street
. Give us some mystery, leave something to our imagination.
I did like Ving Rhames, as I mentioned above. He has a great line, when he's telling Luke Goss that this his prison is like Ancient Rome. Goss asks him "then who are you?" "I'm Caesar." Yes you are. His character was betrayed by the bad script in something I'll be getting into next, when the woman who sets up Death Race is killed by Goss, he sees it on TV and says "That's a dumb bitch." It was crass and ignorant and totally not what Rhames's character had been throughout the movie. I guess it just showed that the people involved with this movie didn't have the capacity to understand how cool Rhames is.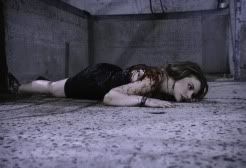 This was supposed to be an applause scene, where Goss runs over the woman who started the Death Race, but it was a very dangerous message. Violence against women is never a good look, and I know she wasn't a nice person, but really all she did was jump in with the corporate sharks and become one of them too. No one else had a problem with using the prisoners for these twisted games, yet it's only the "dumb bitch", as Rhames so eloquently put it, who gets it? There were also messages about her using her body and having sex with powerful men to get by in life, as if the only way a woman can make it in the business world is on her back. The whole thing was just really chauvinistic, ignorant, and in poor taste. I know I shouldn't expect women's lib from a DTV action film, but maybe something a little less irresponsible. More 2010, and less 1950, is that too much to ask?
This had some potential, and there was some good action, it's just more often than not, that action was overly edited into something that was hard to focus on. I'm worried that this is the future of the action film, that I'll be doomed to gimmicky camera affects and cinematography that makes me sea sick, all set to a soundtrack of a bunch of Disturbed and Linkin Park wannabes. Lord help me!
For more info:
http://www.imdb.com/title/tt1500491/