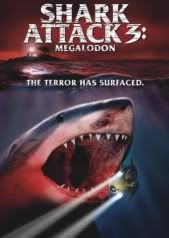 When I was visiting my friends in Mass a couple weeks ago, the wife had rented this on Netflix, in part because they were shown the film in Austria by their friend's roommate, and in part because it had a dude from the new
Doctor Who
(more like Cock-tor Who-- get it?!?!). There was some question as to whether we'd actually get the film in, though, especially when we missed one of our opportunities to watch
Bitch Slap
instead. Luckily, the last night of my visit, we made it happen, and now I'm reviewing it for you. We'll get to that famous line later, trust me.
Shark Attack 3
has John Barrowman as some boat dude working at a resort in Mexico. His cushy job goes south quick, though, when a big ol' effin' shark makes its way on the scene and starts eating people. A paleontologist is attracted by it's enormous size, but even she is shocked by just how big it is. Unable to convince anyone to close the beaches, Barrowman, the chick, and some older Navy dude, take matters into their own hands. Oh yeah, and Barrowman has one amazing line.
I mean, I don't know that camp gets any better. Whether it's the 1950s, and sharks are poorly superimposed, or it's 2002, and the sharks are either made of foam or poorly Photoshopped, it all works for me. This was everything
Mega Shark vs. Giant Octopus
was supposed to be and wasn't. I don't know how much of this was serious, and how much was a joke and on purpose; but I don't care. It was freakin' hilarious. Oh, and then there's that great line.
Yes, the dialogue was horrible, the acting was horrible, the special affects were horrible, but somewhere along the line, all that horrible adds up to a whole lot of fun. Now, if I had watched this on my own, as opposed to with like minded friends that I could mock it with, I might be less forgiving; but a movie like this wasn't meant for single viewing, it's best enjoyed in a group. It's also not meant to be watched passively. Get in there with your A material and let her have it. At the very least, you and your friends can wait for Mr. Barrowman's famous line.
One thing I dug were the pictures of former Mexican president Vicente Fox at various points of the film. Yes, they also had a couple Bush and Cheney ones, but you can see those anywhere. Vicente Fox is a different story. What's funny is, I'm not sure I could pick out Steven Harper or Paul Martin if I were shown some pictures of them, nor could I pick out pictures of the new Mexican president, whoever that is, but Vicente Fox? Yep, I know him. I guess I've let my knowledge of world leaders slip over the past few years. I am better at picking out That Guy style character actors though-- Bashar Rahal is in this.
One of the best bad effects in this came when Barrowman used his digital camera to take a picture of the shark's tooth he found. As opposed to taking the picture, like most digital cameras do, this thing scanned the image of the tooth and loaded it onto his computer with a white background. I'd say that was ridiculous, except that's the kind of thing
CSI
does with photos on the computer all the time. Oh, and even more so, that would be ridiculous except for Barrowman's famous line.
That's right, if you don't already know, Barrowman says to his leading lady, almost out nowhere "what do you say you let me take you home and eat your pussy", and the love scene ensues. I wanted to embed the video of it at the bottom of the post so you could see it for yourself, but it was disabled, so instead I set up a link to it on
YouTube
. I guess Barrowman was told by the director to say anything he could think of to get a rise out of his co-star, and that's what we got. As Billy Ocean would say, it's "simply... awesome."
If you and your buddies are planning a bad movie night, you can't go wrong picking
Shark Attack 3
for it. It's more than just that great Barrowman line too, but that line doesn't hurt either. Unlike a funny movie like
Batman
or
Black Dynamite
, this is the kind of funny that is serious enough that you and your friends can have a truly interactive experience and make fun of it, which is what makes for a perfect bad movie night.
For more info:
http://www.imdb.com/title/tt0313597/