This movie was available on DVD, but is now out of print, meaning Netflix no longer offers it to rent. I was very upset about that at the time. This is a
Cynthia Rothrock
classic, I thought, how could they not have it? Anyway, I found it on VHS for like $2 at a local record store, and was pretty stoked. Then I watched it again for the first time in 15 years, and was much less stoked.
Lady Dragon
has Rothrock as a former CIA chick on the trail of the arms dealer (
Richard Norton
) who killed her husband of two seconds. Her first attempt only makes things worse for herself, ending disastrously with Norton raping and beating her (none of which is shown-- thank you). She's dumped in a nearby village, where a wise old mute and his grandson nurse her to good health. Time for round two, Mr. Norton.
This could've been good. It had the bad lines, the sick music, the late 80s bad clothes (making them not only bad clothes but so five years ago), and the star power of Norton and Rothrock. What could they have done to ruin such a promising film? You guessed it, broke rule number one to bad action films: they let the plot get in the way. There were long periods of inactivity, plus a lot of the fight scenes were poorly choreographed. Norton himself doesn't fight until the last 30 minutes, and though it was awesome with him rocking the
Miami Vice
blazer and rolled up sleeves, that's way too late for our first Norton fight. In some of the Rothrock ones, the moves were clunky and over-rehearsed, especially the first one. Add to all of this, the movie went on approximately 20 minutes too long, and the final fight with Norton was ruined with some crap about the baddies having her friends, meaning she took a beating from ol' Norty that should've killed her, only to have her rally and beat him. It just didn't work.
I'm trying to figure out where I got it into my head that this was awesome. Maybe it was part 2 that was good. Maybe I got it mixed up with another Rothrock one that was actually good. Or maybe it was one of those where me and my friends were prank calling people instead of watching it; or the one we watched when the pizza came, so we fought over who got what while it was playing; or perhaps I was just too wasted when I saw it to fully comprehend how bad it was. Yes, there was plenty silliness to make fun of, like Rothrock on a dirt bike giving Norton the finger, but the large pockets of nothing happening killed any fun one might have.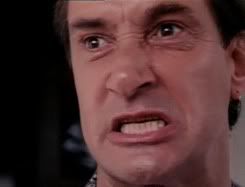 Though I can maybe see why
Lady Dragon
isn't on DVD, Rothrock has a pretty extensive collection of movies that were either never released on DVD, or at one time were and then fell out of print. The recent release of
Undefeatable
on DVD by an independent distributor gives me some hope, but in the meantime, films like
China O'Brien
are available on eBay and Amazon for exorbitant prices used, which is very disconcerting. This is an alarming trend recently, as we've discussed with
Gary Daniels
on recent posts. In just the three years that I've been doing this, I've seen myriad titles fall out of print, but it wasn't until I inducted Rothrock into my Hall of Fame in 2008 that I realized just how bad this has gotten. I think the biggest culprit is the large number of bad theatrical films with major movies stars in them that fill up $5 bins and the airwaves of channels like USA, TNT, and Spike. Our biggest problem at the DTVC is Hollywood can't stop making bad movies, and these huge conglomerates that own them own the cable channels that would air them too. Not only that, but the average viewer would rather watch Mel Gibson or Tommy Lee Jones in something bad, than Cynthia Rothrock in something bad. Whatever the reason, it's a sad state of affairs, and it makes my job that much harder.
That was a bit longer than I wanted it to be, so let's talk about something more fun. I'm not sure how many women and gay males read this blog, but even if it's only one or two, this paragraph is for you. Richard Norton shows off his bare buttcheeks. No frontal nudity, but plenty of pecs action too. As far as the straight males and lesbians go, no such luck. There was some mud wrestling and women fighting over a ruby in a pool though. What was best about that scene was how Norton was watching the women, getting really turned on, and Rothrock was looking at him like "what a weirdo!" Anyway, statistically speaking, the kinds of movies I review are much more likely to have naked chicks than naked dudes, so when it happens, I'm willing to let the straight ladies and gay males have their fun.
Norton has this line he says, not once, but twice, that had to be a joke. "The kind of pain dreams are made of." What the hell does that mean? Now imagine that line with an Australian accent. "The kind of pine dreems a' mide hov." (I can talk in an Australian accent much better than I can write in it. An apology to Sutekh, one of our readers from down under, if I'm coming off as an Australian-ist, or rather, anti-Australite.) I'm just trying to make sense of that, because it sounds like a bad Disney commercial line. "The kind of pain dreams are made of".... Whatever, I'll just go with it.
Unless you're a Rothrock completist, I can't imagine this being much fun for you. The two
Rage and Honor
films are on DVD, and though
China O'Brien
is out of print, those are all still better than this one. My next Rothrock film might actually be
Tiger Claws
. I know, another VHS warrior, but I think I may have found parts 1-3. Cross your fingers-- or don't if you know better than I do and they suck!
For more info:
http://www.imdb.com/title/tt0104667/