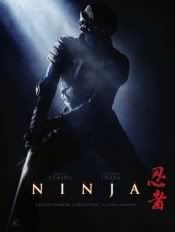 This film came out the same day as
Bitch Slap
, so naturally, it was somewhat lost in the shuffle. Only somewhat, mind you, because I would've hit it sooner had it been available to me, but I didn't get on it quick enough and other people had it out at Netfix. Anyway, the combination of Scott Adkins and director Isaac Florentine, reunited after a great run in
Undisputed II,
just seemed very promising.
Ninja
is about a ninja dojo in Japan that has two outstanding students: Casey (Scott Adkins), an orphan of a dead drunk American serviceman, and Masazuka, a guy who thinks Casey is unworthy of their sensei's praise. Anyway, Masazuka is kicked out of the dojo for attacking Casey, and he wants his revenge in the form of taking back the dojo's prized possession: a big fancy looking trunk filled with ninja weaponry. Casey, the sensei's daughter, and a couple other dudes travel to the States to hide it, and Masazuka follows them, employing a secret organization of angry Slavic white guys that he did a hit for to try and obtain the trunk. I'm sure you don't need me to tell you how this wraps up, with a showdown between Adkins and Masazuka.
I don't know where to go with this one. I want to be harsh and scold it for not having anywhere near enough action, or for giving us a hero in Adkins who's awesome, and then tarnishing his awesomeness by having him run from the baddies until like the hour mark, when he finally kicks ass. If-- and this could be a big if, because I didn't see any indication of this on imdb-- if they are using
Ninja
as the first in a series of Scott Adkins ninja movies, and this one was just him coming into his own as a warrior, I'm good with the running away. If not, then that was a waste of Scott Adkins.
Even if his character was just coming into his own, there were still plenty of missteps. In one scene Adkins is handcuffed to a table at a police station. Instead of just picking the lock like all the other ninjas do, he has to break the desk he's chained to. Come on people, no matter how green a ninja he is, he should be able to get out of handcuffs better than that. The bad ninja, Masazuka's, outfit was ridiculous. He looked like the Guyver, which would be great if he was supposed to be the Guyver, but he was supposed to be a ninja! And he was using night vision goggles. Ninja's don't use night vision goggles! From the way they laid out the opening, I was expecting something in the vein of the
Golan-Globus
style 80s ninja flick, and this wasn't even close.
Don't take this as an indictment of Scott Adkins as a potential DTV action star, because nothing could be further from the truth. This guy was great, and had the film focused on his great fighting, instead of having him run away so much, it would've made for a much better film. I hope this is only the start for Adkins, and he does do a series of ninja films-- or even just more action films. Even though this is the fourth film of his we've reviewed,
Shepherd: Border Patrol
,
The Tournament
, and
Undisputed II
being the other three, this is the first where he was the lead, and when he was allowed by the film to be the lead, he did great. Not only that, but with a lot of our great action stars in their fifties going on sixties, Adkins isn't even 34 yet, so he's a solid candidate to have the torch handed to.
I didn't show a picture of the guy who ran the secret organization of Slavs that the evil ninja turned to for help, because this guy was one of the worst Poor Man's
Lance Henriksens
I've ever seen. I mean, Lance Henriksen's not so great to begin with, but then to try emulate him, that's even worse. Who knows why the people making this couldn't get the real Lance Henriksen-- I mean, it seems like everyone else can-- but once they couldn't get him, the worst possible thing they could do was get someone else to act like him. You either have Henriksen or you don't, and when you don't, move on.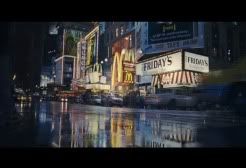 This film was shot in Bulgaria, but this shot looks like New York City, so I'm assuming they used file footage and mixed it in, which is fine with me. Anyone who's been rocking with me for a little while probably knows that I have a thing for spotting McDonald's in movies. I think this is the fifth one, after
Direct Contact
,
Hardwired
,
The Keeper
, and
American Ninja V
. I know, I'm a little nutty with that kind of thing, but McDonald's is just a guilty pleasure of mine. I didn't see a McDonald's in the Tokyo file footage they used, but I did see a KFC, so that was kind of cool.
I guess I would give this caveat before I recommend it: for an 88 minute film, there's more downtime than you'd imagine. Towards the end, it really hits its stride, but for me, as a self-professed connoisseur of this kind of thing, it needs to hit its stride at the five minute mark if it wants to be truly great, and this one just didn't do that. Worst of all was the film makers forcing our hero, Scott Adkins, to run away from the baddies for a good portion of the film. Even Franco Nero in
Enter the Ninja
didn't do that.
For more info:
http://www.imdb.com/title/tt1182921/