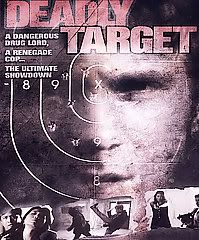 I first saw this about five or six years ago when it aired on either EncoreAction or ShowtimeXtreme. I actually wanted to review it when I first started the DTVC back in 2007, but I didn't remember enough about it (in fact, I didn't even remember the name!), so I just forgot about it and it was lost in the shuffle. A few weeks ago, though, when I was looking for some films to review because Netflix didn't have available the ones I wanted, one of our readers, Michael, suggested I give this one a try. Of course, as luck would have it, it too ended up not being available, then the storm hit, and everything just got all backed up. Finally, here it is,
Deadly Target
, in all its glory.
Deadly Target
has DTVC Hall of Famer
Gary Daniels
as a Hong Kong cop in LA after Byron Mann, who's a big time drug dealer. The problem is, Mann's escaped, and Daniels has pissed of the LAPD to the point they don't want him involved. Lucky for him, a hot Asian chick has taken him in, and one dude on the force has taken a shine to him. Now it's only a matter of time before Daniels gets his man.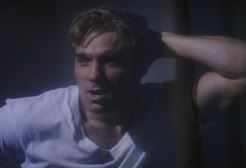 This is bad 90s action at it's pretty-good-est. I mean, it had some great fights, some great car chases, and some great explosions. Daniels did his thing, and believe me, we've seen much worse from him. Overall, I could dig it. One problem I had was with it though is his female friend who takes him in. She handles herself in a fight and with a weapon as if she's had quite a bit of training, when her character is depicted as a glorified Valley Girl grown up. That's kind of that point where silly becomes too silly for me, and not silly in a way that's awesome, like a car exploding from a minor collision as if it were filled with TNT.
I'm fighting an uphill battle to get all of Daniels' films up here at the DTVC. It seems like for every one film I get my hands on, Netflix makes two unavailable. The most recent victim is
Fatal Blade
. It could be worse. It looks like Netflix is systematically eliminating all of
Jeff Speakman's
library. I'm wondering if this isn't Netflix's fault, or rather the individual distributors don't want Netflix to have them. For instance,
Albert Pyun's
new film,
Bulletface
, is only available through the website, and not on either Amazon or Netflix (you can download a torrent of it, but I would never do that for a Pyun film, based on the support he's shown us here at the DTVC). Anyway, so maybe I shouldn't be giving Netflix all the blame.
One of my issues with this movie was the lack of a really great fight scene after the initial action. I mean, don't get me wrong, Daniels and his partner, Ken McLeod, were great, but with the studs they had, like Ron Yuan, Byron Mann, and James Lew, we should've been getting some of the best stuff we've ever seen. This shows yet again that you can line up all the talent you want, but if you don't use it, what good is it?
Daniels' love interest is played by Susan Byun, who was in one of my all time faves,
Sgt. Kabukiman NYPD
. I've never really done any Troma films here because I've always looked at them as a different category to what I'm doing. I know this might sound silly, but I've always seen them as an independent film company. With the DTVC Wild Card look at comic book movies winding down next week, I'm considering options for a new series of films to examine, and Troma seems like a logical next choice (another I was considering was vampire movies). I think we'll take a break for a little while though before I start something new.
I don't remember which MST3K episode it was, but in one of them, a dude gets punched in the face, and the fake blood that comes out of his mouth causes one of the 'bots to say "Cherry Starburst." Ever since that time, every time I see a similar effect, I'm forced to say the same thing. I remember at one kitchen job I had, we served this Starburst Cake, and I always called it "Cherry Starburst Cake", and my boss would always be like "why do you keep saying that?" I think he felt like there was some inside joke or pop culture reference I wasn't letting him in on. Anyway, James Lew has an amazing Cherry Starburst moment, and I had to capture it for the blog. It was a thing of beauty.
I'm not really sure you need to throw this on your Netflix queue over anything else you've been considering watching, but if you have a hankering for some Gary Daniels and you've seen everything else, why not give this a shot. At the very least, if it airs on EncoreAction or ShowtimeXtreme, you could do a lot worse than watch it. It's not horrible, it's just, for a mid-90s DTV actioner, it's nothing special, just a solid bad action film.
For more info:
http://www.imdb.com/title/tt0109573/