I had been meaning to review this movie for some time, and two weeks ago, when all the movies I'd planned on doing (
Black Dynamite
,
Wrong Side of Town
, and two Gary Daniels films) were all unavailable from Netflix, I saw this was on Watch Instantly and figured it would do in a pinch. Then the storm hit, the power went out, and I didn't get a chance to review it for a little while...
Killer Klowns from Outer Space
is about a small town in California that's world is turned upside-down when a strange meteor lands nearby. Instead of debris, a couple local kids find a carnival tent-- but there's only Death inside! Problem is, the carnage is being perpetrated by killer clowns, and these kids can't convince anyone that they're being serious. Well, the clowns take care of that too by invading the town, forcing the townspeople to take notice. Can they stop the clowns and their deadly crime spree?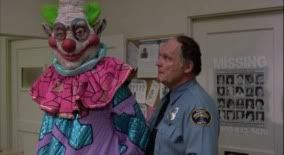 I found this to be pretty funny. It did a great job of turning all the goofy things we associate with clowns into tools for murder. There's the balloon dog that tracks victims, the shadow puppet that eats people, and perhaps my favorite, the clown car that has more clowns in it than it should. Everything these clowns do is homicide disguised as fun, and I got a kick out of all the ways the writers took things clowns do, and making them deadly. Just a good, funny, horror film. Also, short running time, so not a big commitment either.
The late John Vernon, or Dean Wormer from
Animal House
, has a great turn in this as the local police officer who hates the college kids in the town. His interactions with one of the clowns is hilarious, and he plays it dead serious, making it better. If you haven't seen
Animal House
(and if you haven't, that's crazy), you'd probably recognize Vernon from everything from
A-Team
to
Airwolf
, all the way down to
Scarecrow and Mrs. King
. He was a great, and it's unfortunate that he passed away in 2005 due to complications with heart surgery. He'll be missed.
Speaking of Vernon's character who hates the local college kids. When I first saw this back in the early 90s, on USA's
Up All Night
, I was obviously too young to have gone to college and understand fully what they were saying with that. Now, though, having been and experiencing the friction that exists between college kids and the local off-campus (and even on-campus) law enforcement, that element of the film really hits home. I remember especially how bad the Old Town police department was when I went to the University of Maine back in the late 90s into early 2000s. That's right Old Town PD, I'm giving you a shout out. To all the cops out there who feel like they have to take their resentment out on so-called spoiled rich kids: cut the shit. First off, at a state school like UMaine, very few of us were rich, and most of us were going because we too were from working class backgrounds, and the state school was what we could afford. Second, it's not our fault you didn't apply yourself or didn't get as high an SAT score as you would've liked. That doesn't give you the right to harass those that did. Remember, your badge says "Protect and Serve", not "Harass and Kick Ass". And finally, if it wasn't for the revenue of the local university, you wouldn't even have a job, or at the very least a Dunkin' Donuts in town to stop in at. So again, cut the shit. A less antagonistic relationship with the local college kids would probably lead to a lower instance of crime in the area and make for a better overall experience for everyone-- which is kind of the reason why we allot a certain percentage of our tax dollars to creating a police force in the first place.
I think part of the reason why this film was made stems from this phobia of clowns that many people have. The clinical term is Coulrophobia,
coulro
coming from an ancient Greek word meaning "one who goes on stilts". I've known a couple people in my time that suffered from this, and I always try to be sympathetic, but I guess growing up with Bozo on TV, I've always just been okay with clowns. Sure, they were kind of creepy, but they never excited the same kind of unnerving feeling I get when I see a spider (if you're wondering, I'm not horribly arachnophobic, mostly because my mom is, and I was usually press-ganged into disposing of them as a kid, afraid or not; but they still make me very uneasy, and if I lived somewhere that had big ones, I'd wouldn't last long there). Reading about clown phobias on Wikipedia, I found that for some even just seeing someone with a painted face could evoke fear, meaning no seeing Kiss in concert, or watching Sting wrestle, or even seeing someone with a black nose and whiskers dressing up as a cat for Halloween-- in fact, I'd imagine Halloween as a whole would be a particularly troubling time. That sucks, and all I can say is I'm glad I don't suffer from that phobia.
Finally, there were parts of this movie that I thought I remembered from before that I didn't see in it, like a scene where the clowns were arrested, and when they had their fingerprints taken, little clown faces came up on the sheet. Did this happen in another movie about killer clowns? What was I remembering? Can anyone help me on this? Or am I just crazy? It's possible that I am just crazy, but that there is more than one film about murderous clowns out there. As an aside, I want to say scariest clown ever, was Brian Dennehy as John Wayne Gacy. That still creeps me out to this day.
I'm not sure how much longer this will be on Watch Instantly, but you should check it out if you haven't in a while. The jokes are great, it's not that long (88 minutes), and who doesn't love a bunch of killer clowns? A fun movie, and a great one for a bad movie night.
For more info: http://www.imdb.com/title/tt0095444/