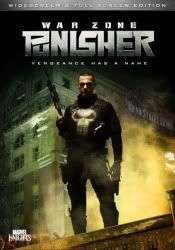 I first saw this when it came out on video. I might have seen it in the theater had it been there long enough, but that wasn't to be. It looked cool in the commercials, sorta kinda-- at the very least cooler than the Thomas Jane/John Travolta
Punisher
.
Punisher: War Zone
takes place in New York, however many years after Frank Castle's wife and kids were killed, and he's been delivering his own brand of justice on killers. In the process of taking out a group of mafioso, he one, accidentally kills an undercover cop, and two, runs this dude through the bottle crusher at a recycling plants so his face is all messed up, and a plastic surgeon can only piece it back together so he looks like a jigsaw puzzle, hence his name, Jigsaw. Anyway, this cop may have set aside a good amount of mafia money, Jigsaw and his boys want it, and Castle feels like he should protect the family after he killed their dad, putting he and Jigsaw on a collision course to wackiness.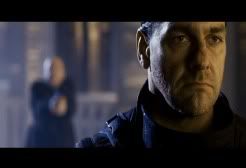 I definitely liked this one better than the 2004
Punisher
. One major plus was it felt like it could be a sequel to the
Dolph Lundgren
version
, with how faithful it was to the comic book Punisher's origins. It's much more violent than either the 1989 or 2004 versions, with some very vicious kills, including one (which I included on the image page) where Castle almost punches right through a dude's face. (Though it's important to not the 1989 version had a much higher body count.) I mean, it wasn't all perfect, but there have been many worse comic book movies, and this was good for me.
For some reason I thought this film made more money than it did, which is why I didn't review it sooner. According to
imdb
, it only made $7.9 mill at the box office. I have to believe the only reason why it made so little was because it wasn't marketed well. With a budget of only $22 million, this was no
Iron Man
or
Spiderman
, this was a small scale, extremely violent, action film. I think that's what made it good for me, though.
Ghost Rider
,
Catwoman
, and
Elektra
all could've benefited from a smaller scale approach to the material-- I'm not saying they needed to be as violent, just not as big budgety. But the thing is, Hollywood has no idea how to sell us on a $22 million dollar too violent for kids comic book movie. Taco Bell and McDonald's don't want to do tie-ins with stuff like that, and shows like
Today
and
Live! with Regis and Kelly
don't want to interview actors showing clips from a project like that. The thing is, it was released near Christmas, which seems like a bad move, because it had a lot of nicer, more family oriented stuff to contend with, but I think had they marketed it as a way to let off steam without hurting anyone at a very stressful time of year, they might have made more money. Who wouldn't want to see something like that after spending hours with holiday shoppers?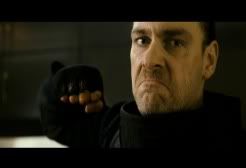 Also on
imdb
, I read that Thomas Jane and the 2004 film's original director were on board to do a sequel, and then one thing led to another and that fell though. Jane said the direction they were going in was too comic book-y, and he wanted a gritty, more realistic approach. What, like the guy who lived in an abandoned high school shop class for an apartment? What, like the guy who fought some ridiculous looking Johnny Cash wannabe of an assassin and killed the guy by shooting the blade of his knife out of it's handle, into the guy's throat? That's a serious, gritty movie, huh? A superfluous scene where a guy's piercings are ripped out does not a gritty film make, Mr. Jane.
With one of my all-time favorite directors, Kathryn Bigelow, winning the Oscar for best director last Sunday, I thought it would be good to point out that
Punisher: War Zone
is the only comic book movie directed by a woman, as far as I can tell. Lexi Alexander, who also directed
Green Street Hooligans
, took over when the director of the 2004 film split with Jane. I looked at her
bio
, and apparently she funded her movie making education by working as a stunt woman. I'm not saying she did a better job because she's a woman, I'm just saying it's important to point out the job she did, and that there aren't many women (really any) hired by the big studios to direct comic book movies; and also that throughout this look at comic book movies at the DTVC, I've had a running examination of which woman is the hottest lead, when perhaps it's a woman behind the camera, calling all the shots, that might be the hottest of all.
Finally, already this week, with
Black Dynamite
, we've had one
Seinfeld
alum in Phil Morris, and now we have another with the great Wayne Knight, who plays Micro (I guess not quite Microchip, but almost?). He and Dash Mihok were the only two people I recognized in this, though Julie Benz is in
Dexter
, which I don't watch, but I'm sure a lot of other people do. I had no idea, and still have no idea, who Ray Stevenson is, but he worked much better than Thomas Jane as the Punisher, so I'm glad Jane felt things weren't "Gritty" enough for him. Oh yeah, and I also recognized Dominic West, who played Jigsaw-- though only barely. This was a long way off from
A Midsummer Night's Dream
or
Chicago
, and no, he didn't have an English accent.
So if you dig a lot of violence, this is the movie for you. I'm not sure it's a definitive or the best possible Punisher movie, but it works decently well, at least as far as I'm concerned. I'm not sure if I buy the Jane criticism that it's too comic book-y, but what it isn't is too blockbuster-y, which is a great breath of fresh air. Had this done better in the theater we may have seen a sea change in the way these things are made, but unfortunately that didn't happen, so expect to see the next attempt to make another
Spiderman 2
or
The Dark Knight
in a theater near you this summer.
For more info: http://www.imdb.com/title/tt0450314/