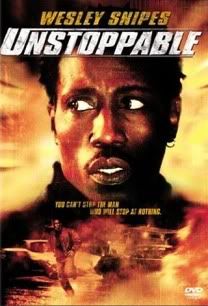 Wesley Snipes
had fallen off a bit as far as DTVC reviews goes, mostly because I thought I was stuck with only
Hard Luck
left. Then, last week, I was going through my Netflix queue (which is pretty large), and I found
Unstoppable
. This had to be a mistake, right? Why would I leave this one out and do all the others? Well, it wasn't a mistake, somehow I'd neglected it.
Unstoppable
has Snipes as a former special forces guy that is mistaken for a CIA agent posing as an FBI agent tracking former CIA agents trying to sell a government drug they stole that causes massive hallucinations and makes the person under its effects very subject to suggestion. The ex-CIA agents inject him with the drug and take him back to a mental hospital to interrogate him to see what he knows, thinking he's an FBI agent that's onto them. Snipes escapes, and all hell breaks loose, and the only one looking out for his best interests is his police detective girlfriend, played by Jacqueline Obradors.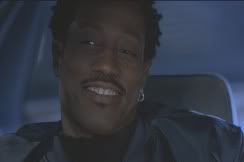 Man, this is a tough one to call. It has some great action, and Snipes really brings it; but it was just weird with the whole Snipes under a hallucinogen, and also there were some serious lulls as the plot was trying to work itself out. I think where this film hurt itself, is Snipes is one of the coolest action leads out there, and a lot of that is taken away by having him under the influence of this drug. We see it in flashes, but when I'm signing on for a Wesley Snipes film, I want it for more than just flashes.
I never got around to seeing
Brooklyn's Finest
, and it looks like his next potential release,
Gallowwalker
, was filmed back in 2006, so I'm not sure what any of that means for his once burgeoning DTV career. Oh wait, then there's the yet to be released
Game of Death
, which has
Gary Daniels
and Robert Davi. That's what I'm talking about. What I'd like to see from Snipes, that I haven't seen out of any of his DTV fare, is a good old fashioned straight ahead actioner. Too often these films get too caught up in their bad plots, techno music, and
Bourne Identity
rip-off cinematography and editing. It's okay to be
Blade II
, especially when the alternative is being dumb and dull.
I wanted to set this review up so it would come after
Tough and Deadly
for a reason. It's not just the fact that the plots are similar: CIA/special forces guy drugged and let loose on society; it's really what Wesley Snipes has meant to the action genre in general. Just look at what
Billy Blanks
had to go through in the 80s and 90s to get good starring roles. Wesley Snipes was really the first mainstream African American action hero to have the level of success that he's had, and it's because of him that you have people like Will Smith making the cash he has in stinkers like
Bad Boys II
.
Jacqueline Obradors is very pretty in this film, even if she's playing a tough police detective. I like that, because often in films like this, the feeling is the female has to be one or the other: hot and tough, or pretty and weak. Recently I had a chance to catch another Obradors film,
Soldier Boyz
, when it aired on EncoreAction. I must say, I had even less patience for it now than I did when I first saw it. Seriously, let's train some teen killers in ten minutes and send them into a remote area of "Vietnam Today"? What a stinker! though very hilarious. If I can say anything about
Unstoppable
, even if it didn't work in parts, it was not as bad as that.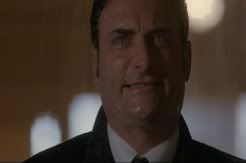 Do you recognize Kim Coates? You should, because the guy has been in almost everything. Major That Guy. Another connection to this film and
Tough and Deadly
, Coates is from the same city as
Roddy Piper
: Saskatoon. I hear Glass Tiger is from there too. I'd love to see them in concert. ...
someday, you'll be shedding your tears...
I could recommend this if you're a big Snipes fan. It's not his best stuff, but he does his best with the material he's given. I mean, in the grand scheme of things, Snipes could've been rescuing a rich girl being held by
Cary Tagawa
, using a bunch of teen murderers he'd trained five minutes ago, and with one of the kids being named Brophey. Now that would've been rough, eh Mr.
Dudikoff
?
For more info:
http://www.imdb.com/title/tt0349889/