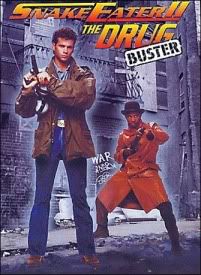 I've been meaning to get after this one for a while. In part it's the
Lorenzo Lamas
factor, but more than that, this has been said by many to be Lamas' best film, including Mr. Kenner at
Movies in the Attic
(that link is to his review of this film). As a huge Lamas guy, I needed to know how true this is, but the fact it wasn't available on DVD, and hard to find on VHS, meant it was put on hold. But I kept my ear to the ground, and managed to get all three Lamas
Snake Eater
films in one fell swoop.
Snake Eater II
has Lamas as Soldier, a crazy cop who comes up with all manner of violent contraptions to trap and kill bad guys. After a bloody rampage in a drug house that sold coke laced with rat poison, Lamas is sent to a mental hospital. While there, his friend Speed Boat on the outside keeps him in the loop about who's next on the drug dealer food chain, so Lamas can eventually get to the top and exact his revenge.
Before we discuss whether or not this is Lamas' best ever, let's look at it on its own merits. Solid action: check. Does the plot adversely affect the action? Not at all. Does the hero kick ass? That could've been better.
Snake Eater II
took the idea of The Punisher, then made the main character more of a twisted MacGyver. The problem was, there were too many silly digressions in the mental asylum. I don't even know why he was put in there, considering he could break out whenever he wanted. Why not just put him on suspension, make him go to the hot psychiatrist in order to be reinstated, and continue having him do the killings of bad guys he did on the sly. It just would've worked better. Overall though, not a bad deal.
I went through the archives, and based on my overall recommendations, this might be Lamas' best in my opinion as well. That might not necessarily be a good thing, because this is his 21st film we've reviewed, and I haven't given that many thumbs up. In fact, he might have the lowest total average of any Hall of Famer. In the end, I got
The Rage
and
Bounty Tracker
slightly ahead of this, and
Bad Blood aka Viper
slightly behind it, but I'm not married to any of those rankings. The truth is, unlike Dolph, Seagal, or even Daniels, I look for Lamas films to be silly. I mean, I look for the films of those actors to be silly too, but I also want them to be awesome. If I see Lamas disguised like Jeff Foxworthy, like he was in
Mask of Death
, I feel like it was a good film. So this may be Lamas' best film ever, and though that's not really saying much, that's okay too. He's not a Hall of Famer because he's awesome, he's a Hall of Famer because he's silly, and I'm fine with that.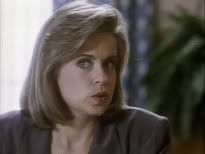 I always love the hot psychiatrist in the bad action film. The hair up and glasses, the white lab coat open, revealing a tight sweater and short skirt. As the film goes on, her clothing and demeanor become sexier and sexier. For
Snake Eater II
, we had the lovely Michele Scarabelli, who just celebrated her 55th birthday on April 11th. You may remember her from
Air Wolf
. She never actually has any love scenes with Lamas on screen, and I wonder if that had to do with
Kathleen Kinmont
, who was also in the film in a very small part. Their relationship was pretty new when this film was made.
Speaking of Kinmont, this is her fifth film reviewed, tying her with
Jillian McWhirter
for the most by a non-Hall of Fame actress (
Cynthia Rothrock's
10 is the most overall). It seems like this should be surprising, or demonstrate that I need to work to get more women tagged on here, but that isn't really the case. The 1980s and 90s bad action industry often employed unknowns to play the hottie opposite the star. Either that, or they'd take a woman from another medium, like Soap Operas, and that would be her only DTV action role ever. The Kinmonts and McWhirters are the exceptions, not the rules.
Shannon Tweed
and Angie Everhart are two examples of women who do a lot of DTV sexy thrillers, but not so many action, sci-fi, or horror films, and readers just don't come here for sexy thrillers (at least as far as I know they don't), so they may have a large DTV oeuvre, but their films don't make it up here that much. (If anyone's wondering, I do have a few from each in my Netflix queue, top of the list
Executive Target
with Everhart.)
Finally, a quick shout out to Ron Pallilo, who reprised his role from the first film as Torchy. He just turned 61 on April 2, one day after I turned 31. He's only had 10 credits since
Snake Eater II
, but it's one he had before that that caught my eye. In 1983 he did a DTV version of
The Tempest
-- yes, that
The Tempest
, the one written by Shakespeare. He played Trinculo, the Jester. Efrem Zimbalist Jr. was the only other name I recognized, and he played Prospero. I haven't read
The Tempest
in years, and when I picked up my big collected works of Shakespeare book, the thing was all dusty and falling apart. I bought it for $5 on sale at Barnes and Noble, so I guess I can't complain too much. If you're wondering, best Shakespeare quote ever: "What, is my beaver easier than it was?", from
King Richard III
.
It may sound like through my review that I'm disagreeing with Kenner, but he only gave it three stars, and I'd say my review is right in line with that. Maybe it's a commentary on Lorenzo Lamas that his best film is only a three-star rating, I don't know. I definitely recommend this, though. It's hard to find, but if you see it for a couple bucks on VHS, go for it. What would be nicer is if all three were to be released on DVD in one package for $10-$15, but I don't ever see that happening. Anyway, better than part one, and we'll see in a couple weeks if it's better than part three as well.
For more info:
http://www.imdb.com/title/tt0102950/