In our time honored tradition at the DTVC-- or for the second year in a row-- we celebrate my favorite holiday, April Fools Day, with a film, last years being the 1986 aptly titled
April Fools Day
. Why do we do this? Because I was born on April Fools Day 31 years ago, and since I write the blogs, I get to pick what the favorite holiday is. I know, maybe I'm a bit of a narcissist.
April Fools Day 2008
is a bit of a remake of its 1986 predecessor, in that both are about a rich girl and a series of murders (or not murders?) that take place on my favorite day of the year. Where it changes is, it starts on April 1, 2007, when a jaded socialite has a party in honor of one girl's coming out (she's not a lesbian, just rich) in order to play a prank on another one. Things go wrong, and that other one dies after said prank. One year later, everyone involved or seemingly involved in that prank get a letter telling them they better confess, or they'll get bumped off one by one. They ignore the note at their own peril... or do they?
The ending of this was really bad. I understand what they wanted to do: they were afraid we'd all see the initial twist coming, so they needed to add an extra one. Only problem was, that extra one gave the whole film a really bad tone. The socialite that the film centers around, the one who committed the initial prank that went deadly, is the one who's put through the wringer with all of these deaths or not deaths around her, and the only side we the audience see of her is her in distress, meaning when she gets killed accidentally by the film's twist, it just leaves a bad taste in our mouths. It did in mine at least.
That socialite was played by the extremely hot Taylor Cole, who you may or may not recognize from her role as the bad guy's dead girlfriend in
12 Rounds
. I actually didn't recognize her from that role because her hair's so short, meaning I spent the film going "where do I know her from?" Anyway, did I mention she's hot, because she is. This film would've been a snoozefest had it not been for watching her run from set to set in her hot black boots and short dress. I can see how she ended up in more big budget pictures like
12 Rounds.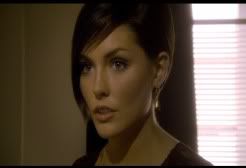 If we're comparing this to its 1986 counterpart, there's really no comparison, the earlier one is much better. Sure, it doesn't have Taylor Cole, but after that, it has better kills, a better feel, a better story, and even a better secondary twist. Even accounting for how I'm a bigger fan of the 80s slasher style film, the 2008
April Fools Day
felt more like a
Final Destination
crossed with
Cruel Intentions
than anything else. Plus, because the couple that's put through the ringer make out okay in the 1986 version, even the ending of that one feels better.
I must say, the Butcher Brothers, the people who wrote and directed this, must have had a bad experience with a rich girl at one time in their lives. Some girl probably scorned their advances or ran their shorts up the flag pole, and she just happened to be rich too, and all they wanted to do was get her back. You could smell the resentment a mile away as Taylor Cole was put through ordeal after ordeal. No, this wasn't as bad as
Captivity
by any stretch, but there was still an overarching sentiment that they wanted this "rich bitch" to get hers; but because they did such a poor job of setting her up as a bitch-- I mean after the first half hour or so, when the party and initial prank were all done we went right into her being afraid and crying immediately at the sight of a drowned man in his pool-- we had no other choice but to root for her, which is what we want out of all movies, to have some girl or guy or couple who somehow survive this horrible night and make it out okay on the other side. When we see the girl we've been rockin' with for 90 minutes crouching down behind a wall with a meat cleaver in her hand fearing for her life, you can't just get her through the ordeal, only to blow her head off in a "twist".
And that gets me to my final point. A film made by men needs to be careful with how they treat their female characters, especially the one around which the film is centered. You make a very bad statement when you scare the hell out of a girl for the better part of an hour of film time, then end the film by blowing her head off, especially when your initial point is you want to teach her a lesson for her previous pranks. Even more so when throughout the film you've had her say she learned that lesson and that she never does pranks anymore, blowing her head off is that much more depraved. It just comes off as "let's teach this uppity bitch a lesson". If the film makers had unresolved issues with a rich girl from high school who was too good for them, or a teacher or other female authority figure that they wished they could get the better of, go see a shrink and find a healthier way to deal with it. Healthier than making us sit through your fantasies of getting back at whatever woman for 90 minutes in a movie at least.
I must say, this film might be worth it for Taylor Cole. She was the only redeeming quality, but what a redeeming quality it was. If you want a fun horror film, see the 1986 version, because that one worked. This one's just too blah. We'll see what we have for an April Fools movie next year.
For more info:
http://www.imdb.com/title/tt1018817/