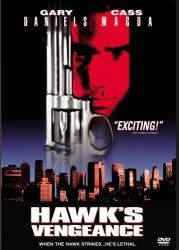 Word on the street is this is a
Snake Eater
sequel, only sans Lorenzo Lamas. Believe me, you won't have any problems understanding the subtle nuances of
Hawk's Vengeance's
plot if you haven't seen the previous films.
Hawk's Vengeance
has
Gary Daniels
as the eponymously named British special forces dude who comes back to the States when he finds out his step brother (though technically it's his half-brother) is murdered. As he investigates things, he finds there's more to a war between a Chinese gang and some local skinheads than meets the eye. Unfortunately, his methods of investigation are a tad on the violent and deadly side, which has caused his brother's partner some alarm. Not enough alarm to not have sex with him, just enough to slap him in the face. Anyway, as he closes in on his brother's killer, we close in on a first class Daniels style beatdown.
My feelings on this film can be summed up in one scene. Towards the end, Daniels is going through the baddie's office building, confronting various henchmen, and one of them in particular almost beats Daniels in a fair fight, Daniels only besting him by running a power drill like device through the guy's eye. The gore doesn't bother me, because we barely see it. It's the fact that our hero isn't good enough to take out a henchmen-- and a henchmen who's appearing in only that scene-- without resorting to underhanded methods. Why, then, should we believe it when he takes out the head baddie? And this is common throughout
Hawk's Vengeance
. Lesser bad guys that should be getting wasted by him are giving him a hard time, to the point where he needs back up to save him. This is not what we sign on for with a Gary Daniels flick. I liked a lot of the action, explosions, etc.; and some of the fights scenes were good; but I expect a certain level out of Daniels, and this just wasn't quite there.
Maybe I'm being picky, but I just feel like I expect Jim Rockford to get a bottle broken over his head when facing a group of thugs, not Gary Daniels. Daniels should be able to whip around and block it without looking. This brings up an interesting issue that we often see the converse of in Steven Seagal films: how does one find the balance between making it too easy on the hero to the point that he's almost omnipotent, and making him look like Kane's wussy son on
Kung Fu: The Legend Continues
? I guess it's all personal taste. Look at something like
Drive
, where Dacascos was better than any of the henchmen he faced one on one, but in groups, though he could still take them, it took a lot of work and a lot of ingenuity. I think that's the part of the scale I like best, and I would say
Hawk's Vengeance
was just a little too far on the Kane's wussy son side of the scale for my tastes, and personal tastes differ.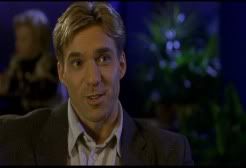 Mr. Daniels is slowly making his way up the ranks, with this being his 14th film reviewed, which puts him eighth among Hall of Fame actors (
Dolph
33,
Seagal
20,
Van Damme
19,
Lorenzo Lamas
19,
Dudikoff
18,
Busey
16,
Lambert
16). With like 25-30 left, and also like 9 or 10 in development credits, including the upcoming
Tekken
, the potential is there for him to be the most tagged actor of all time. I think our next one will be
Epicenter
, based on the great review I saw of it on my friend Mr. Kenner's
Movies in the Attic
. I'm trying to figure out what will be a good time to kick off our next genre series-- at least not for a few weeks-- but once that happens, the opportunities for Daniels to get more reviews will fall off considerably.
We often talk about my lack of ability to handle too much gore in action films. Horror films usually aren't so bad, because it's so over the top; but in action films it's sometimes overly cynical or completely unnecessary, and in those cases ruins the film for me.
Hawk's Vengeance
had two such scenes, both involving the same guy in something of a macabre running joke, where first he has his fingers accidentally slashed off, and then his ear. It was just weird and gross, and told me what kind of people were making the movie. There were plenty of other scenes in the movie that I was fine with, from the drill to the eye (off screen), to the dude's head sent through a spinning fan, to the heart transplant-- but none of those things were played poorly for laughs. I remember
Django
had a famous ear removal scene, and that one worked for me too. Again, it just looks like a personal taste thing, but in this case the finger and ear slashing was the action film version of the dick and fart joke, only sicker.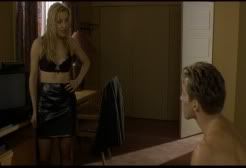 Best part of the film: Daniels date with his brother's partner. I've been on my share of first dates, some good, some bad; but I've never had a woman show up in a leather skirt. The whole outfit looked like she raided the vice squad wardrobe. And of course, the next scene, after she and Daniels rent a cheap motel room to have sex in (classiest first date ever), she walks around with just her bra on, while in the skirt, nylons, and heels. Another point to make. When I first started the blog, and didn't have any software to capture images, I was at the mercy of the Internet for whatever I could find, and often all I could get were pics of whatever actress in the film took her clothes off. As I was looking for an image of
Hawk's Vengeance's
cover, my search results turned up the old suspects of all the nude pics, and I felt a little nostalgic for the old days.
Hawk's Vengeance
would probably go somewhere in the middle of Daniels' films for me, but as a fan of his work, I've seen a lot better. I think even on its own merits as a DTV action film, especially from the genre's Golden Age in the 1990s, it's still pretty pedestrian. For comparison sake, check out Kenner's review
here
(it's at the bottom).
For more info:
http://www.imdb.com/title/tt0116500/