For some reason this film stands alone as the one
Bloodfist
holdout from Netflix's
Bloodfist
purging. All the other ones are no longer available. I believe after this one, I'll only have
1
,
2
, and
7
left to review, and though I've seen all of those, I'm not sure how I'll get my hands on them for the blog. Anyway,
Bloodfist VI
was the only one out of the 8 that I hadn't seen before, so I finally got that out of the way.
Bloodfist VI: Ground Zero
has DTVC Hall of Famer
Don "The Dragon"
Wilson, this time as a military courier who happens upon a facility holding nuclear missiles that's been taken over by terrorists. He's in a race against time, as he's the only one who can stop the terrorists from launching the missiles, but also because a near-sighted general has sent a squadron of fighter jets over to blow the place up. Can he do it?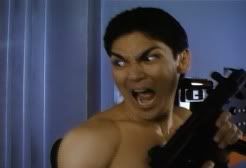 This is by far the worst of the
Bloodfist
series. It was like a bad, boring
Die Hard
rip-off. Wilson did the least amount of kicking ass of any of the other films; and the plot was the most self-contained and most thrown together too. It was like an
Airwolf
episode without the cool helicopter. I mean, that's the extent of the storyline here, enough material to make a 1980s action TV series plot for one episode, stretched out over 90 minutes, and with much less action.
It's been a little while since we've seen Mr. "The Dragon" Wilson-- almost a year to be exact. A big part of that is his DTV catalog has been systematically removed by Netflix. I had enough trouble just getting this film, as it had to be sent from another shipping center. Still, he has a few other films on there, so it shouldn't have taken me almost a year between posts. He just kind of got lost in the shuffle, and now his first film back after a long hiatus is a stinker like this. Next on the list is
Moving Target
.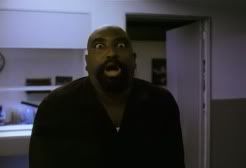 On April 5th, another DTVC Hall of Famer,
Roger Corman
, celebrated his 84th birthday. I kind of lost track of tagging Mr. Corman, but I think I'm caught up and it would seem this will be his 13th film, which isn't many. Don "The Dragon" Wilson was one of his mainstays, though, as Corman produced all of the
Bloodfist
films. One of the more fascinating places I saw him recently was attached to the Kurosawa film
Dersu Uzala
. His distribution company, New World Pictures (which he sold in 1983), released the film here in the States. Mr. Corman is the man.
Of the 8
Bloodfist
films,
4
,
5
,
7
, and
8
all have pretty much the same plot: guy is framed, and is alone fighting the good guys and the bad guys with no one he can trust. I'm not sure what made them switch it up for this film, but I think it might have been for budget reasons. It's a lot cheaper to just go out to the desert and use one or two sets, than it is to film at various locations. Also, I imagine this one was relatively shorter to make too. With the DTV film, it's always necessary to examine more than just the art of movie making to figure out why something turned out as bad as it did. We're so used to
Jersey Girl-
type bombs that were sautéed in wrong sauce from the get-go, but were entirely a case of the actual art being wrong, as opposed to someone saying "Let's squeeze out a
Bloodfist
movie on the cheap. How can we do that?"
This is our second film to feature former Dodgers stand-out
Steve Garvey
, the first being
Ice Cream Man
. If you haven't seen the
Cheap Seats
episode where the Sklar Brothers make fun of a Steve Garvey celebrity fishing event, check it out
here
. Absolutely amazing. Garvey's only in this for a few minutes, which is kind of too bad. If you're not familiar with him, he played for the Dodgers in the 70s to early 80s, amassing great numbers and winning the NL MVP in 1974. He also was a standout in big games, winning MVPs for All-Star games and League Championship Series. He was a little before my time, so I vaguely remember him.
Unless you want to see all 8
Bloodfist
movies, you should skip this one. Even for a
Bloodfist
, it's extremely boring and a whole lot of blah. Wilson has done much better as well, and there are plenty of other Corman produced films that are much more fun.
For more info:
http://www.imdb.com/title/tt0109301/