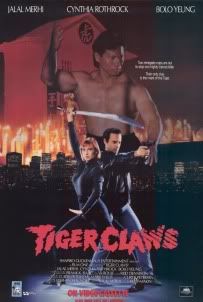 Tiger Claws
is one I've been looking to get after for a while now, it's just been a matter of getting my hands on it, which I finally did, along with the other two in the series. Obviously the number one reason I wanted it was for DTVC Hall of Famer
Cynthia Rothrock
, as after
China O'Brien
and
Rage and Honor
, it's the
Tiger Claws
movies she's probably best known for (maybe
Lady Dragon
or
Martial Law
too). There's also Bolo Yeung, and the need to review more Jalal Merhi films. All reasons why this was a must do.
Tiger Claws
has Rothrock as a rookie cop trying to make her way out of the low-level vice circuit and into bigger deals, and she sees her chance when a serial killer in town is targeting martial arts experts. The chief likes her approach, and has her team up with upper level vice cop Jalal Merhi, who was just suspended for a drug bust gone bad. As they dig, they find the killer practices a dangerous form of martial arts called Tiger, which causes the practitioner to straddle that scary line between crazy and controlled. Merhi once studied Tiger, but stopped when it became too much. Now their only choice is for him to study it again. Will he be able to handle it this time, and if so, will it be enough to take out the serial killer?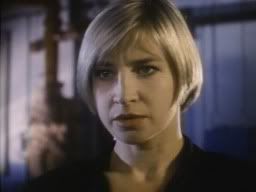 This was pretty good. Not the greatest thing ever, but pretty solid. There were moments where the martial arts were great, which is what we want out of the cast involved. Then there were moments where the fighting was lame, and I wondered how that happened with the cast involved. The dialog was atrocious, even for a 90s bad action film. Merhi often stumbled over his lines and ran them all together, making it hard to understand him. Pretty much everyone else that wasn't Bolo Yeung or Cynthia Rothrock sounded like high school kids doing a class project where they made up a mystery movie. It was thick overacting that could be cut with a knife. That kind of thing works if the action's on point, but here it left a little to be desired. Bottom line, a great bad movie for making fun of.
Rothrock wasn't bad, but she wasn't the lead, Merhi was. The problem with that was, Rothrock had all the experience and was better equipped to lead a movie, while Merhi would've been better in the supporting role, a la
Richard Norton
in
China O'Brien
. It just didn't work that she was supposed to be some kind of a rookie, especially when Merhi was flubbing his lines. I think the next two films for Ms. Rothrock will be the last two films in this series, considering I have them at my disposal right now. From the start, her catalog has been the hardest to get my hands on, with her films having been purged by Netflix long before a lot of the others. I was hoping with the release of
Undefeatable
, a lot of those other out of print films would make their way back onto the shelves, but so far not so good.
I imagine it's time I finally tagged Bolo Yeung. I'm not sure what took me so long, maybe it's because he has so few films up; but still, he's Bolo Yeung. (As of right now, we've reviewed
Breathing Fire
, where he dresses like a woman, and then his two
Van Damme
films came up in our
Van Damme movie night
post.) That might change, because I'm looking to get my hands on the
Shootfighter
movies, and obviously
Tiger Claws II
is on the docket. As far as this one goes, he spent a good chunk of the film painting a wall in the abandoned theater his fellow Tiger students were training in. As Merhi would demonstrate his martial arts skills, Yeung would periodically turn around from his work and laugh. I'd like to sample that and splice it into various other movies, just Bolo Yeung turning around and laughing at something.
This will be the fifth Jalal Merhi film we've reviewed at the DTVC, though only the second, after
Guaranteed Overnight Delivery
, that he's had a major acting part in. He wasn't bad as far as martial arts goes here, but acting wise he was no where near as proficient as he was in that other flick. The other thing was he had a ponytail, which was bad enough, but when he went out on the town with Yeung and a fellow Tiger student and had his hair down, he looked like a horrible hair band reject. Cut your hair damn it.
If you remember, just last week when reviewing
The King of the Kickboxers
, I discussed the art of the police chief in the bad action film, and how well it was done there. Here is where it was done as stereotypically badly as humanly possible. This guy overacted everything, yelled when it seemed unnecessary-- pretty much everything you'd expect someone with no acting skills whatsoever to do as that kind of police captain, or everything you'd expect someone who was a decent actor but was overdoing it to do. It was ridiculous, but plenty fun to make fun of.
Based on what one has to go through to get it, it's not exactly worth it. If you can find it used on the cheap, go for it; and if Netflix or something like that ever gets it again, go for it too; and if it's ever on TV, DVR it; but if you have to spend a lot of money, ie more than $5, I'd pass. It seems like it should be a lot better than it is, and it's still okay, but still okay doesn't cut it when it could've been awesome.
For more info:
http://www.imdb.com/title/tt0105592/