The idea of this film intrigued me.
David Bradley
paired with
Mark Dacascos
in a samurai film. Of course, only ten minutes in and I realize that Dacascos is the bad guy. Suddenly I was having misgivings...
American Samurai
has Bradley as a kid whose family crashes a plane over some remote areas of Japan with an infant him in it. He alone survives, and a dude who runs a samurai training place takes him and trains him, much to the chagrin of the guy's real son, Mr. Dacascos. Dacascos swears revenge for the favor his dad has shown Bradley, and fast forward so many years and Dacascos hires some thugs to steal a sacred family samurai sword from Bradley's home in LA. That means Bradley, a journalist, traces the sword to Turkey, where he goes after it pretending to be after a story. A Romantic Comedy ensues, and then a rip-off of
Enter the Dragon
with weapons.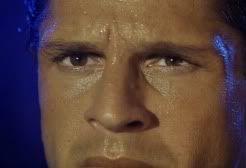 I don't know what to say. I imagine the idea sounded great on paper, but it only translated so well on screen. Fighting with weapons is only so entertaining, and when some of the people involved look ridiculous-- see Conan wannabe and Anachronism the Great, a viking-- it only looks worse. This is especially disconcerting when you have two quality martial artists and instead of them doing what they do best: hand-to-hand combat; you have them in a couple of fairly clunky sword fights. I understand that they're samurai, and samurai fight with swords, but if these guys aren't great at them, mix it up and have some martial arts stuff with no weapons first, just to let us know what we have.
Let's start with Bradley. Why doesn't he often work in these situations? I think here it was the material. He only had a few instances where he was the man, and just as often he was getting tasered and being ordered around by the baddies. That kind of thing just doesn't work in an action film. Why they needed to cram this story into an
Enter the Dragon
rip-off is beyond me as well. Make it a detective film, have him track down leads, get caught in traps of baddies, and have to fight his way out. Then at the end, Dacascos kidnaps his Romantic Comedy lead, and they have their final showdown.
More than Bradley, they really wasted Dacascos. Let this guy cut it loose and show the world what he can do. After seeing him in
Drive
, I have very little respect for any film maker that doesn't give us that level of action when he or she has Dacascos at his or her disposal. Not only that, but his long hair made him look feminine. At the beginning he was revealed as a Yakuza. Why not have him in Turkey on some kind of drug deal, and Bradley has to take him down. Throw in a couple scenes where a larger group of cops try to take him in, and he takes them all out with his bare hands.
There was one interesting scene at the beginning when Bradley first loses the sword and dreams about it. There's an
Onibaba
style demon samurai that Bradley faces in his dream. At first I thought this was telling us how this would be a samurai film in the style of x, y, and z; instead it was telling us that there are good films out there, and this is not one of them.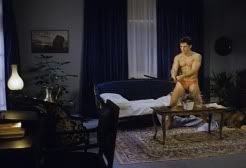 Maybe it's not the fanny pack moment from
Cyborg Cop
, but it's close. After another bad dream, Bradley wakes up in his tighty... err... orangies? Anyway, it wasn't a good look. Maybe not as bad as the fanny pack, but close. As we make our way through the rest of Bradley's brief period in the movie industry, I'm left to wonder how many more moments like this we have to look forward/fear coming. And we're still left with the mystery of why Bradley stopped making movies in the first place.
This could be good with a group of people making fun of movies, but there's just so much more out there with funnier scenes to choose from, so I'm not sure I can even recommend it on those merits. If it ever ends up on something like EncoreAction, I'd say DVR it and give it a look see. Otherwise, don't go too far out of your way.
For more info:
http://www.imdb.com/title/tt0106258/