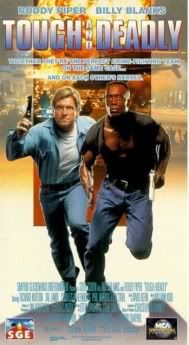 Last week we kind of hit a patch of three straight stinkers, and I find it can be taxing on both me as the writer, and you as the reader, if there's too much negativity here at the DTVC, so I figured I'd go to the well and grab this Piper/Billy Blanks gem. I had seen it originally on TNT back in the late 90s, but that was over ten years ago, and as I've found in revisiting these things, sometimes they aren't as good as I remember or as good as I thought they were.
Tough and Deadly
is about a former CIA operative, Billy Blanks, who is captured, drugged, then escapes, only to wake up in a hospital bed with amnesia.
Roddy Piper
, a PI and bounty hunter, sees this John Doe as a potential payday, so he takes him in. As both start to learn just who Blanks really is, and how deep the shit he's in really is, it's possible Piper may have bitten off more than he can chew-- except he's Piper.
So my memory let me down again... because this was way awesomer than I remembered it! Billy Blanks and Piper were great, the action never let up, I mean, what more could you ask for? Yes, maybe Billy Blanks' amnesia was a tad contrived, and it seemed like it was only for the convenience of the plot that he would regain memories, but do I care? Not when the fight scenes are great and constant. Remember rule number one: don't let the plot get in the way of the action. Well, they followed that rule with very tangible, positive results. My only complaint was I'd have liked to see more
Richard Norton
. He has like two scenes in the film, and he and Blanks could've had some better fight scenes.
All this talk of me trying to get all of
Gary Daniels
and
Michael Dudikoff's
DTV catalog reviewed up here, and I'd completely neglected Rowdy Roddy Piper, which is asinine on my part. I'm not sure anyone outside of
Dolph Lundgren
, the Babe Ruth of DTV action, has turned in more consistent performances than Piper. The one problem with sorting out his catalog that we don't see with a Daniels of Dudikoff, though, is from about 2000 on, Piper has a lot of movies under his belt, but not a lot of starring roles. The next one of his we'll do is
Back in Action
, another Billy Blanks collaboration.
Before we discuss Mr. Blanks,
Tough and Deadly
did have another DTVC Hall of Famer in it, one of our faves, Richard Norton. As I said above, he only has two scenes, both of them fights with Billy Blanks. I feel like a complete ass, because Norton celebrated his 60th birthday back in January, and I completely missed it. I've been doing this a lot lately, so I should probably mark on a calendar every important DTVC birthday. As far as I remember right now, we have
Steven Seagal's
59th coming up on April 10th, and Roddy Piper's 46th on April 17th. I'm not sure what Norton's next film will be, because you never know where he'll turn up, but according to my Netflix queue, he's in the Dudikoff flick
Strategic Command
, so plan on that one coming soon.
Now for Billy Blanks. This is the first film of his we've reviewed here, which isn't
as
crazy as you'd think, just because he hasn't done that much. His martial arts skills are off the chain, so I have to assume his lack of roles might be his choice. Another thing to consider is there aren't really any African American martial arts stars in the 80s and early 90s. I think if you're Blanks, it's like you're either in a Blaxploitation throwback, or you're a sidekick, and I don't blame him for not wanting roles like that. You can just tell from this movie that the people involved weren't used to shooting an African American hero. His face was often obscured by shadows because the lighting was set for Piper's paler complexion. That's too bad, because Blanks' skill set would've made him a Hall of Famer if he had the roles. Let's hope
Michael Jai White
gets more opportunities like he did in
Blood and Bone
to be a great DTV action lead, and
Wesley Snipes
can come in and take over for Seagal and
Jean Claude Van Damme
as another former big screen star turned DTV action lead.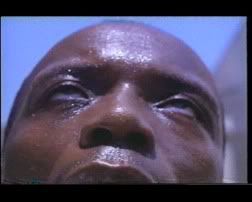 Finally, Phil Morris is in this as the bad CIA agent. Seeing him as a baddie when we know how funny he can be in things like
Seinfeld
and
Black Dynamite
was very surreal. There was no tinge of him as Kramer's lawyer, or a tongue in cheek Black Panther licking a bullet. I've always liked things like this, watching great comedic actors play it straight. I didn't know he's also the Martian Manhunter on
Smallville
. I guess I wouldn't know that because I don't watch the show, but still. Also of note, he celebrated his 51st birthday yesterday, on April 4th.
You can get this on DVD (not on Netflix, but on Amazon), but I scooped it on VHS for the nostalgia factor. Either way you do it, it's a fun time. This is just some good ol' 1990s DTV action, and there's never anything wrong with that.
For more info:
http://www.imdb.com/title/tt0114706/