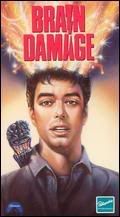 In high school a friend who was rather new to watching bad movies thought the whole thing was a novel idea, and he planned some big MST3K-like night for us to rent a bunch and make fun of them. The rest of us didn't have the heart to tell him we'd been doing the same thing for years before that, so we just went along for it. I mean, how can you pass up a night of bad movies, right? Well, anyway, another buddy, who like me, was something of a bad movie pro, picked out
Bad Taste
that night, and the rest was history. It became our favorite movie.
The problem was, the friend who hosted us was jealous that my buddy garnered so many accolades for
Bad Taste
, that he felt he needed to one up him. It's pretty silly, I know. He rented and showed us this film in his futile attempt at one-upsmanship.
Brain Damage
is about a dude, played by a soap opera actor, living in an apartment with his brother. One night he's accosted by a parasite named Aylmer. Aylmer needs to eat brains, and he has the ability to shoot Cool Mint Listerine into the soap star's brain stem, which makes him high and gives him Predator vision. While high, he brings Aylmer into contact with humans, so Aylmer can eat their brains. His life spirals downwards as he becomes addicted to the Listerine, and his girlfriend starts doing his brother. Then the old couple who originally had Aylmer come for him, because they're going through withdrawals. The whole thing ends with the soap star getting too much cool mint Listerine to the head, causing it to burst open in a flash of light, much like the Adam Bomb Garbage Pail Kid.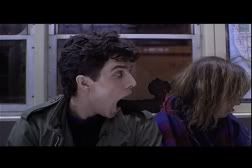 Needless to say, this was no
Bad Taste
, and that friend was slowly phased out of our bad movie watching sessions. Bad movie watching is about the camaraderie, not who can find the best flick. And when you try too hard to find the perfect bad film, you get
Brain Damage
, not
Bad Taste
. Like I always say, the key to finding a bad movie is to let the video store tell you what to buy; don't go in there expecting anything.
Watching
Brain Damage
many years later, I find that I was just put off by our friend's behavior, and in fact didn't give this thing a chance. It's actually not that bad. The Aylmer thing was pretty funny: he sounded kind of like Hanna-Barbera's Purple Hippo; I dug the Cool Mint Listerine everywhere: it made for great easy puns; and the scene where Aylmer jumps out of the soap star's fly to kill a potential fellator (is that a word? one who gives fellatio?) was memorbale to say the least. It wasn't anything great, but in a large group there was plenty to laugh at.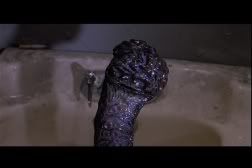 Difficult to handle was the withdrawal sequence. As the soap star tries to remove himself from Aylmer's grasp, he goes cold turkey from the Listerine injections in the brain stem.
They live in what looks like a gas station bathroom for who knows how long, with the soap star in a wife beater and tighty whities, all stained and gross. Who thought this was a good idea? Brain eating, ears falling off, all that I can handle. But sweaty soap stars in stained undergarments is beyond my sensibilities.
For fans of bad horror, there's an homage to
Basket Case
in a subway scene. That's just what I want in my bad horror, allusions to other ones. It's like going to the dentist, and while you're suffering through that, he or she reminds you of the last visit and how painful
that
was. I felt a shudder move through me as the memory passed in my head of
Basket Case
, and my friends saw this and asked if I was OK.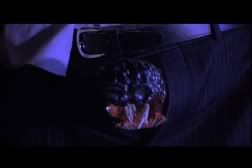 This isn't a bad deal if you've got a bunch of people over and want to rent something silly. We had a mixed group when we watched it recently, which included people who avoid movies like this like the plague. I found they were more laughing at the fact that we were watching it than actually enjoying the movie. It was like: "Those silly guys and gals, what're we gonna do with them?" For me that's a much better reaction than: "Eww, why do you guys watch stuff like this? That's disgusting, I'm out of here."
For more info: http://www.imdb.com/title/tt0094793/