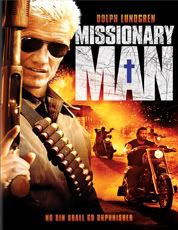 I'd been waiting for this one for a while. Imdb had it on his bio as in post-production or whatever for what seemed like ages. Then, out of no where, I did a search of Dolph on Netflix, and it just appeared along with
Final Inquiry
. I put them both at the top of my queue, and had a mini-Dolph Fest to commemorate their final release.
Missionary Man
is about Dolph as a dude on a motorcycle that also preaches from this dirty old Bible. He comes to this Native American reservation to attend his friend's funeral, and sticks around when he finds out this local dude that looks like Tom Hanks' brother is trying to strong arm the tribe into signing on to build a casino. Dolph, always here to defend the underdog, kicks some serious ass. This should be a lesson to all communities opposed to having casinos built in their towns: hire Dolph, and you won't have to worry.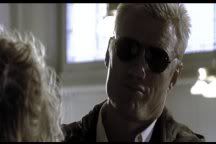 This is a pretty awesome film. We're spared the frivolousness of a plot: for the most part, the film's a series of scenes where a bunch of guys in pick-up trucks and SUVs corner Dolph, and he beats the crap out of them. I wouldn't have it any other way. There's this one baddie who's above the guy that looks like Tom Hanks' brother on the bad guy food chain, and Dolph blows his brains out with a shotgun at the end of the movie. It's so sweet.
On the other hand, Dolph directed this, and his directorial work ain't so great. This isn't
The Defender
, which I felt was passable. Here, he uses this distorted color effect which makes the screen look bad. You can see these moving pixels on anything white, like someone's forehead. I felt like I was waiting for my eyes to adjust to coming inside after sitting in the sun for a few hours. Why he did that is beyond me. Come on, Dolph, did you ever see Bergman or even Scorsese try a stunt like that?
For UFC fans, Brad Imes, from the second season of
The Ultimate Fighter,
is in this. He plays a henchman who turns good after a Dolph beating. At the end of the film, when Dolph's gunning for the whole crew of baddies, Imes saves Dolph. He also saves the girl from being attacked by his fellow henchman, which saves him from a second Dolph beating when the girl tells him this.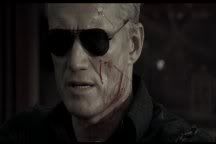 The girl in this is fascinating. She's supposed to be 15 (imdb says she's 18 in real life), and she lives on what seems to be a rather impoverished reservation. So with no obvious means of income beyond her mom, who herself wasn't rolling in cash, she managed to dress herself in designer jeans. First off, there couldn't have been any stores nearby that sold clothing like that: I mean I live in Maine, and some places in Portland have lower end stuff, but for the most part you've got to go to Boston to get what she was wearing, and I couldn't imagine a city that big was within 1000 miles of where she lived. Second, that means she needed to order them over the Internet, which would cost even more. I know they didn't want her to look like a scrub, but come on, Dolph... on the other hand, if Dolph didn't have stupid stuff like that in his movies, there'd be nothing for me and my friends to make fun of.
This is a pretty nice film. It's not one of Dolph's best, but definitely not one of his worst. If you're a huge Dolph fan, I would recommend getting this. I'm not sure if you're planning a Dolph Fest if you'd want to showcase it, but if a bunch of you haven't seen it, you may want to stuff it into a full second night of films. I'd put it right behind
Detention
and right above
Hidden Assassin
.
For more info: http://www.imdb.com/title/tt0926110/