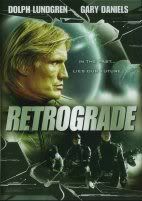 This is the one Dolph film that was not released here in the United States. You'll never see it in your local video store, and you can't get it on Netflix. You're probably wondering how I got it. Guess. Dolph, if you're out there and reading this, I would hate to see you lose any royalties due you, so just give me your address, and I'll send you a money order for $19.95. I can send it in Euros if the devalued dollar makes you uneasy.
Retorgrade
has Dolph as a dude from the future sent back in time to the present to stop some scientists on an expedition in Antarctica. The scientists will come in contact with the remains of a meteor that has a nasty virus on it. That virus will eventually threaten the lives of people in Dolph's time. Unfortunately, on his way to the past, some dudes on his crew want to sabotage the mission, so they try the ol' mutiny trick. Dolph fends them off and manages to escape when the vessel they're in makes it to present day Antarctica. Now the fun starts. People from the scientists crew are getting sick. Dolph's trying to help them. And then the baddies show up. Dolph faces off with them in a boiler room a la
Space Mutiny
.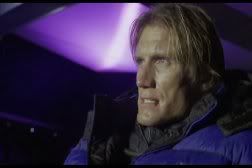 This was pretty bad. The film quality was akin to The Asylum's
Transmorphers
, which isn't too good. It looked more like an educational adventure that might air on PBS. Jesus Dolph, what were you thinking? I can see why it wasn't released here in The States, though I can't imagine Dolph's name alone wouldn't get it some play on the action or sci-fi shelves of a video store. Three words
Jill the Ripper
. Two more:
Hidden Agenda
. Though a bad film, still a shame it was never available legally here.
Dolph is kind of mailing this one in too. Looking at his filmography, this was made right smack in the middle of
Direct Action
, and his directorial debuts in
Defender
and
Russian Specialist
. Maybe he had other things on his mind. Why did he make this then? Did he himself, so embarrassed by his poor performance, bar this from release in the US? It'll be interesting to see if this makes it to Dolph Fest 2008.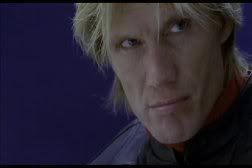 I must make clear that, despite how horrendous it is, and it is horrendous, this film is well worth watching with a big group and making fun of. It's about MST3K quality. It's probably the lowest budget Dolph film ever, but there's nothing really depraved or insulting in it to discourage anyone from seeking it out for a bad movie night. It's just kind of disappointing for someone like myself who's been rocking with Dolph for a while.
Gary Daniels is in this. We never get to see him fight Dolph, which is kind of a waste. After the awesome fight he had with Don "The Dragon" Wilson in
Bloodfist IV
, I want more, and I'm not getting it, either here, or in
Submerged
, which he did with Steven Seagal. We did get to see him fight though, so it was some consolation. The movie used an interesting setup for the final fights. Usually, when two guys from the same side fight two baddies, the weaker fights another weaker, leaving the hero to dispatch the big one. Here, they had Daniels fight the big baddie, and Dolph fight the weaker, almost like a single elimination tournament to the final showdown. I don't know how I think about that. Had
Showdown
gone that route, Tagawa would've killed Brandon Lee, leaving us bereft of the classic "You have the right to be
dead
" line.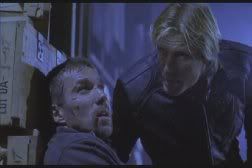 I've never been a fan of downloading movies illegally. That's not true at all, I've always been a fan of it. In this case, though, I feel I'm justified. The movie's just not available here. And I want to be a Dolph completist, you know? I think the movie is available in Region 1 on eBay, if you either A: don't have the means to download it or B: don't want to due to your conscience.
The only reason to go out of your way (and you'll have to go out of your way) to get this is if you're a Dolph completist like me. Otherwise, don't waste your time. There're plenty of other crummy films out there for you to get on Netflix or through your local video store that'll take less trouble. If you're going to be downloading movies anyway, why not give this a shot. Also, if you speak German, French, or Italian, it's easier to find downloads for it.
For more info: http://www.imdb.com/title/tt0385990/