I first discovered this film through my friends at Bruce's Angels, a fan site dedicated actor Bruce Payne which I have a link to in the section Other Great Sites. The first thing that drew me to it was his too sweet mullet. The second thing was Brian Bosworth and MC Hammer. Then I saw it had one of my favorite character actors, Jeff Kober. I just didn't see how this could go wrong.
One Man's Justice
is about a drill sergeant played by Brian Bosworth who has his ex-wife and child killed in a botched deal for stolen military goods by Jeff Kober. Kober is let out of jail by crooked FBI agent Bruce Payne so he can complete the deal for the goods so they can be sold to drug lord MC Hammer (just Hammer at this point in his career). Bosworth is none too pleased about this situation, and he goes down to LA where all this is happening to deliver his own brand of country justice.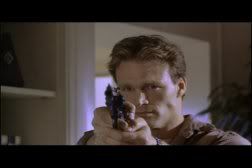 This had so much potential. The star power alone should've been enough. But a slow moving plot with limited and stupid action killed any chance this had of being great. I knew I was in trouble when I was watching it with one of my roommates, and I hit the display button, and saw I was only ten minutes in. We were both shocked, thinking we'd endured much more than that. The only action we got for most of the movie came in the form of people buying stolen this or that from other people, then killing them after the deal was done. This is a group of actors we may never see put together again, and the result was a disappointing mess.
I'm sure the ladies at Bruce's Angels will agree that it was an egregious error, yet again, to have Mr. Payne speak with an American accent. Sure, the Ape Drape and Adam Curry hosting the MTV Top Twenty Countdown circa 1991 look was awesome, but it can't overcome the lack of his native accent-- if anything, it makes it worse, because we see how much better he would've been. This is a mistake that was perpetrated in
Sweepers
to a similar dissatisfaction. Here, it was worse, because his character was pretty sarcastic, and we all know sarcasm sounds better when it comes from the Brits.
Brian Bosworth: not sure where I stand. My best recollection of him came during his playing days as a Seattle Seahawk, when he was run over by Bo Jackson. I have a lot of memories of Bo Jackson doing things, like hitting a homerun one-handed while trying to ask the umpire for time. I think that's a metaphor for Bosworth's performance here: I found myself thinking of other things. It was good, but I've seen it before and better done by people like Bronson. With a huge plate full of other action stars I want to see and want to review here at the DTVC, it'll be hard for The Boz to get another shot anytime soon.
Gotta love Jeff Kober. Great character actor that in my mind has been elevated beyond the level of just a That Guy. I believe the only other film we have here of his is
Desert Heat
, which he did with Van Damme, and another great character actor, Danny Trejo. Here he plays a slightly higher than small time thug who tries to ingratiate himself to Hammer as a service to Payne. He also kills Bosworth's family. What I liked about this role was the volume of him in it. I'm used to seeing him for a few minutes of screen time, and here we had him for the duration.
Speaking of That Guys, this film had a slew of them. Let's start with M.C. Gainey, a big fella, who I know best from two things:
Sideways
,
when he chases Paul Giamatti out of his house naked; and when he played himself on
Cheap Seats
, advertising a fake energy bar that keeps character actors fat. Then there's Asian That Guy Leo Lee, who's been in a bunch of things as whatever baddie's henchman. Probably the best paid of the film's That Guys is Neal McDonough, a Boston man whose most recent credits include
Minority Report
, the new
Walking Tall
, and
88 Minutes
. He's maybe in the movie for five minutes.
All in all, not a great time. The addition of Hammer does pretty much nothing, because he's just an angry drug lord the whole time, which is just as boring as the rest of the film. It's just a shame, that's all. To have a collection of talent like that, and waste it with a bad plot and making Payne speak with an American accent? Someone should've gotten a hold of this train before it ran off the tracks, and added superfluous explosions, more mullets, and some better martial arts. But they didn't, so you should avoid this one.
For more info: http://www.imdb.com/title/tt0113999/