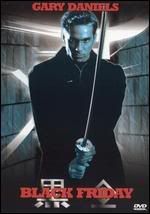 I found this on Netflix's Watch Instantly. It didn't look great, but this is the Summer of Daniels, so I need to cover as many of his films I can-- even the bad ones. I put this one on hold so I could post
Fist of the Northstar
, so it's been in the can for a while.
Black Friday
has Daniels as a wealthy lawyer with a past as a CIA assassin. His family is held hostage in his mansion by some terrorists with chemical weapons. That's when things get weird. The authorities on the scene try to kill him, he escapes, and makes his way into his home. They call in one of his old partners to take him out, because the guy has a score to settle with him. As always, things aren't what they appear, and twists and turns are everywhere.
Bo-ring. That's all I got. Not enough action, too many scenes of people talking about crap, weird camera angles and jump cuts, and a plot that I guess was good in theory. As far as I can tell, this was one of those that fell victim to the ol' tryin' to do too much. The director forgot he was making a DTV actioner, and made the mistake of thinking he was smart. He wasn't. This is a message to all directors suffering from the same hubris:
Hard Justice
is better than your movie. If you have too much talking, too much techno, and too many crappy camera angles and jumpy film edits, you won't be better than
Hard Justice
, you'll be even worse.
Gary Daniels showed glimpses of what makes him great, but the movie ultimately got in the way. Daniels is a great martial arts talent-- why have him sitting in a conversation for 15 minutes? Unless he's in a scene with someone like Dennis Hopper talking about who would win in a fight between Bugs Bunny and Dracula, I want him kicking people's asses, jumping out of buildings before they explode, blowing up helicopters, or convincing women with his abs to take their clothes off. I've heard from a few sources that
Rage
is where I should go next, so that's my plan.
The guy that Daniels is up against looks and sounds like Shaun Mullins. Remember him? Late 90s, "Rockabye"? Guy came out of nowhere, pretty much ripped off Lou Reed, and when the novelty wore off, so did he. In one scene, the guy has a soliloquy over an intercom, where he tells Daniels what he thinks of him. It sounded exactly like it could've been one of Mullins' songs. I was waiting for him to stop talking and go "Everything's gonna be all right... rockabye... rock-a-by-hi..."
The bad agent in this was played by a dude named Chris Stapleton. I didn't recognize him bald, but with hair, he's been in pretty much every CBS crime drama. I thought he was pretty funny in this film, even though he wasn't supposed to be funny. He was trying to be a cool, no nonsense, cut throat, get shit done, kind of federal agent-- but it all just came off as silly. He got killed off mid way through, which just shows how much the people making this movie were covered in wrong sauce. First you have a guy that comes off as silly when he's supposed to be tough, and then when I finally find him entertaining, he's dead.
Skip this. Don't waste your time. There are so many better films in the Daniels catalog. Go for
Bloodmoon
or something like that first. I have to imagine anything is better than this.
For more info: http://www.imdb.com/title/tt0218053/
My buddy and I rented
Valkyrie
the other night. His wife works part time at the local video store, so we got it for free. I didn't think it was that bad. The question is: is Cruise still leading man material? He didn't seem completely out of place in this role, but it was no where near as good as his part in
Tropic Thunder
. The biggest issue for me with this film was that we know how it's going to end-- a movie based on historical facts has that drawback. Cruise's characters usually prevail, and here we knew he wouldn't, and he didn't do a great job mitigating that circumstance. But would we buy him in another
Top Gun
? I doubt it. Maybe what he needs is an angst filled indie flick. Rent this, but not for Cruise as much as the whole picture, because overall, it isn't that bad.
For more info: http://www.imdb.com/title/tt0985699/