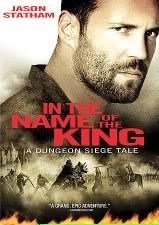 This was supposed to be the box office bomb from two Fridays ago, but between being sick and my trip to visit friends in Mass, I fell a little behind. It worked out, though, because I was able to watch this with my buddy and his wife, and she's a huge
Lord of the Rings
fan, which gave me a better context to put the movie in. I'm not sure if you noticed, but I'm not huge on the fantasy genre, though I hear the chicks dress pretty hot at the conventions.
In the Name of the King
is an Uwe Boll film with Jason Statham as Farmer, a dude whose wife is captured and son and in-laws are killed by gross demon characters controlled by Ray Liotta. His king, Burt Reynolds, wants to conscript him, his brother in-law, and
Ron Perlman
, but they'll have none of it, and want to take on Liotta's army on their own. What they don't know is Liotta is working with Reynolds' conniving nephew, the always annoying Matthew Lillard, and is seducing the king's magus' daughter (John Rhys-Davies and Leelee Sobieski respectively). The kingdom's only hope lies in the hands of this Farmer and his magical boomerang.
This was a pretty fun deal. It sucked that it was two-and-a-half hours long, that was the biggest complaint-- and obviously no one is meant to take it all that seriously-- but for me and my buddy, it was a pretty solid nonstop laugh fest. Statham was great as a fighter named farmer. Who comes up with that? It's great. Even better, he was raised from a boy by Ron Perlman. Of course he would be. And who else would you want as your king? Or your evil sorcerer? Again, the story was a little long, but it was much easier to take than a
Lord of the Rings
or
Dungeon and Dragons
movie. Fantasy has a certain place in the movie industry: done by German directors making the crappiest big budget movies possible to take advantage of a German tax loophole for film makers.
That's right, according to his
Wikipedia
entry, Uwe Boll has gotten funding for movies like this ($60 million budget) by using a German tax loophole that, until it was amended in 2005, allowed investors to write off 100% of funding for a movie, and also to write off fees associated with borrowing additional money for it. So despite the fact that this movie made about $10 million worldwide, his investors were able to get a good chunk of that money lost back. It kind of sucks that Germany's no longer subsidizing Uwe Boll's ridiculous video game movies. The result was the much less fun DTV
BloodRayne 2
, which I reviewed back in 2007 I believe.
This is the third Jason Statham film we've done at the DTVC. I think out of all the new crop of action stars, he's the best bet to carry the torch. My friend and I were looking at how long gone are the days of
Terminator 2
and
True Lies
. The question is, what's next? I think Statham's newer, slimmed down, more sophisticated version is probably the best option. I do like Vin Diesel, despite what most of my friends think, but he allowed Paul Walker to outcool him in
Fast and Furious
, and that should never happen. Throw in that
Crank: High Voltage
was pretty cool, and I think it's unanimous that Statham is our current biggest action star, and he was as fun to watch in this as he was in anything else.
This is also the second movie we've reviewed with Statham and Liotta (
Revolver
). At one point I quoted the beginning of
Goodfellas
, and my friend was like "Oh my God, don't remind me he did such a good movie." I've found the best thing to do when faced with a Ray Liotta sighting in a bad movie is to sing "Rah-Rah-Rah-Ray Liotta" to the tune of The Knack's "My Sherona." What was great about him was he didn't try to affect an English accent for the role. Good for him.
Most people know that I'm pretty tough on
The Lord of the Rings
movies, books, etc. I guess I just don't get it. I don't get talking trees, and I don't get how talking trees are any different from Painkiller Jane in this movie leading a clan of swinging tree women with magical vines. I understand that Tolken begot a fair amount of fantasy stuff that came after, but I guess the question is, why does that matter? The Middle Ages sucked ass-- it's a historical fact. Why would anyone want to glorify that? I get it Tolken, you were upset that the lower classes in England were being elevated by social reforms, and you thought it would bring about the downfall of civilization, and you longed for the times when everyone knew their place and did what they were born to do. I guess I'm just too American, and I think by virtue of my being born poor I'm good for more than just neck tattoos and bunch of kids born to a bunch of different moms. Maybe it's just me.
All right, now that I'm safely off my soapbox, I'll wrap this review up. Rent it. You'll love it. The length is the only real issue, so just be ready to have a bunch of friends and your A material, and you should be fine.
For more info: http://www.imdb.com/title/tt0460780/