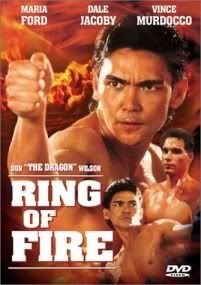 We're about 15 films away from getting all of Hall of Famer
Don "The Dragon" Wilson's
movies up, and I've got a good beat on a lot of them (unlike
Michael Dudikoff
,
Lorenzo Lamas
, and
Cynthia Rothrock
), so I think we're going to try and sew up as many of those as possible by this time next year, if not sooner, and what better time to start than the present. Doesn't hurt that this also has
Gary Daniels
.
Ring of Fire
is a loose
Romeo and Juliet
adaptation with a gang of Caucasian martial arts toughs pitted against a gang of Asian martial arts toughs, and the love between Don "The Dragon" Wilson and Maria Ford is at odds with this dangerous feud. I'm not kidding, that's the movie. The left turn this takes is that Tybalt kills Benvolio, and because of that, Wilson has to fight him at the end for revenge. Mercutio just gets his ass kicked.
Where do I begin? Maybe Don "The Dragon" Wilson at the Masquerade ball, dressed as the Phantom of the Opera, and the silly 80s teen dramedy shot of him approaching a lovestruck Maria Ford from across the dance floor. They tried their best by making Donny a 32-year-old just out of med school guy, in an attempt to make him seem more youthful in spirit, but he was in his mid-to-late 30s when this was filmed, and looked ridiculous as a teen romantic lead-- which is basically what he was, only really fighting at the very end. The rest of the film was
Karate Kid
mixed with
West Side Story
, which , I don't know, you tell me if that sounds great. Some decent fight scenes, a lot of 80s cheesy goodness, but the rest of it was entirely sauteed in wrong sauce.
Donny was giving it the old college try here-- and when I say old, I'm being literal. It just wasn't his bag until the end when he really got into it and was able to fight. The thing is, he's not Bruce Lee, you can't get away with keeping him from fighting through the whole movie. I'm only watching Don "The Dragon" Wilson to see him fight, just ask any
Bloodfist
film. The idea was noble: set
Romeo and Juliet
against the tensions between Asians and Caucasians in LA, but Shakespeare only lays down the foundation, after that you need a solid carpenter, plumber, and electrician to finish it, and none of that was present here, so ultimately Donny was left alone to freeze in a half-built house. I'm not sure where this Dragon Completion Project will take us next, but you can be sure we'll be here again in 8 posts with another one of his movies. I know, you can't wait.
Someone else worthy of a completion project is Mr. Gary Daniels-- or G. Diddy as the kids call him... um... er... maybe they don't-- but we have much further to go to get
there
, plus he's still making movies, and then there's some old ones that aren't that easy to find.
Ring of Fire
was only Gary's fourth ever, and he was treated as such, only having a small role as a heel who gets taken down a peg by Wilson's cousin, aka the Benvolio character. I actually do have a few possibilities in mind for the next Daniels movie, it's just a matter of which one I get my hands on first. Stay tuned after Halloween.
The white V-neck T-shirt is an interesting phenomenon. Women will often jump all over it as a bad thing if a guy they don't like is rocking one, yet love it if a guy they find hot has one on. I used to rock one myself, but I stayed in the medium size range (I'm only 5'7") to keep the V from creeping too far down my chest. It's hard to tell if that's me not being daring enough, or demonstrating a modicum of taste, but Ron Yuan here takes it to a level I've never seen before. That thing almost reaches his naval. On the other hand, there's the crew neck white T that works well too, just ask the oppositely built Marlon Brando in
A Streetcar Named Desire
and David Bowie in
The Man Who Fell to Earth
. Ron Yuan, fashion icon, or going too far?
According to imdb,
Michael Jai White
is in this movie. I didn't see him, nor did I find his name in the credits. This is a huge mystery to me. I'm not tagging him just in case, but I wonder... This wouldn't have been his first film, appearing in the second two
Toxic Avengers
, and in 1991 was only a year removed from
Universal Soldier
. Too bad, because this movie could've really used him. As far as his recent work goes, he hasn't done anything that could be included here since 2009's
Blood and Bone
, though he was in a
Mortal Kombat
short as Jax. In the
Damage
post I was talking about Stone Cold Steve Austin as someone who could step in and be that next generation of DTV action stars after the current ones retire, but no one has more potential to do that than Michael Jai White, so let's hope he gets after it some more.
There were some other points. Maria Ford was hot and rocking some hot 80s gear, Vince Murdocco and Dale Jacoby were great meatheads; but overall, this was too much teen romance about two non-teens, and too little the great fights that talent like this should've delivered. We'll see what happens in
Ring of Fire 2
, which if I remember correctly is based on
The Tempest
-- but don't quote me on that.
For more info:
http://www.imdb.com/title/tt0102793/