This was the first of three films in April's edition of the
Netflix Bad Movie night
, hosted in part by two great friends of the DTVC, Mr. Gable of
Mr. Gable's Reality
and
Tromeric
at Guts and Grog Reviews. Because
Tim Thomerson
was born in that month (as was I), they decided to feature three of his movies, which was how we ended up here-- at least, I'm assuming it was because his birthday's in April that he was featured; I could be totally wrong though and it could all just be a coincidence...
Zone Troopers
takes place during WWII, where Sgt. Tim Thomerson and his men are stuck behind Kraut lines in Italy. They're split up, and two are captured, while two, among them Thomerson, come across an alien space craft. At the same time, the two captured ones come across the alien, whom the Germans are holding in a dog cage. Thomerson and his soldier, Timothy Van Patten in all his Novocaine-mouthed goodness, rescue both the other two soldiers and the alien, and for their good deed, the alien helps them fight the Nazis.
I've only been around for five or so of the Bad Movie Nights, but I gotta say, this might be the best bad movie night kind of film out of all of them. If you're talking best movie they've picked, hands down, it's
Poolboy
, no contest; but
Poolboy
isn't really a bad movie night movie, it's more like something that's too amazing for words and you want as many people as possible to see it so you showcase it in an event like the Netflix Bad Movie Night.
Zone Troopers
, on the other hand, is the stuff bad movie nights are made of. It's a throwback to the kind of flicks from the 50s that in the early 90s would've ended up as Dr. Forrester's torture fodder for Joel and the 'Bots, and while it's very self-aware and meant to be silly and fun on purpose, it's not like there isn't room for interactive viewing, which makes it very enjoyable. While this is on Netflix, you really should get your crew together and all the snacks and booze/soft drinks you can handle, and make this happen.
It shouldn't come as a big surprise that a big reason why this works so well is due to the lead, Tim Thomerson. He just seems to get these kinds of movies, doesn't he? And because he gets it, everything works. If you've seen him in
Trancers
or
Dollman
, and see his name on the cover of this and are wondering what to expect, expect that. Expect the kickass Tim Thomerson you're familiar with. There's really only one thing missing from Thomerson's CV, and I think we'll take care of that during Hall of Fame induction ceremonies this October.
Speaking of MST3K, it's Timothy Van Patten. (Sorry if I got "Master Ninja Theme Song" in your head.) Looking at this film from the bad 50s flick that MST3K would've ripped standpoint, Van Patten would definitely have been that annoying guy that they would've been yelling at the screen to stop talking. They may have even devoted a sketch to him. It's funny how many of those movies from the 50s had that guy. Imagine if there had been the Internet and blogging back then. Would there have been guys like me complaining "why do they always have the annoying guy in these movies? Do they think anyone likes that?"
The Nazis in this speak German at a simplified, lowest level of conversation difficulty, yet me, someone who minored in German, could only pick out bits and pieces. This May it will have been 10 years since I graduated from college, and I guess, with very few people to speak German with, it's not inconceivable that I would've forgotten so much. I tried to get back into it by listening to a learn German podcast during my bike rides, but I was losing steam and needed to get back to music to pump me up-- just bought a little Public Enemy, first CDs I've bought in years.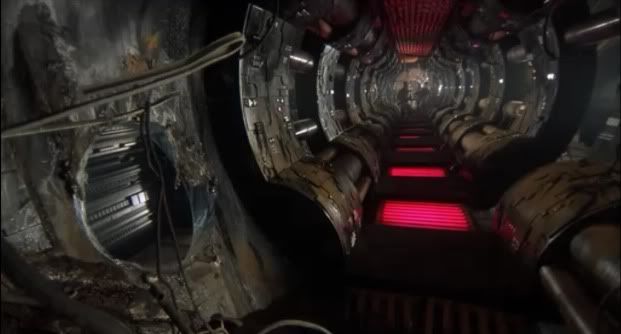 Finally, what do you see here?
Star Wars
?
Solaris
? It's definitely not original, right? The music was much worse, almost ripped completely from
The Empire Strikes Back
. It's funny though, at least with this shot, because you can't call it ripping something off so much as borrowing, or pay homage to. When we think about B-movies, especially from the 80s, I think we forget that these people are usually true film fans like us, and would've seen something like
Solaris
, and been a huge admirer of Tarkovsky, maybe even more so than any of us are. It's one of the things that's too bad about the current DTV environment, that the role of director is often given to an actor or stuntman or something, as opposed to an actual director. Even B-movies take on a better quality when done right.
And this, for as many things that might be wrong with it, it feels so right. Think of it as a true bad movie night extravaganza, the kind of thing you can center it on, and know everyone will have fun. Great characters, not so great characters, funny special effects, and just a whole lot of schlock-lety goodness that you need to sink your teeth into.
For more info:
http://www.imdb.com/title/tt0092298/