This movie has a very interesting back story. Made in 2000, the production company went bankrupt before the film was released, so it sat on the shelf. Then, somewhat recently, a copy taken from a Russian TV recording surfaced, the only problem being that it was dubbed in Russian. No good for us, right? But there was a rumor of a Greek DVD release, which would mean an English language version if the rumor were true. Turns out it was, and a friend of mine was nice enough to hook me up with a copy.
Ides of March
has DTVC Hall of Famer
Gary Daniels
as a hit man working for a large hit man corporation. He has a falling out with his fellow hit men, among them DTVC favorite
Michael Madsen
, and now they're after him. Daniels sends his family away up north, and establishes himself in a small town in New Mexico, waiting for his pursuers to arrive. When they do, will he be able to take them all down?
This isn't very good, and perhaps sat on the shelf for a good reason. We have a lot of plot exposition with nothing really happening. The mindset was that this plot exposition was entertaining and funny and filled with enough irony that it was worth keeping us from the action. It couldn't have been more wrong. It was supposed to be a mix of 90s Neo-Noir and
Pulp Fiction
style action/macabre comedy, and ends up missing on all accounts. We get it, two killers are discussing Crunch Berries while eating breakfast over the dead body of one of their hits. Great, it's so off-beat and ironic, I can't contain myself. In another instance, we have what would've been a great fight scene between Daniels and some samurai sword wielding thugs, only to have it interrupted by a hit man talking on a cell phone with his mother. Oh, such sweet comedic irony, I can hardly stand it. The problem is, when the action was there, it was so good, especially the Western-style/modern action showdown at the end. If we'd had more of it, this would've been a winner. This is another example of the old adage: keep it simple. Trying too hard to be a talky-90s indie flick when you could've been a solid DTV action flick is a bad formula.
The biggest reason why getting my hands on this was such a priority, was Mr. Daniels here. Any time we're talking DTVC Hall of Famer, I want to see their movies and review them on here. Unfortunately, because we're dealing in low budget DTV flicks, this kind of thing happens where we can't find them-- in fact, Daniels has a few others that I've had trouble tracking down. In terms of how he is here, when he's allowed to let his action star prowess come through, it's all there. The thing is though, he doesn't get much. When we get to the end, it's almost like he's unleashed, which is good, but when I'm coming to the table for a Daniels film, I want more of him fighting and less of him doing glib voice-overs. Even in his English accent, they don't work.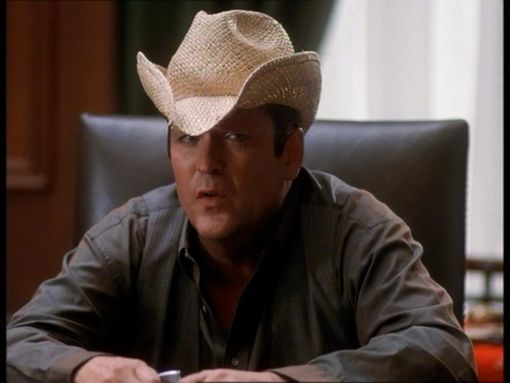 Then we had Michael Madsen. He was great as a competing hit man. The thing with Madsen is, he can take a lackluster script, and make it enjoyable. It's always interesting to see an actor of his quality fall through the cracks and end up in films like these, because most of the other actors are there because that is the ceiling of their ability-- which is fine, I'm not knocking it, but Madsen is on a different level, and you can really see it in something like this. Always good to see Madsen.
Another major notable in this film is veteran character actor George Cheung-- also known as "George Kee Cheung", which, if you look at the image I got for the cover, the names "Kee" and "Cheung" accompany "Madsen" and "Daniels". That's right, one man listed twice, not to mention, that young fella in the middle in the picture, he's not even in the film, I have no idea what he's doing there. Anyway, back to Cheung. Among his 175 credits on imdb, he was in the
Seinfeld
episode where Elaine tries to get flounder delivered from a Chinese restaurant, and has to pretend she lives in a janitor's closet.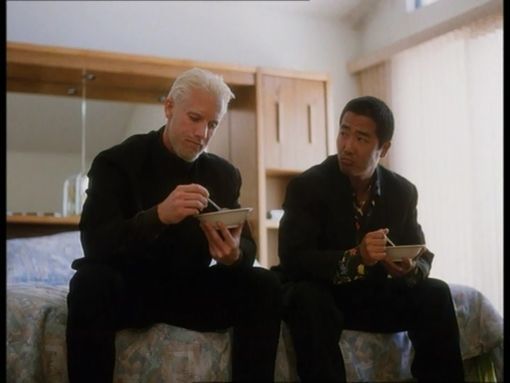 Finally, here are our two hit men discussing Crunch Berries over their deceased hit. Everybody together now: "wacka wacka waaackaaa!" This is one of those things that sounds great at the time, but the whole idea is that it's supposed to be so ironic that two hit men that just killed someone would sit in the guy's house and discuss Crunch Berries, and as much as the people making the film might thing that was so creative and unique, the rest of us have seen it so many times. Even in 2000, when this was made, the whole irony mixed with people killing each other had beyond run its course. How many potentially great action films were felled by the 90s irony movement? More than I care to count. Put this one down as another.
If you live in Greece you can find this on DVD, or if you have a region free DVD player and want to get it on the secondary market from there. I won't go so far as to say it doesn't deserve to be released here in the States, because there have been a lot worse, and this has some big enough names that it deserves at least a $5 DVD; but would I say it's worth going through the trouble to track it down? Probably not.
For more info:
http://www.imdb.com/title/tt0243327/