So the initial plan for this review was to write it on Halloween, but you can tell from the post date, we're a little late with that one. I figured that, even though it had a theatrical run, the fact that Halloween is a special day, I could make an exception, especially considering this was a video store classic for me growing up and one I've wanted to do here for a long time.
Pumpkinhead
stars DTVC favorite
Lance Henriksen
as Ed Harley, a country man who owns a small grocery and is raising his small boy on his own. When some city kids come to town and one jerk member of the crew hits his boy with his dirt bike, killing the boy, Henriksen swears his revenge. To get that, he goes to an old witch's home on the edge of a swamp, and she tells him of a way: he needs to dig up a deformed body from a scary graveyard, and she'll take it from there. What she unleashes is Pumpkinhead, a demonic killer who looks very derivative and won't stop till all the kids are dead. Any second thoughts Harley? Too late for that now.
As far as great 80s horror goes, I think this is one that's often overlooked with all the
Nightmare on Elm Streets
and
Friday the 13ths
. On some levels that's too bad, because this is so well shot, has some great sets, and if the Pumpkinhead didn't look so much like an Alien, that would've been really cool too. I think that's one area where this is written off though, the eponymous killer demon is where the film is has to hang its hat, even if it has some really great American Gothic style horror elements, because ultimately the baddie is what sells. If you are someone who grew up with this and didn't exactly care for it, maybe now that it's on Netflix Instant you can give it another try.
On the other hand, another reason why this one doesn't succeed where the more iconic horror franchises have, is that those ones were much more fun. I mean, Henriksen's son is so nice, and Henriksen is so nice to him, they seem so happy together, and to have this jerk guy run the son over and kill him is just mean-spirited and very dark. Not to mention, the jerk initially makes fun of the poor boy's Coke bottle glasses. That's just gross to do that then kill the boy off. Also, the jerk guy freaks out that he doesn't want to go to jail, and back at their cabin he locks two of his friends that try to call the cops in a closet. That's just weird, and beyond jerk-guy in the group, that's unlawful imprisonment. Things like that work against it where the other greats gave us so much fun. Still, I'm not sure that should be its death knell, just that it's not for everyone.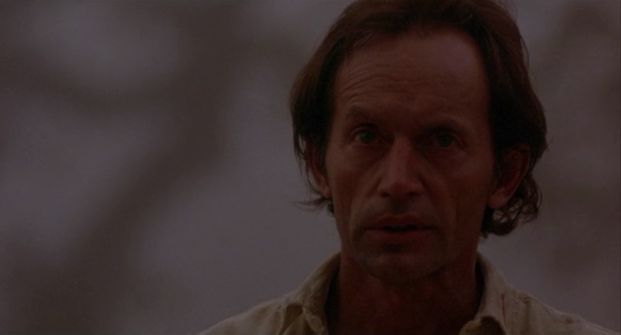 Lance Henriksen is great in this. I think it would've been easy for him to play the classic evil country guy, but his character had more nuance to it, something you usually don't see in a film like this, and he took what nuance there was and ran with it. He's the character we're sympathetic with, not the kids, and neither he nor the writers lose track of that, even if it looks like they might. One thing I wonder about though: what did he think when he first saw Pumpkinhead? Did they ask him if it looked too much like an Alien? "Um, ah, no, no, it's so different, it has more of a human face, no no, you're okay, no one will think you're ripping that off."
Among the other stars, we had the great character actor George "Buck" Flower as a local farmer that Henriksen knows. That guys has acted in almost everything, and even though he has a smaller part in this, it's always great to see him. Devon Odessa from
My So-Called Life
played one of his grandkids. Nice 90s nostalgia moment. John D'Aquino plays the jerk guy, and he's great at it. I have no idea why, but he doesn't have a picture on imdb. Come on man, you're still working, take care of that. Finally, Brian Bremer plays the oldest of Flower's grandchildren. He'd have been perfect for a Hobbit had he been ten years younger. A shame that he had to settle for Pumpkinhead.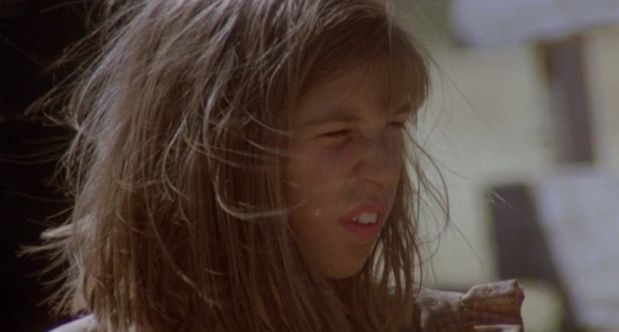 Okay, that's not actually finally, because we also had Mayim Bialik's first role here too. Can you believe that? She played another of Flower's grandchildren. That makes two
Blossom
stars to grace the DTVC, the other being Joey "Joseph" Lawrence in
Do You Wanna Know a Secret?
Whoa! Now we just need to find Six in something. I've seen that Bialik is back on network TV, doing
The Big Bang Theory
with the guy who played David in
Roseanne
. So we have
Roseanne
and
Blossom
teaming up to pander for my 90s nostalgia dollars? Too bad Neil Patrick Harris is on another show. Or maybe they can get Devon Odessa.
While I had some problems with how dark it was with killing off the kid, and the demon is definitely derivative, it has some great horror elements to hang its hat on. Henriksen's character and performance, the sets, and the cinematography and direction are all excellent, and elevate this above the usual schlock horror flick. While it's on Instant, I'd give it another look.
For more info:
http://www.imdb.com/title/tt0095925/