Well, this is it, the 200th post on the DTVC Connoisseur. For milestone posts, like 100 and 150, I usually reserve them for Dolph Lundgren movies. I was going to do the same for this one, until a fellow bad movie fan, and owner of the site Movies in the Attic (there's a link to it in my "Other Great Bad Movie Sites" section), asked me why I haven't reviewed
Gymkata
. It was a great point, and I couldn't really give him a good answer. It's a classic, and one I've seen multiple times, but for some reason I never considered it for the site. I guess it just slipped my mind. Well, here it is, the DTVC's 200th post.
Gymkata
stars gymnastics great Kurt Thomas (not the journeyman power forward) as a gymnastics champ recruited by the US government to be trained so he can compete in a centuries old ritual called The Game in a small khanate called Parmistan. The Game involves the entrant running through an obstacle course while Richard Norton and a bunch of faceless foot soldiers try to kill him or her. If someone wins, he or she gets one wish granted. The US want Thomas to enter so he can win the wish and have the US set up a Star Wars command post there. Things get complicated when the khan's daughter comes to the US to help Thomas train and they fall in love. The khan had planned on her marrying Norton, and Norton's not pleased. He's got a coup planned for after the game too. Thomas will have to use all of his martial arts and gymnastics prowess if he wants to get out of this alive, let alone get the girl.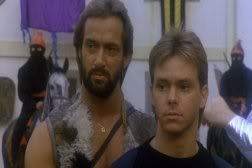 I don't need to tell you how awesome this is. It wouldn't be post 200 if it wasn't. If you're a MSTie, you're probably familiar with
Gymkata
, because Joel, Mike, or the 'bots will shout out the title whenever people in the movie they're watching engage in fisticuffs. The movie lives up to their constant usage, as it's that silly. Probably the funniest is the seemingly random placement of gymnastics equipment so Thomas can utilize it to dispatch of his foes. In one scene he finds a bar spanning two buildings in an alley. Hilarity ensues as he spins a few times, then somehow kicks the guys chasing him while rotating on the bar vertically. Later, while fighting his way through a town used as an insane asylum, he finds a concrete pillar with two metal handles on the top, making a perfect pommel horse. He does flair after flair, kicking nutcase after nutcase that charges him. Love it.
There's more to it than the silly marriage of martial arts and gymnastics. The khan is some goofy old man. I looked him up on imdb, and one of his recent credits came on an episode of
Even Stevens
, where he played "Old Guy #2". Awesome. He was also a former wrestler and body builder, and I mean former, considering he's 86 years old now. If you were going to remake
Gymkata
now, you'd probably cast Jerry Stiller in the role of the khan. When I think of a khan ruling a small kingdom in Central Asia, I think of Jerry Stiller. I'm serious, I do.
American Kickboxer
's John Barrett is in this as Gomez, another competitor, and pal of Thomas. The idea is that a lot of countries want the Parmistan land to start a Star Wars base, and they have people like Gomez trying to beat Thomas. Thing is: Gomez sounds American too. Is he from Canada? They don't say, but the idea of Canada wanting to beat us for a chance to start a Star Wars base is beyond ludicrous, it's fantastic. Why not, right? Also, Barrett is much more likable as Gomez than he is as BJ Quinn in
American Kickboxer 1
, for what it's worth.
Kurt Thomas was one of the greatest figures in Gymnastics history, but due to Carter's boycott of the 1980 Olympics, he missed his shot at a gold medal. I understand why he made the boycott decision, though, despite how it cut Olympic dreams like Thomas' short. The USSR was so prosperous in 1980, especially with all the cash it was dumping into war in Afghanistan, that if American Olympic athletes went over there, they'd be too tempted to defect, like Cuban ones do here. He was just trying to save our athletes so we'd have them for future games. Thomas' loss is our gain, with this one attempt into the foray of bad action films.
Gymkata
may be one of the best things to come out of The Cold War.
Richard Norton is too sweet for words, and he's great here as the lead baddie. This is only the second film of his reviewed on the DTVC, but fans of bad movies, especially action and martial arts, are very familiar with his work. As I review more Cynthia Rothrock films, Norton's sure to get more run as well, considering he's done about ten movies with her. At 58, it'll be interesting to see how many films he does in the future, but in 1985, he was 35, and right in his prime. Even though he's a baddie, this is easily one of his best roles. The only drawback was how little he's in it. Also of note: he trained Thomas for his fight scenes. I wonder how that felt when he had to have Thomas beat him for the final fight.
If you've never seen
Gymkata
, and you consider yourself a bad movie honk, what are you waiting for? This is required viewing. Throw it on the top of your Netflix queue immediately. I'd only buy it if you have a bad movie collection, and in that case, it should be one of your staples.
Gymkata
is a classic, and if you're just starting out in the world of bad movies, I couldn't think of a better starting place. It's just too many kinds of awesome.
For more info: http://www.imdb.com/title/tt0089243/