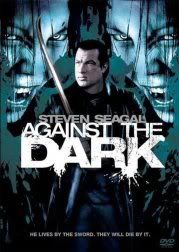 I'm sure everyone here who's been rockin' with the DTVC for some time know that I've been trying to get my hands on this movie for a while. Netflix had some trouble with its availability. I guess everyone wanted to know what a Steven Seagal vampire filck would be like.
Against the Dark
is an
I Am Legend
style ripoff about a group of people trying to escape through a hospital before the vampire/zombie/mutant people can eat them, and before the generator shuts down and locks the security doors. At the same time, a group of former soldiers called The Hunters, led by Seagal, are sweeping through the hospital looking for survivors. At the same time as that, Linden Ashby is trying to keep military higher up Keith David from ordering the Air Force to bomb the hell out of the place before Seagal and his crew get out on time.
This sucked. First off, total Seagal bait-and-switch. He's not the focal point, despite what the cover may tell you. The people trying to escape are the focal point. That means Seagal isn't in the film much until he meets with the group at the end. Ugh! I was looking for vampires at raves. I was looking for Seagal as a sword wielding vampire slayer. I wanted him to take out Dracula, or someone like him, at the end. Instead I got this sack-of-asscrack identity crisis that didn't know if it was a gross horror film or an action film or a sci-fi film or a samurai film; and didn't know if it was
I Am Legend
or just loosely based, and how loosely based it should be.
It was a shame, because there were some cool elements that could've been built upon. First, the
I Am Legend
theme in and of itself wasn't horrible, just the execution. Much of the film was this group of people walking around and almost getting attacked. There was also this samurai film element with Seagal dispatching the vampires/zombies/mutants with his sword in a style reminiscent of the genre. I know tons of people do remakes of
Yojimbo
, but it would've been cool if they could've taken some of those elements and blended them with the
I Am Legend
elements. Imagine the group approaching Seagal to help them fight the vampires and protect them as they try to get to a safe zone. But he's the reluctant hero, and it takes some convincing. What if they really shook it up and went
Seven Samurai
and had Seagal lead a group of warriors to protect people besieged by the mutants.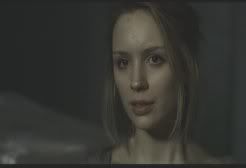 Seagal is almost 58 years old. I say that because in this film, he doesn't do much except wield a samurai sword, while another guy on his team does most of the fight scenes. Is Seagal slowing down? I can't say I necessarily blame him if he's almost 60. Here I am complaining how I'm turning 30 next week, when he'll be 58 nine days later. Not only that, but he did his first film,
Above the Law
, when he was 37. Wow, so I still have seven years left to start my own career as an action movie star.
I never thought I'd say this, ever, but I'm about to: The Asylum version was better.
I Am Omega
, the Mark Dacascos film based on
I Am Legend
, was better than this film. That's bad, because the thing with The Asylum is they actually try not to try. They put in the extra effort to care less. You know your film really missed the mark if it was worse than a The Asylum picture. I guess the one thing this film had going for it was that no dead guy's head was shoved in a woman's crotch. Stay classy Asylum.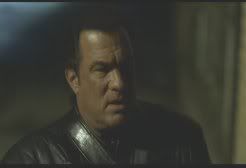 This movie has Keith David in it, who you may remember from, among other things,
The Chronicles of Riddick
. I bring that up because I love that movie. I love Vin Diesel's quotes in it: "Stay on my leg when I cut fence, or die here", "It's been a long time since I smelled beautiful", and of course "You made three mistakes. First: you took the job. Second: you came light. Four man crew for me? Fuckin' insulting. And third: you guessed it, empty gun rack." Anyway, I bring this up, because my roommate watches
Lost
, and she thought
Chronicles
was ridiculous. Now I'm not saying it wasn't, but anyone who takes seriously a show that had something in it called a "Smoke Monster" has no right to call anything anyone else watches ridiculous. Am I right about that?
I needed to get the warning out on this bad boy ASAP. I just watched it this evening, and was so disappointed. You can rent it, but just know what you're getting into. We're talking limited Seagal, bad
I Am Legend
ripoff, and total identity crisis leading to paralyzing inactivity at points of the film. Just not what I personally wanted from what was sold to me as a Seagal vampire flick.
For more info: http://www.imdb.com/title/tt1194271/